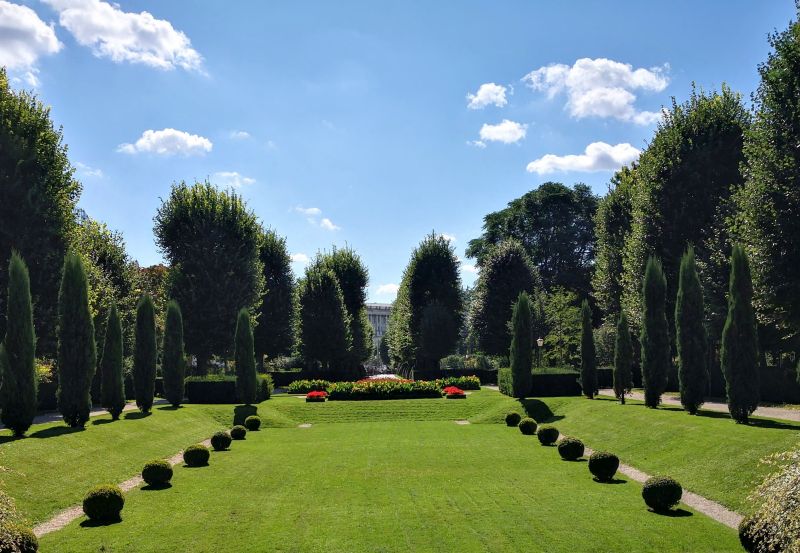 summer 06:00-22:00, winter 07:00-17:30
summer 06:00-22:00, winter 07:00-17:30
summer 06:00-22:00, winter 07:00-17:30
summer 06:00-22:00, winter 07:00-17:30
summer 06:00-22:00, winter 07:00-17:30
summer 06:00-22:00, winter 07:00-17:30
summer 06:00-22:00, winter 07:00-17:30
7 days a week, summer 06:00-22:00, winter 07:00-17:30
Volksgarten is a relatively small public park in Vienna, but very centrally located and quite popular with locals and tourists alike. It is situated in the 1st district, on the Ringstrasse, across from Austrian Parliament and next to Hofburg and Heldenplatz. With location like that the park is a perfect for place for relaxation and walking experience when visiting nearby attractions, such as Museum of Natural History and Art History Museum, which both are down the street on Maria-Theresien-Platz.
The park itself is considered a part of Hofburg palace and it was built in the place of former city's fortifications, destroyed by Napoleon's troops after signing of Treaty of Vienna. The area was being converted into park from 1817 until 1821 and then in 1823 it was decided to convert Volksgarten into a public park, which made it the first public park in Vienna. The name itself holds its nature: 'Volksgarten' – 'People's park/garden'.
The park was designed in a French Baroque style, while the layout has some elements of the English gardens. The most impressive part of the park is a rose garden, with over 3,000 rose bushes and around 200 rose types. As we mentioned in our post on interesting facts about Vienna, for a 'small' fee starting from 350 Euro ($420), you can adopt a rose in one of these parks, but keep in mind, there is a waiting list. Money can't buy everything, apparently. The rose will be carrying your name to show your sponsorship.
The park is managed by the city's parks authority and it is needless to say that everything is maintained impeccably, year around. The park is clean, all the paths, benches and fountains are maintained regularly, despite the fact that park is usually full of people enjoying its greenery and flowers.
Volksgarten might be small, but it has several notable sculptures and landmarks. There are two fountains: Triton and Nymph (Triton und Nymphenbrunnen), built in 1880, and Volksgarten-Brunnen, built in 1866.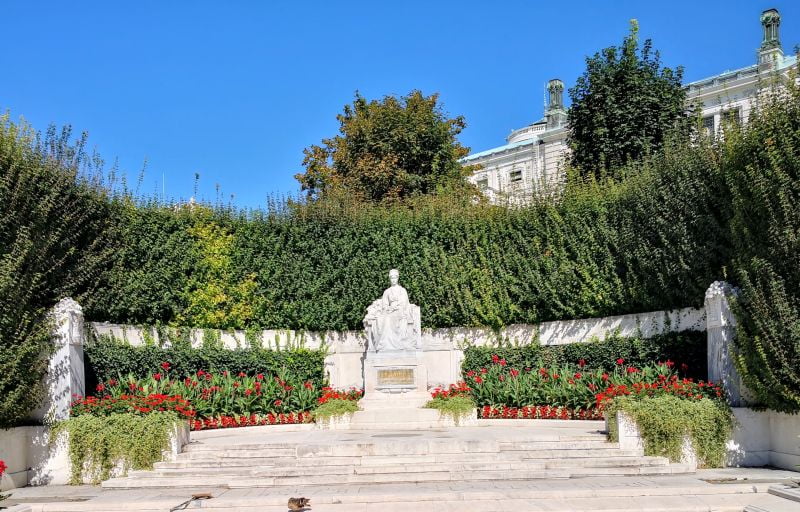 There are several sculptures and monuments as well: Empress Elisabeth monument/memorial with a pond and fountains, inaugurated in 1907 by the Emperor Franz Joseph I himself; Grillparzer, marble sculpture built in 1889; Raab monument from 1967 and Young Athlete (Jugendlicher Athlet) bronze sculpture from 1921.
In the central part of the park there is a Theseus temple designed and built by Peter von Nobile. The temple used to host sculpture of Theseus by Antonio Canova. The sculpture was moved to Art History Museum (Kunsthistorisches Museum) in 1890, where it seats at the stairwell.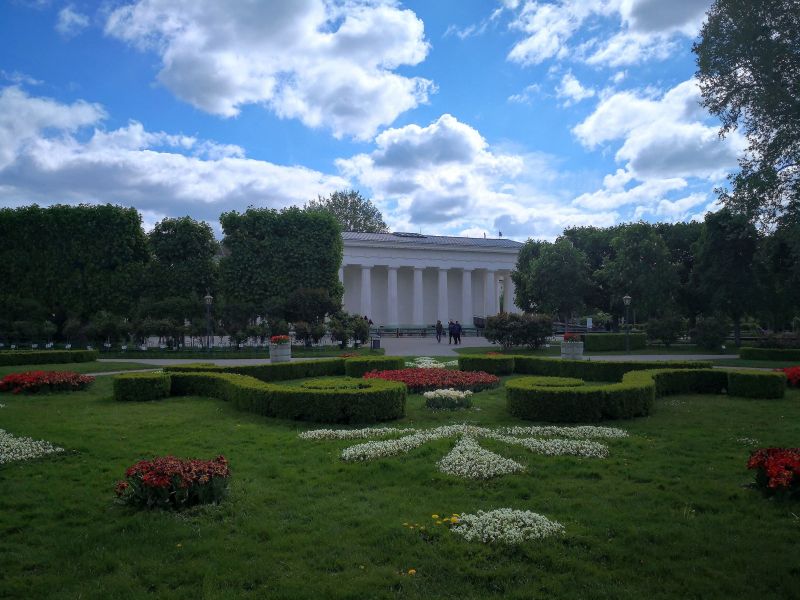 Theseus temple is now an art gallery with exhibitions and events, and it is operated under umbrella of Art History Museum.
There is a restaurant, a pizza place and a cafe in the park and these are very popular during the summer. At the corner of Ringstrasse and Volksgarten street there is also a disco club.
The Café (Café Meierei Volksgarten) is famous for both being long standing venue (former reservoir turned into a milk place and then a cafe) and the fact that Johann Strauß and Josef Lanner played there in 19th century. That alone is a good reason to visit the place after nice stroll in the garden.
Interesting fact: before 1848 the aristocracy also frequented the Volksgarten – but only in the so-called aristocrats' corner. That was an area that was only accessible with an entrance fee. And even here there was a clearly recognizable separation between the nobility at birth and the nobility of money. However, after the city expansion, the former increasingly relocated its meeting place to the Prater area.
Until the 1960s, even the common people had to pay if they wanted to sit comfortably on an armchair. A strict "armchair woman" ("Sesselfrau") collected "armchair money". Chairs and benches are, fortunately free today. 🙂
Volksgarten is a walking distance from city center, but if you are coming from elsewhere, U2/US stop at Volkstheater, buses N25, N38, N60 or N66, Trams 1, 2, 71 or D.