Vienna (and Austria) has great food; it's a part of central European cuisine and definitely inherited from the Austro-Hungarian Empire, where many influences were embedded into a variety of recipes. Food in Vienna includes meat, rich side dishes, and lots of tasty bread, so forget about your low-calorie habits There is, of course, plenty of healthy and low-calorie foods in Vienna, but traditional one are made to keep you running throughout the day and especially during harsh winters.
Main dishes and snacks
The top dish is of course, Wiener Schnitzel, breaded weal steak (although there are variations with chicken or pork meat), world known, and very popular in Germany as well. There is a variation of this dish very common in Argentina and it's called Milanesa. Similar dishes are also popular throughout the Balkans (influence of the Empire).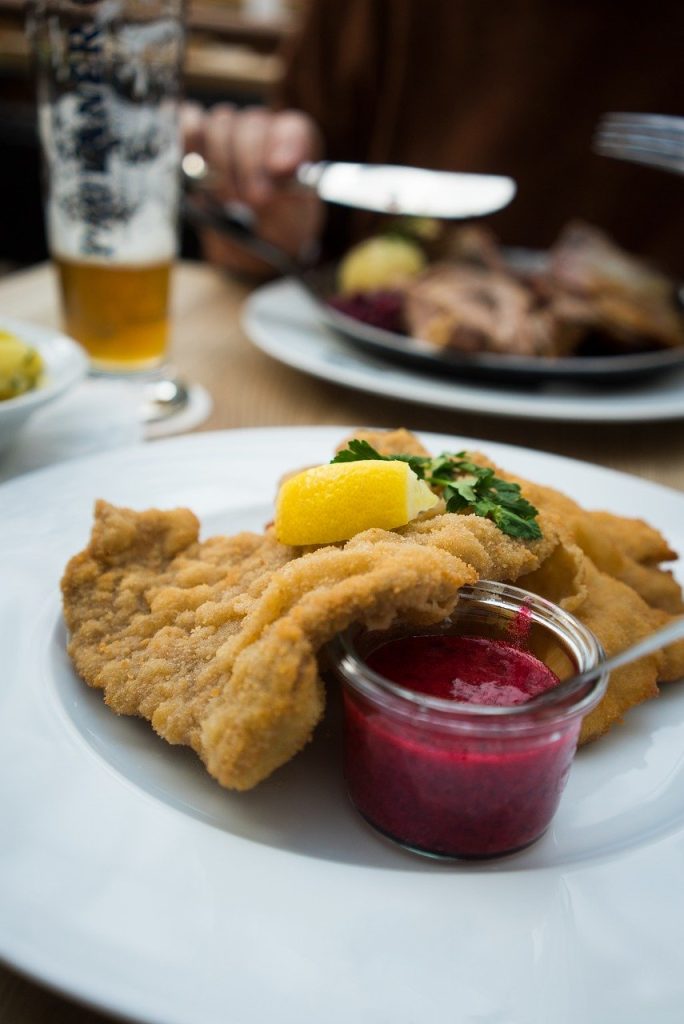 Sausages of several kinds, the most popular being Käsekrainer, are being found all around the city, sold from the food booths as a quick snack or as a main dish with potatoes, vegetables, and bread. They are often sold at sporting events (something like hot dogs in the US).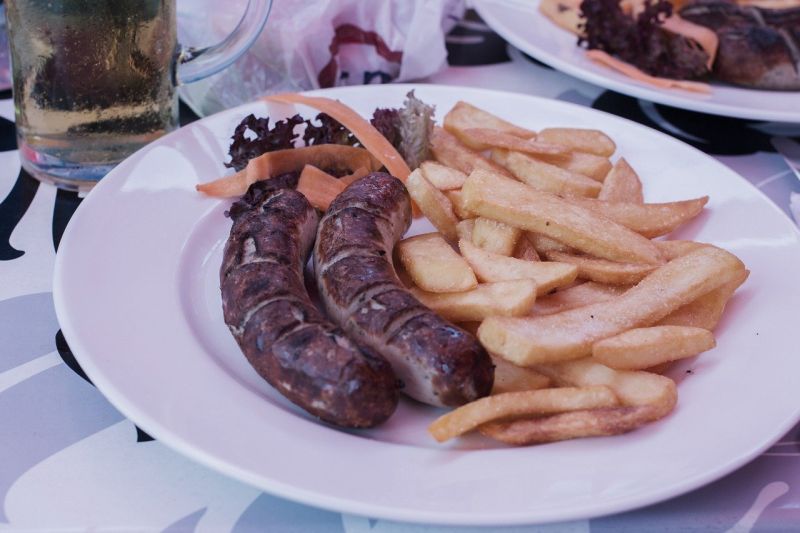 Knödel, or dumplings, is another famous Austrian food, which comes in different flavors, savory or sweet. Savory ones are made from potatoes or bread and sweet ones are made with fruit. This is a very versatile dish, as it can be served (based on a recipe) as a starter, the main dish, or as a dessert.
Tafelspitz, beef boiled in a broth made of mixed vegetables is often served with dumplings made in this short list of Austrian/Viennese food as well. This is actually a very popular dish and it was a favorite of Emperor Franz Joseph himself. Very high regard for such a simple dish.
Goulash is a thick meat stew with paprika and other vegetables and spices, and it is a perfect meal for the winter. This is not exclusively a Vienna dish, as it is very popular in Germany, Hungary, Czechia, and the Balkans as well. If you tried it elsewhere, it is worth trying in Vienna to see the subtle differences. It is served with mashed potatoes.
Schweinsstelze, a pork knuckle, or pork shank, is a very popular dish in biergartens (suggestion – Schweizerhaus in Prater), where it is usually shared among beer drinkers. Served with some side salad, usually pickles and sauerkraut (pickled cabbage), this crispy cooked piece of meat will keep you full for a while.
Brettljause is simply a 'snack' served on a wooden board (or a cutting board) and can consist of meat cold cuts, cheese, and pickled vegetables, served also with bread (hence the 'snack'). There are many variations of it and it all depends on the restaurant. If you are not sure what to order and you are not ready for a main course, ask for Brettljause.
Desserts and coffee
Vienna has many sweetshops and cafes, many of them founded in past centuries, that maintain high-quality coffee and sweets. They all serve modern coffee variations, such as espresso, cappuccino, etc, but if you want to experience Vienna coffee, order Melange.
Vienna Melange is a specific variation of cappuccino made in Vienna. There are many recipes for it, depending on the coffee chain, it goes from an espresso shot with cream, through half a cup of black coffee, and half a cup of creamy milk, to coffee with cocoa and milk. It is worth walking around Vienna and trying different types.
Sachertorte is a Viennese cake that became an institution on its own and has spread its delicate recipe throughout the world since its conception in 1832. Today, you can have this cake in any high-end sweet shop in the world, but if you want the original, the best in its original place – Hotel Sacher. They have an online shop and they deliver as well.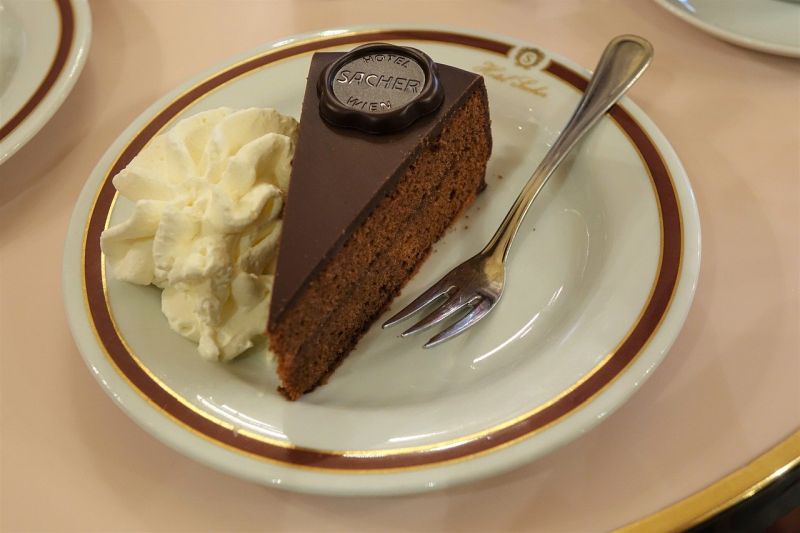 Apple Strudel is a simple apple pastry originating in the 17th century and remained a popular sweet delicacy until now. It is very popular in Germany and many variations exist throughout the world.
Ice cream is also a very popular dessert in Vienna and there are numerous places you can have it, including ice cream carts in the central squares. This is not a genuine Viennese dessert, of course, and the best ice cream is made by an Italian family – Zanoni & Zanoni.
Wine and beer
Vienna is the only capital with wineries within city limits, so winemaking (and consumption) has a strong tradition here. There are plenty of wine taverns (Heurige) where they serve local wines and delicious food. They are so popular that there is a tourist mini train taking people between the most popular wineries – Vienna Heurigen Express.
Apart from taverns, Vienna has many vinotheques and wine bars that you can visit to relax with a glass or two (or more) of local and international brands. The most popular brands are Weingut Christ, Weingut Wieninger, and Weingut Lenikus wineries.
From the beer menu, Vienna (and Austria) has very developed both classic breweries and artisanal beer production in microbreweries. Ottakringer is the only big, classic brewery in Vienna and it produces several types of beer, such as lager, pils, dark beer, etc. Other breweries, which have a restaurant or a bar (or both) attached to them are 1516 Brewing Company, 7Stern Bräu, Fischer Bräu, The Highlander, Medl-Bräu, Salm Bräu, and Wieden Bräu. They are all within the city limits and they are easily accessible by public transport (don't drink and drive!).
Conclusion
You will definitely not be hungry (or thirsty) in Vienna! Food in Vienna has authentic charm and flavors and it was designed to keep you running during long winter days. And this applies to all dishes, whether they are entries, main dishes, or desserts. Enjoy!