Vienna General Info. Vienna, capital of Austria, is a city of almost 2 million inhabitants and glorious (and turbulent at times) history. Today, it is known as a number one city on a global liveability ranking for two consecutive years, 2018 and 2019. We believe this title will remain with Vienna in 2020 as well. Also, it was the second on this index for several years as well (2015-2017), right behind Melbourne.
Vienna historical city center was designated as a UNESCO World Heritage Site since 2001. City is known as a 'City of music' because of its rich historical musical influence with names like Mozart, Beethoven, Haydn, Liszt, Schubert and Johann Strauss II, calling Vienna their home. It is also called 'City of dreams' due to a fact that first psychoanalyst Sigmund Freud lived and worked there.
Location
Vienna is located in north-eastern Austria, close to borders with Slovakia, Hungary and Czech Republic. It is spread over both sides of Danube River and it is surrounded by hills, forests and bordered with eastern parts of Alps. Total area of the city is 414.65 km2, which makes it largest city in Austria by area size.
Population
Population of Vienna (and Austria) is very diverse ethnically as there are about 16% of people from other countries and majority of them are from Balkans (Serbia, Romania, Croatia, Bosnia and Herzegovina, Bulgaria). There is plenty of inhabitants from Germany, Turkey, Hungary and Poland as well.
With population coming close to 2 million, Vienna is by far the largest city in Austria, followed by Graz (300 K), Linz (200 K) and Salzburg (160 K).
City had large population of Czechs, which were forced by Soviets to return to their country during the cold war.
Also, there was a large population of Jewish people in Austria before WWII, but 65,000 were deported to concentration camps and killed and 130,000 fled. Vienna has strong Jewish influence and heritage that is maintained through several museums, memorials, synagogues and prayer houses in the city.
Vienna through history
At the down of 20th century, Vienna was a largest German speaking city in the world. Today, it is the second one, right behind Berlin, capital of Germany. Interestingly enough, Vienna had larger population during the period of 1910-1934 than today, when there was a large migration of people from former areas under the Empire. At one point, Vienna was Europe's third largest city, after London and Paris.
The history of the city starts as far as 500 BC with Celtic settlements in the area, while first mentioning of name similar to Vienna, Vindobona, was recorded by Romans when they fortified the area against German tribes in year 15 BC.
In 10th century, Vienna area became gradually part of Babenberg dynasty as they were expanding their influence in the region. In 1440, Vienna officially became residence of Habsburg dynasty and capital of Roman Empire in 1437 in a turn of events, and thus started being known as a centre of music, art and science.
Ottomans tried to take over Vienna twice, in 1529 and 1683, and in between these two sieges, Vienna population was decimated with plague of 1679.
Vienna then became capital of Austrian Empire in 1804 which turned later into Austro-Hungarian Empire in 1867. After this period, and especially after WWI ended in 1918, Vienna blossomed in many ways and maintained its global influence in art, music and science.
With WWII unraveling in Europe, Vienna was going through turbulent times in its history that will last 10 years after WWII was over and when Allied Occupation and division of Vienna will end in 1955 with Austrian State Treaty. This is considered as an official start of independence and neutrality of Austria today.
After 1955, Vienna was being rebuilt and modernized and became again internationally recognized not only for music and art, but for diplomacy as well.
Vienna today
Vienna today is a modern, cosmopolitan European city with well preserved and maintained historical heritage and city of opportunity for everyone.
Vienna is hosting major international organizations, including the United Nations, several international agencies affiliated with the UN, OPEC and the OSCE. The city is also regular host of several important international congresses and conferences, especially ones related to science, medicine, pharmaceutical industry and environment.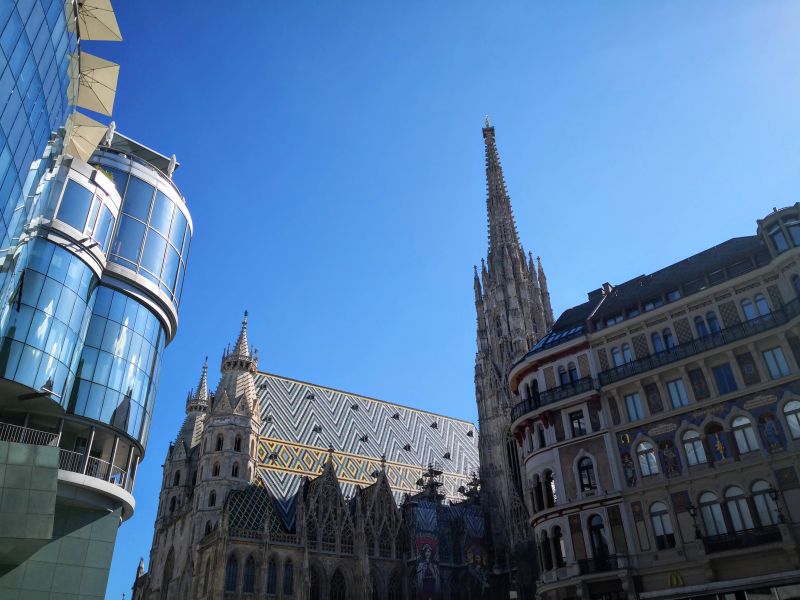 Vienna is also a city with long term sustainability strategy and heavily invested in eco-friendly initiatives that are constantly being implemented and improved (we will write about this in more detail later).
Vienna in the future
Being a city that is constantly declared and nominated as the best liveable city in the world has its downfalls – there is a permanent influx of people who want to move there. This creates problems in possible overpopulation and infrastructure overload, so authorities are permanently working in expanding of residential areas and improving of infrastructure and public transport.
There are several ongoing projects to help expansion, such as Seestadt Aspern with 20,000 new inhabitants and Smart City, an initiative to reduce carbon footprint of urban areas.
Vienna I also expanding its focus to research and development, IT sector and tourism, which will be some of the core areas to help city maintain its high-ranking status for quality of life.
Conclusion
This is very brief overview of Vienna general info and we will expand on several areas from this post in the future. As we explore Vienna, we will share our knowledge with you. We already have several posts to help you if you are planning to visit or if you decide to move to Vienna.
Safe travels and see you soon!
Vienna General info.