The two houses of the Austrian Parliament hold their sessions in the Austrian Parliament Building in Vienna. The building is near the Hofburg Palace and the Palace of Justice on the Ringstraße boulevard in the first district Innere Stadt. It was built to house the Imperial Council (Reichsrat), the bicameral legislature of the Austro-Hungarian Empire's Cisleithanian (Austrian) part.
The Austrian Parliament Building has served as the seat of the Austrian legislature's two chambers, as well as their predecessors, the Nationalrat and the Bundesrat, since its construction.
The Austrian Parliament building is one of Historicism's most significant structures. It was modeled in the style of ancient Greece by Theophil Hansen. One of the most important palaces on Ringstrasse boulevard is Palais Epstein, which is right next door.
The building's interior isn't the only aspect with a lot of artistic detail. The exterior's generous proportions and architectural features often draw visitors' attention and interest. It represents the views of its architect, Theophil Hansen, who saw parliaments of his day as "modern monuments" that should draw people's attention in the same way as temples from antiquity and cathedrals from the Middle Ages had done in the past.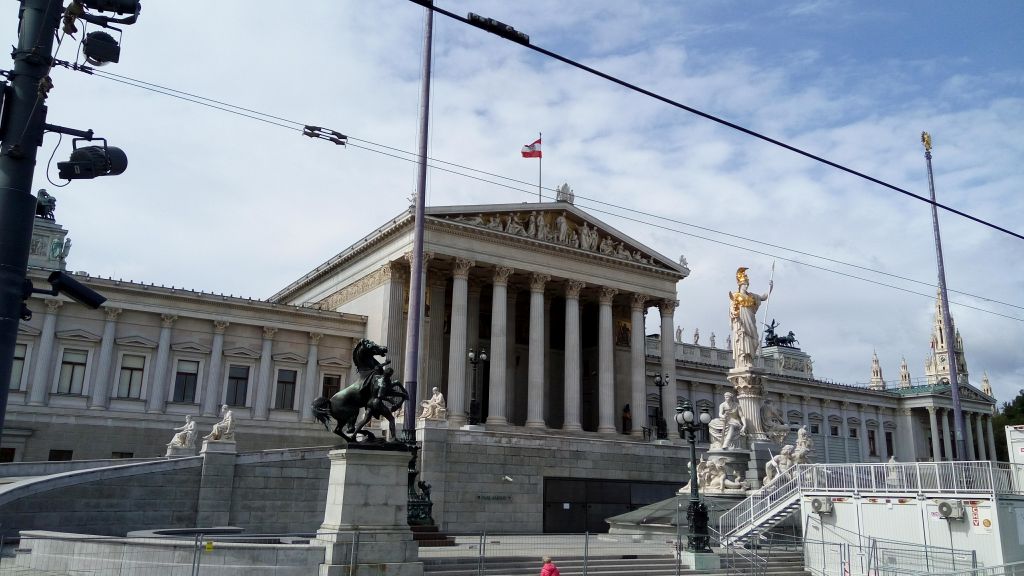 Parliament was completed in 1883 after a ten-year construction period. Since the Hellenes were the first people to value democracy and legality above all else, Theophil Hansen chose the Greek classical style for the house. Until 1918, the deputies of the "kingdoms and countries represented in the Reichsrat," the Austrian half of the double monarchy of Austria-Hungary, which stretched from Galicia (today's Poland and Ukraine) to Dalmatia (today's Croatian Adriatic coast), met here. It was built with materials sourced from around the monarchy. The Pallas Athene fountain in front of Parliament's main entrance is meant to reflect state wisdom.
Austrian Parliament Building now houses both the National Assembly and the Federal Assembly. Aside from the Hall of Columns, the historic chamber, which is built on an ancient theater and is only used for special occasions, is a special highlight. This massive structure has a surface area of nearly 14,000 m2. The complex has a total of 1,600 rooms with 920 windows. The daily electricity use is roughly equal to the annual electricity consumption of four single-family homes.
There are guided tours provided for Hofburg, Heldenplatz, and Palais Epstein. There is also an opportunity to attend parliament sessions from the gallery.
U3 (Volkstheater stop) or U2 (Rathaus), with tram D, 1, 2, 71, 46 or 49 lines (Ring/Volkstheater stops)
Free guided tours available. 6 days a week, Mon-Sat, 10:45 AM first guided tour, 15:45 last tour.