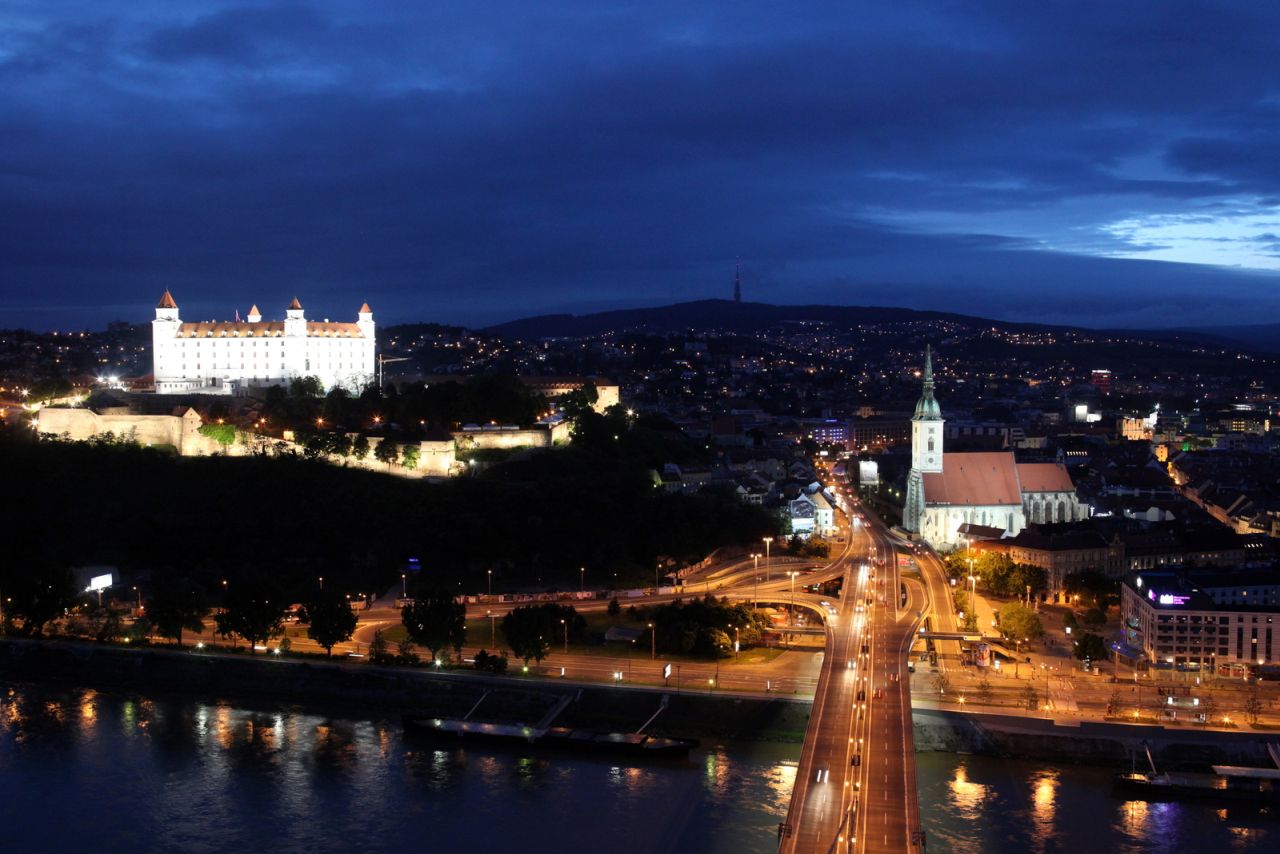 Take advantage of the opportunity to travel to Bratislava, one of Eastern Europe's former communist capitals, on a private day trip from Vienna. Slovakia's capital, which is only an hour's drive from Austria's capital, has cobbled squares, baroque architecture, and fascinating communist history.
Included in this 6-hour private tour are round-trip transportation, a guided walking tour, free time to browse shops, eat, and stroll, as well as historical insight into Bratislava's time under communist rule. In addition, hotel pickup and drop-off are included.
Bratislava Private Day Trip from Vienna
Highlights
A 6-hour private excursion from Vienna to Bratislava
Drive through beautiful countryside to the capital of Slovakia, which was once part of totalitarian Eastern Europe.
A local guide will take you on a walking tour of Bratislava's ancient streets.
Visit Bratislava Castle and St. Martin's Cathedral, two of the city's most popular sights.
Take a stroll, grab a bite to eat (at your own price), and go shopping on your own time.
Round-trip private vehicle transportation with hotel pickup and drop-off based on a maximum of six passengers per car
Meet your driver at your hotel in Vienna, get settled in your private vehicle, and travel across Lower Austria to Slovakia. On the way, take in the scenery, which includes vineyards and windmills, and arrive in Bratislava, Slovakia's capital on the Danube, after approximately an hour.


Start with a private walking tour of the city's highlights with a knowledgeable guide. Learn about Bratislava's ancient and medieval history, as well as its time under communism from 1948 to 1989, as you stroll. Admire Bratislava Castle, a fortress palace on a mountaintop that dominates the city.
Hear about how the structure served as the seat of several Hungarian kings, and then have a look at the Slovakian Parliament, which is perched on a nearby hill. After that, go through the cobblestoned Old Town and marvel at medieval and baroque buildings and monuments.
Stroll to St. Michael's Gate, the only remaining ancient city gate in Bratislava, and take a break outside the Slovak National Theatre and Accademia Istropolitana, Hungary's first university of human science, founded in 1465. Admire the Town Hall and St. Martin's Cathedral, which was the coronation cathedral of Hungary's kings from 1563 to 1830, and whose steeple is capped with a crown.
Stop for photos at the baroque Palffy Palace, where Mozart performed when he was barely six years old, and at Leopold de Pauli's Palace, an 18th-century mansion notable for holding a concert by Franz Liszt when he was nine years old in 1820. Leave your guide after your 2.5-hour tour and go for a walk or rest on your own.
Consider treating yourself to dinner (at your own expense) at one of the restaurants or taverns, or go shopping for Slovakian crafts such as lacework, ceramics, or corn husk dolls. Meet up with your driver again and return to Vienna, where your excursion will conclude with a hotel drop-off.
Tour details
Tour type: Day trip/guided tour
Guide language: English
Duration: 6h
Price: from $1005 (per group, maximum 6 persons)

More tours of Vienna: