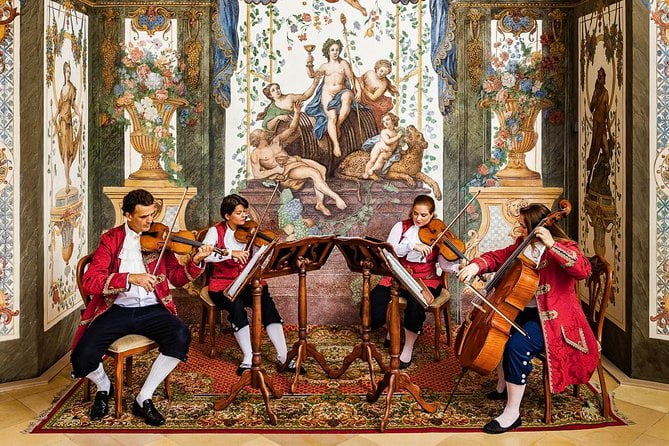 Concerts at Mozarthouse Vienna. The Mozarthaus Concert will be held at the Sala Terrena, which was Mozart's first Vienna apartment. One of the best places in the world to hear chamber music is Sala Terrena. Purchase your tickets early for this popular concert, which features a string quartet in period costume performing classical compositions.
Concerts at Mozarthouse Vienna – Chamber Music performed by the Mozart Ensemble
Highlights
Securing a spot at the Mozarthaus
Performance at the Sala Terrena, the former home of Mozart
Enjoy a one-and-a-half-hour concert by a string quartet.
Come and listen to the music of the greats such as Mozart, Bach, and others.
As an additional convenience, the program and coat check are included.
Make your way to the Sala Terrena in the heart of Vienna, where the concert will be held. Look around the concert hall's interior to see the historic frescoes that adorn it. Enjoy a 1.5-hour performance by a string quartet dressed in authentic historical costumes.
Listen to well-known works by Mozart, Bach, Beethoven, Schubert, Hadyn, and other composers.. Imagining how it felt to sit and listen to music in this location hundreds of years ago is an interesting thought. Your ticket price includes a souvenir program and coat check.
Tour details
Tour type: Concert ticket
Guide language: English
Duration: 1.5 hours
Price: from $52 (per person)

More tours of Vienna: