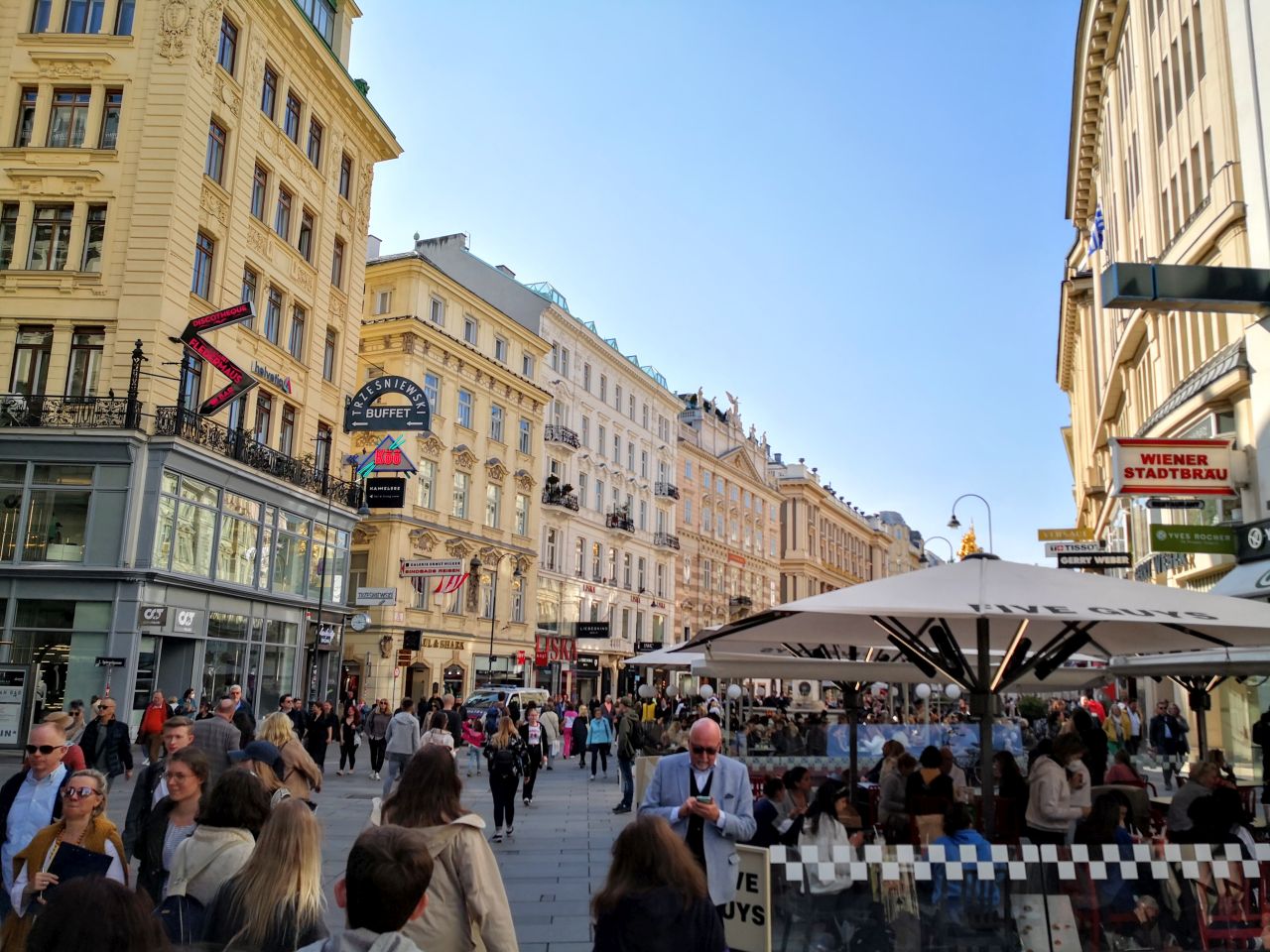 Graben Street (Graben Strasse) is the most central pedestrian and shopping street in Vienna. It is almost as if you didn't walk this street, you have never been to Vienna, and this is true for many reasons. Stretching from Stephansplatz and the corner with Kärntner Strasse (another pedestrian and shopping hotspot), to Kohlmarkt Street, Graben Street is a must for any walking or leisure tour of Vienna center.
Relatively short in length (about 250 m), but wide and spacious, Graben Street packs so many points of interest and shopping spots that make it very popular for both visitors and locals. While it is not 'A' street to go shopping (those are arguably Kärntner and Mariahilfe), you will definitely find something that will catch your eye. More about it in the shopping part of this article.
One thing you shouldn't miss in Graben is during Advent time when the street is decorated with giant chandeliers from mid-November until Christmas. It is a spectacular look during the evening when they are lit, and almost as impressive during the day! Take a look: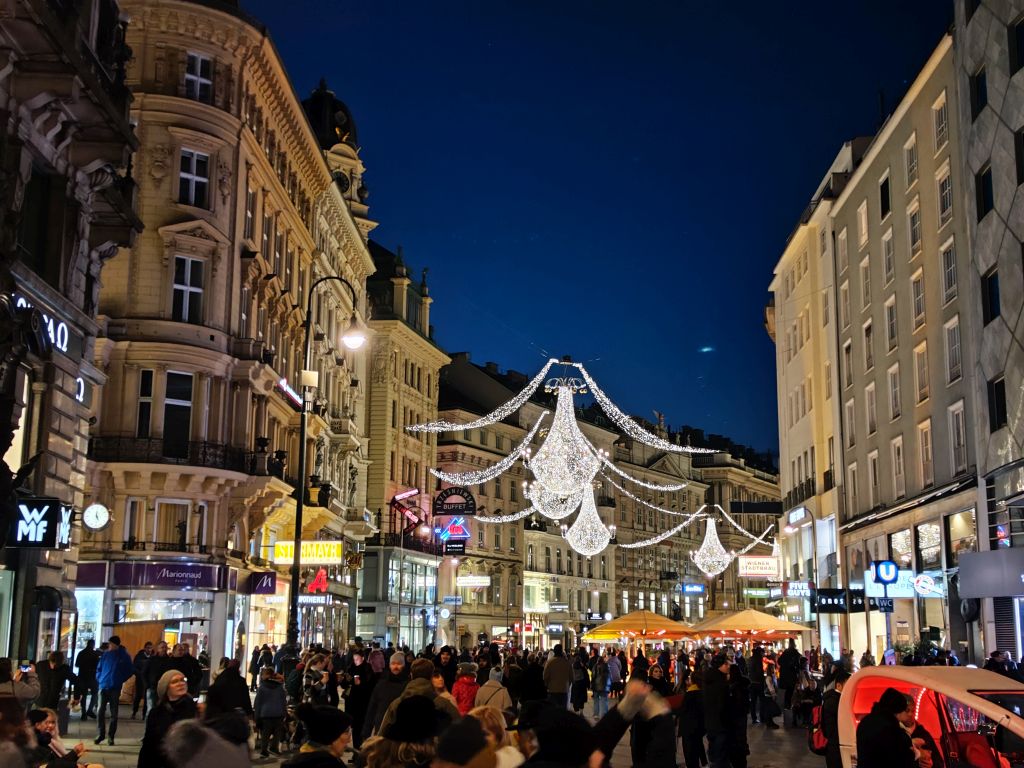 Quick facts
Name: Graben Street (Graben Strasse)

Type of attraction: Pedestrian Area/Street

Built: First mentioned during Vindobona times, official records date from 12th century

Location: Graben, 1010 Vienna, 1st district, Innere Stadt

Public transport: U1 (Stephansplatz) or busses 1A or 2A (Graben, Petersplatz). Graben is very centrally located and it is reachable on foot from any place within the city center

Price/ticket: free

Opening hours: Always open

Official website: N/A
History of Graben Street
Graben means trench (or a moat) in German, which was exactly what the area was like in the Roman times, during the encampment of Vindobona. The trench was there until the 12th century when it was filled with soil and leveled to be used as a street and residential area.
It immediately became a very busy area for regular residents and merchants, and sporadic stalls with fruits and vegetables slowly became a large market area, together with the first wooden houses built alongside the road. Later on, when the area became very popular, several palaces were built where they stand to this day.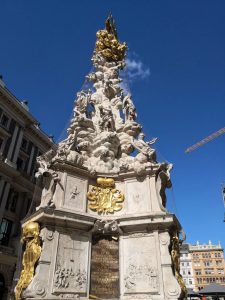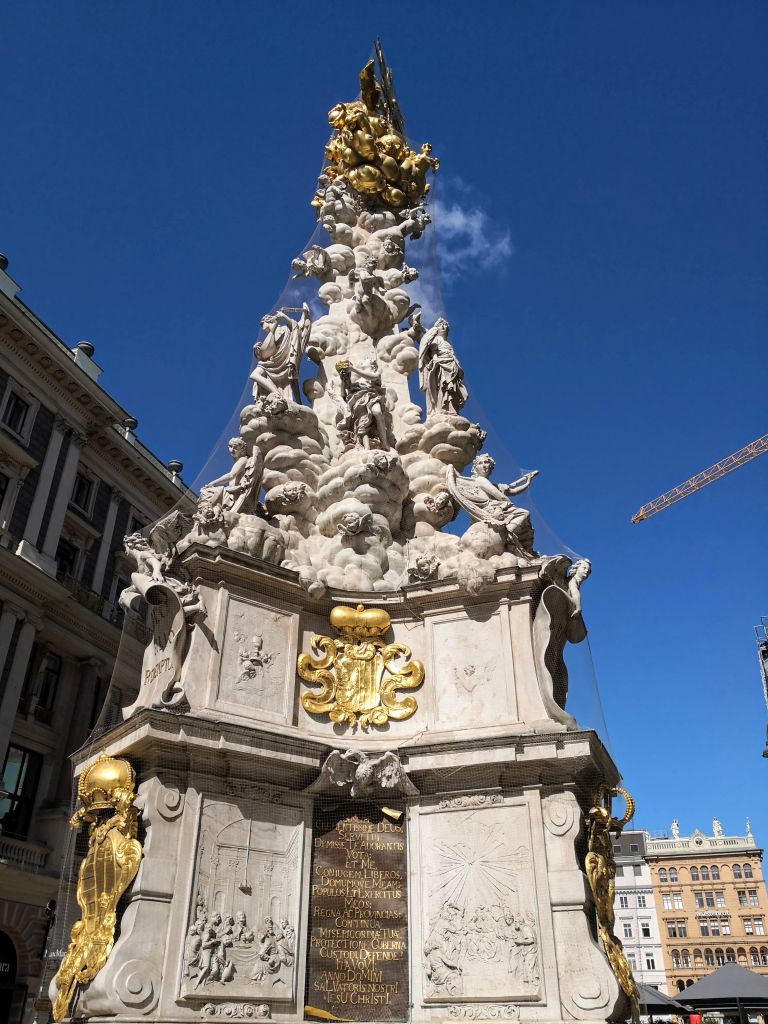 At the beginning of the 18th century, the street went through a revival and it was adorned with many grandiose buildings and palaces, which started with the renovation of St. Peter's Church which was completed in 1733.
The renewals of houses and the road continued throughout the 19th century, with the addition of several luxury shops. This made the street even busier than before, including motor vehicle traffic. The street was declared a pedestrian zone in 1974, with the introduction of the underground (U-Bahn).
Today, only delivery and utility vehicles are allowed on the street and mostly outside of peak hours (early mornings or late in the evenings).
Popular landmarks
Graben Street is quite short in length, but it is packed with points of interest, restaurants, cafes, and shops. Even if you don't plan shopping, you will have plenty of things to see on this street. Here is a list of the most important landmarks.
Plague Column (Wiener Pestsäule)
This monumental column is in the middle of Graben Street, and it is a popular tourist tour stop. It has major historical and religious significance and we have written about it here. This is an attraction on its own and it makes for a great photo shoot and especially against the blue sky.
Fountains
There are two fountains, one from each end of the street: Josefsbrunnen (Joseph's Fountain), from the Kohlmarkt end, and Leopoldsbrunnen (Leopold's Fountain) from the Stephansplatz end. The records about the fountains date back to the middle of the 15th century and they were renovated and rebuilt several times.
Stock im Eisen
This is a unique attraction in Vienna, which is easy to miss. Located on the corner of the former, namesake Stock-im-Eisen-Platz (now actually part of Stphansplatz, so technically not on Graben Street). It is an ancient piece of wood in the iron cast with hundreds of nails in it. It apparently brings good luck, and several legends follow it, most of them including Devil tempting common people into committing a sin (and losing the bet in the process).
St. Peter Church
This church is not technically on Graben Street, it seats on its own square, but it is worth mentioning it as a landmark that you shouldn't miss. Here is more information about this church – Peterskirche.
Buildings and palaces
As we mentioned earlier, Graben Street was being rebuilt and renovated through the centuries and many edifices were torn down, new ones built and old ones revamped. From the original lineup on the street, these are the most famous:
Erste österreichische Spar-Kasse palace is a most monumental building on the street. It was originally built in 1825, but in 1839 took today's look by being expanded to neighboring plots, from the houses which were torn down.
Ankerhaus is a residential building from 1895. Designed by the famous Otto Wagner, it was a house of the influential Anker Insurance (the famous Ankeruhr was commissioned by them).
Palais Bartolotti-Partenfeld is the only Baroque-style structure on the street. You can recognize it by a niched statue of the Virgin Mary on the first floor.
Generalihof Palace. This edifice was built originally in 1795 and renovated in 1831. It was famous for being the home to Leopold Kozeluch's music store, publisher of the works of Mozart. However, its name is coming from Assicurazione Generali, who bought the building and refurbished it in 1894.
Grabenhof is another work of Otto Wagner, this time in cooperation with Otto Thienemann. The building's location is rich in history, and it was home to several structures through the centuries.
Restaurants and cafes on Graben Street
While walking on the street and going from attraction to attraction, a quick coffee break or a full lunch or dinner is sometimes needed. Not many options on Graben Street, but any side street has bars and restaurants you might like. Here is a list of places to have a coffee or a quick bite: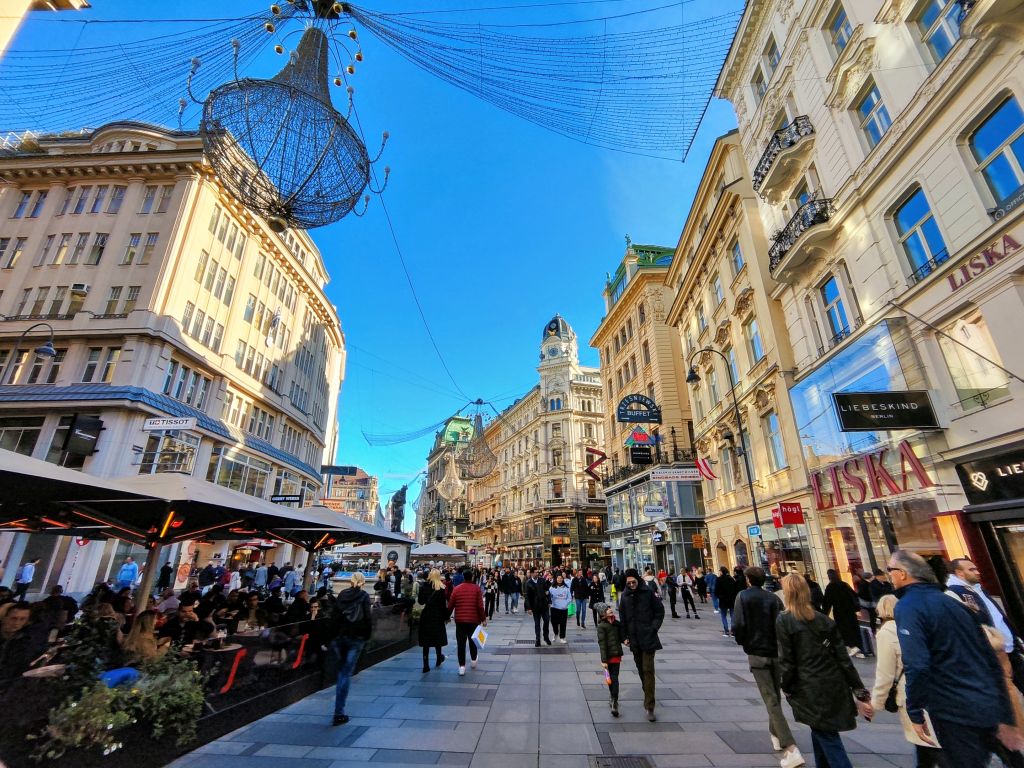 Cafe de l'Europe / Castelletto – ice cream and cake shop
Segafredo – franchise coffee shop
Altmann & Kühne – chocolate shop,
Läderach – chocolatier shop.
Wiener Stadtbräu – restaurant
Chattanooga – restaurant
Julius Meinl (Zanoni owned) – franchised coffee shop
Graben Street shopping
What it lacks in the restaurant area, Graben Street compensates for shopping opportunities. You can find clothes, jewelry, watches, perfumes, souvenirs, and all kinds of bits and pieces that might come in handy or they will remind you of Vienna. Here is a list of shops:
Graben-Apotheke – pharmacy
Yves Rocher – beauty shop.
Gerry Webber – women's clothes shop.
Camper – shoe shop
Triumph Lingerie – lingerie shop
Swatch Wien Graben – watch store
Jaeger-LeCoultre Boutique – watch store
Hübner Uhrmachermeister – watch store
TAG Heuer – watch store
ESCADA Store Vienna – women's clothes store
Erste Bank – Filiale Graben – Austrian bank
Juwelier Wagner – fine jewelry retailer
Cartier – jewelry shop
Tchibo – coffee and accessories store
TOD'S Vienna Store – boutique shop
Wolford Boutique Wien – luxury hosiery & lingerie retailer
Anton Heldwein – jeweler
KNIZE – clothing store
LIEBESKIND Berlin – fashion accessories store
AlphaTauri – clothing store
H&M – clothing store
Marionnaud – perfume store
Parfumerie J.B. Filz – perfume store
Weidler – stationery store
And last, but not least, as this doesn't fall under restaurants or shops:
Boutique Hotel Nossek – if you want to stay in the heart of Vienna at normal prices, this would be the place.
Conclusion
Graben Street (Graben Strasse) is a very central pedestrian area in Vienna. Popular with tourist tours is also one of the main shopping streets in the city. And not only that, it is an area with rich history, so you will not only enjoy the walk and shopping, but you will also learn something about Vienna that you might not know already. Safe travels and see you soon!