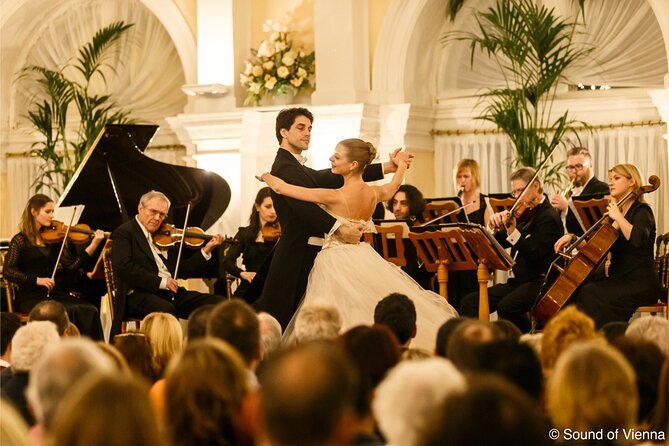 ---
Johannesgasse 33, Vienna 1010
48.2033746, 16.378013739205
---
Kursalon Vienna: Johann Strauss and Mozart Concert. At the Kursalon Vienna concert hall, you may enjoy an evening of Viennese classical music. In a program featuring opera singers, ballet dancers, piano concertos, and more, listen to well-known compositions by Mozart and Strauss. Settle into your chosen seat and take in the atmosphere that made the waltz famous in the nineteenth century.
Kursalon Vienna: Johann Strauss and Mozart Concert
Highlights
The Kursalon Vienna is hosting a classical music concert.
Take in the historic atmosphere of the concert hall where Johann Strauss's musical career flourished and let your imagination run wild.
Enjoy a spectacular musical performance, which will be accompanied by opera singers and ballet dancers, among others.
Enjoy the piano and orchestral masterpieces of Strauss, Mozart, and other composers on this program.
Opt for a seat in the rear section, the middle section, or the front section of the concert hall, or upgrade to the two front rows for an additional fee.
A glass of sparkling wine, along with a concert program and CD, will be provided (if VIP category selected)
Make your own way to the venerable hall to kick off the evening's festivities. Appreciate the venue's one-of-a-kind combination of historical significance and magnificent modern flair, which includes four ballrooms and a large terrace with views over Stadtpark.


As the Salonorchester Alt Wien concert begins, take a seat in your chosen location and enjoy yourself. Take in a show filled with waltzes, polkas, operetta and piano concerto melodies, all performed by ballet dancers and opera vocalists to a backdrop of beautiful scenery.
Music by Mozart, Strauss, and others will be performed, including the "Rondo alla Turca" and the overture to the opera "Le Nozze di Figaro," as well as "A Little Night Music," "On the Beautiful Blue Danube," and more. With a VIP ticket, you'll get first-row seating and a glass of sparkling wine at intermission, in addition to special perks like priority seating.
In addition, you will receive a Johann Strauss CD as well as a Kursalon Orchestra program to take home with you. Make your own way back to your hotel after the performance, or stay in the area to continue your evening activities in Vienna.
Tour details
Tour type: Entrance ticket
Guide language: N/A
Duration: 1h 40m
Price: from $79

More tours of Vienna: