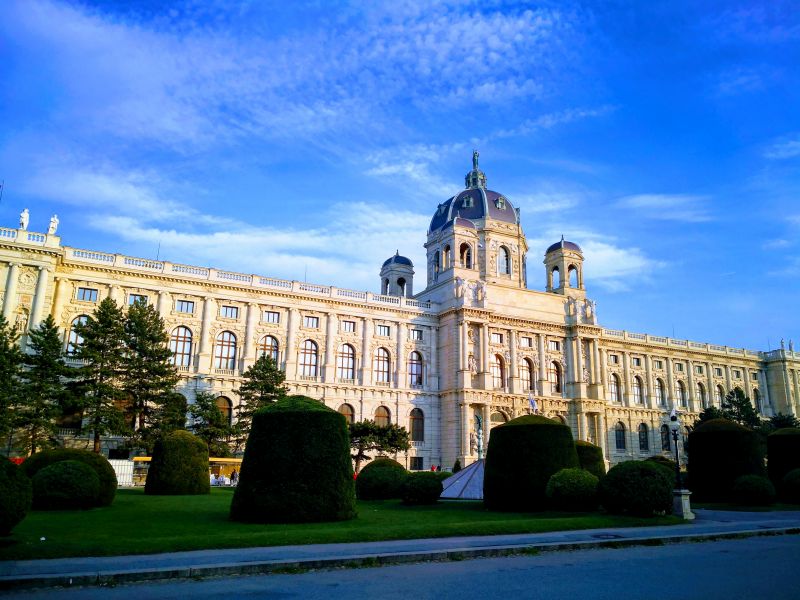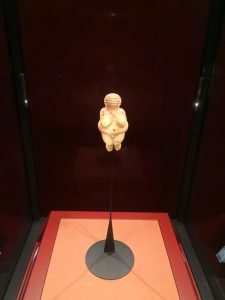 Home to the famous Venus of Willendorf, Natural History Museum Vienna (Naturhistorisches Museum Wien) is a large museum showcasing more than 100,000 objects throughout 39 exhibition rooms in the area of 8,460 square meters. The museum hosts about 30 million objects which are available for research to scientists and researchers from around the world to further expand knowledge on human sciences, earth sciences, and life sciences.
The museum is housed in a beautiful palatial building from the 19th century, mirrored with the identical building of Kunsthistorisches Museum Wien, located across Maria Theresa Platz.
History
The museum was founded on April 30, 1876, and opened officially on August 10, 1889. The original collections of the museum belonged to Emperor Franz I Stephan, who bought in 1750 the largest and most famous collection of natural objects in the world from the Florentine scholar Johann Ritter von Baillou.
After the death of Emperor Franz I, Maria Theresa handed over the collections to the state, and a famous mineralogist at the time, Ignaz Born, was entrusted as custodian of over 30,000 objects of shells, corals, crabs, and fossils to catalog them and further expand them.
In 1796, Emperor Franz II expanded the collection to include an animal catalog, which was exhibited together with the physical and astronomical instruments. The plant catalog, founded in 1807, became state property in 1811 (together with an animal catalog of items).
In 1857, the museum was organized with clearly defined departments:
mineralogical-petrographic
geological-paleontological
zoological
botanical
anthropological-ethnological (later divided into the anthropological-prehistoric and ethnographic collection)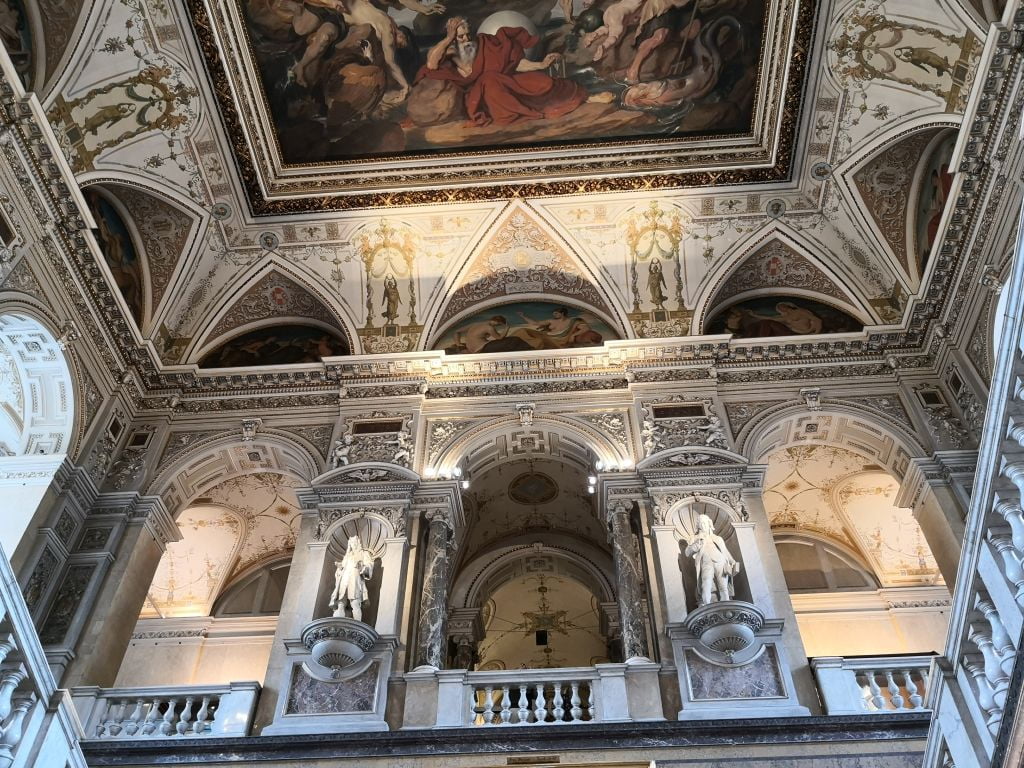 After some damage suffered during WWII, the museum was further restructured and enriched with collections and departments as we see them today. Museum has become an independent scientific entity in 2002 (exited from federal administration) and it has established departments as follows:
Anthropological Department
Archive for the History of Science (since 1987)
Pathological-anatomical collection in the Narrenturm
Environment and ecology
Botanical Department
Geological and Paleontological Department
Karst and speleological working group
Prehistoric Department
Zoological Department

vertebrates
insects
invertebrates without insects
What to see in Natural History Museum?
To put it blandly, you should see everything. Since this is quite an impossible task, given the sheer number of exhibits, we recommend planning to visit several times so you can enjoy fully this amazing museum. Here is a breakdown of exhibits based on theme/category.
Mineralogy and Petrography
In five halls (the fifth being dedicated to meteorites), there is a vast display of minerals, ores, gemstones, and rocks classified by type, composition, and origin (and their evolution through time). There are more than 20,000 objects, being collected, classified, and researched for almost 500 years.
At the very entrance to the minerals area, you are met with a massive amethyst sample with deep violet-colored crystals from the Serra do Mar in Brazil. This was a gift from Isidor Weinberger in 1904.
The collection also includes building and decorative stones used in Europe on famous buildings. It also contains artificial products such as stucco and tiles.
The collection of gemstones has several notable objects on display: An opal from Czerwenitza which is the largest of its kind, weighing 594 grams; Diamonds in matrix from various South African deposits; cut and polished diamonds from India; a platinum nugget from the Urals weighing 6.2 kg; gold from Siebenbürgen and a gold nugget from the Urals; Colombian emeralds; the famous Bouquet of precious stones; one of the largest tourmaline groupings from the King Tourmaline Mine in California; top-quality rubies and sapphires set in rings, and an aquamarine crystal from Nepal weighing 1.6 kg.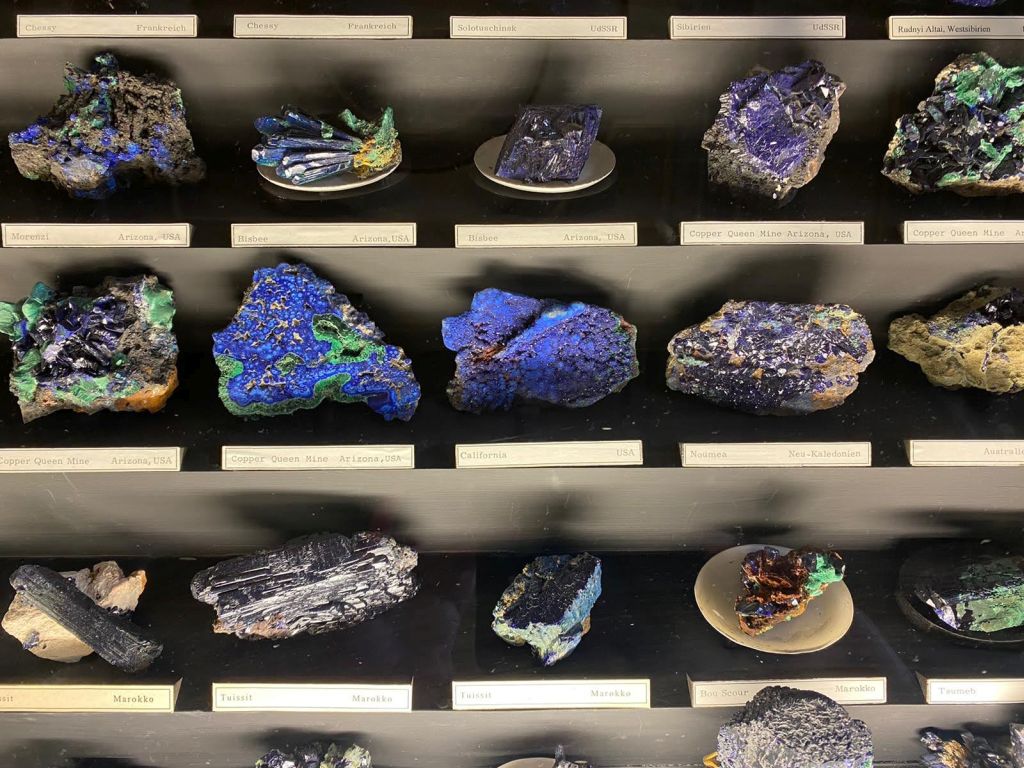 A gem topaz crystal weighing 117 kg was added to the collection in 1978. It is one of the largest topazes from the deposit at Fazenda do Funil near Santa Maria do Itabira in Minas Gerais, Brazil.
Hall no. 5 in Mineralogy and Petrography department is fully dedicated to meteorites and it presents the world's largest meteorite exhibit collection. There is also an option to watch meteors live via the meteor radar station. There are about 1,100 meteorites on display (including 650 different meteorites, consisting of 300 falls and 350 finds), many of which are historic falls or finds.
From notable meteorites on display, we would like to highlight the following: the stony meteorite Knyahinya (weighing approx. 300 kg); other stony meteorites of historical significance – Tabor, Stannern, Lancé, Mocs, Tieschitz, Florey, and Etter; Ischgl meteorite; Tissint Martian meteorite and basalt rock from the Moon.
In addition to the meteor radar station, there is also an 'impact simulator', where visitors can simulate various meteor impacts on Vienna and the rest of Europe and see the possible damage caused. There is also an interactive station to learn about the density of various meteorites.
Geology and Paleontology
This area covers Earth's history and earliest known fossils to mankind. The initial hall is dedicated to Gaiasphere (animated globe) and representing Earth's interaction with the biosphere. Further on, Precambrian and Palaeozoic era fossils are displayed, together with reconstructed living organisms from those times.
The next hall (No. 8) focuses on plant fossils from the Mesozoic era and marine life from Triassic and Jurassic times. An animation of a meteor impact depicts the catastrophic end of the Mesozoic Era. Cenozoic Era which started 65 million years ago is covered in hall No. 9. Some of the highlights of this hall are fossil fishes from Monte Bolca in Italy; the complete skeleton of the prehistoric elephant Prodeinotherium, Eocene insects enclosed in amber, and the sea life of the Vienna Basin.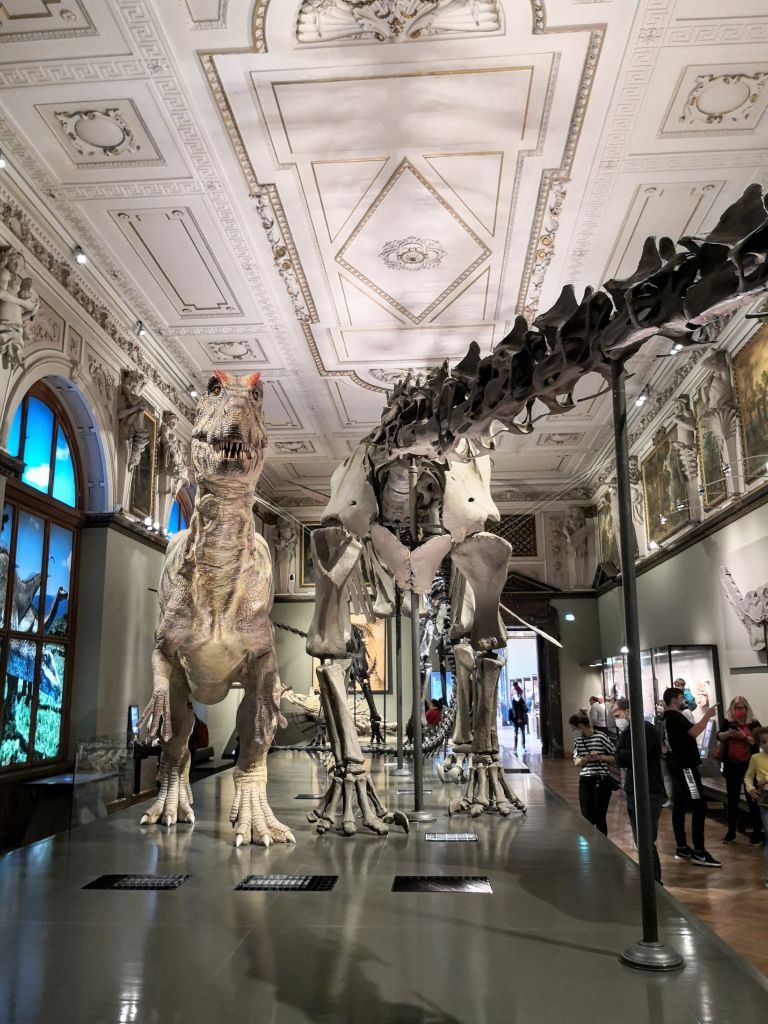 Hall no. 10 is fully dedicated to dinosaurs, one of the most impressive prehistoric creatures. The central part of the hall has on display large skeletons of Diplodocus, Allosaurus, and Iguanodon. A full-size Pteranodon model with a wingspan of 7 m is hanging from the ceiling. Other highlights of the exhibition are the skeleton of Archelon ischyros – the largest turtle ever existed, a female ichthyosaur with fossil embryos, and several pterosaur skeletons.
In between halls 9 and 10, there is an exhibition dedicated to Ice Age. These are periods starting as early as 700 million until 2.8 million years ago and exhibits are correlating today's climate changes with the ice age.
Further halls (11-13) represent collections from prehistoric periods: Paleolithic, the Neolithic, and the start of the Bronze Age in hall 11, with stone tools, ivory beads, clay vessels on display; prehistoric salt mine and settlement of Hallstatt is showcased in hall 12; in the hall 13, the period in Central Europe from the Late Bronze Age through the Iron Age until the end of the first millennium AD is represented with rich collections.
Anthropology
The next halls (14-15) are focused on anthropology, human evolution, and development through ages until the Neolithic era. Visitors can see the evolution of humans as a historical, biological process, but also the cultural development as a significant component of humanization.
A modular approach to the content is enabling visitors to enjoy both playful, interactive access and an in-depth look at more complex knowledge. The exhibition provides examples of bipedalism in humans together with the evolution of brain size and functionality through life-size models both physical and virtual. Many interactive exhibits are giving opportunities to visitors to learn through play.
Planetarium
The planetarium is located in hall 16. There is a program of films related to astronomy and life on Earth and also live shows with astronomers presenting the night sky and taking you virtually to various places in the universe. Movies include stories about the origins of life, the Solar system, Earth through time, dinosaurs, volcanos, natural forces and catastrophes, and many more. The planetarium is a great place for children to learn through visual presentations.
First floor – animal life
The first floor of the museum is completely dedicated to animal life exhibitions. In hall no. 24, there are Invertebrates / Arthropods – Crustaceans, Spiders, Myriapods, Insects in general. The extraordinary variety of insects makes up the largest part of the display.
The systematic presentation of today's living insects shows their evolution and interconnection. Some of the highlights of this hall include Amazonian or Peruvian giant centipede; scorpions and tarantulas, black widow spiders, Hercules beetles, Stag beetles, Butterflies, and moths, Birdwings, Dipterans (Mosquitoes and Flies), and termites.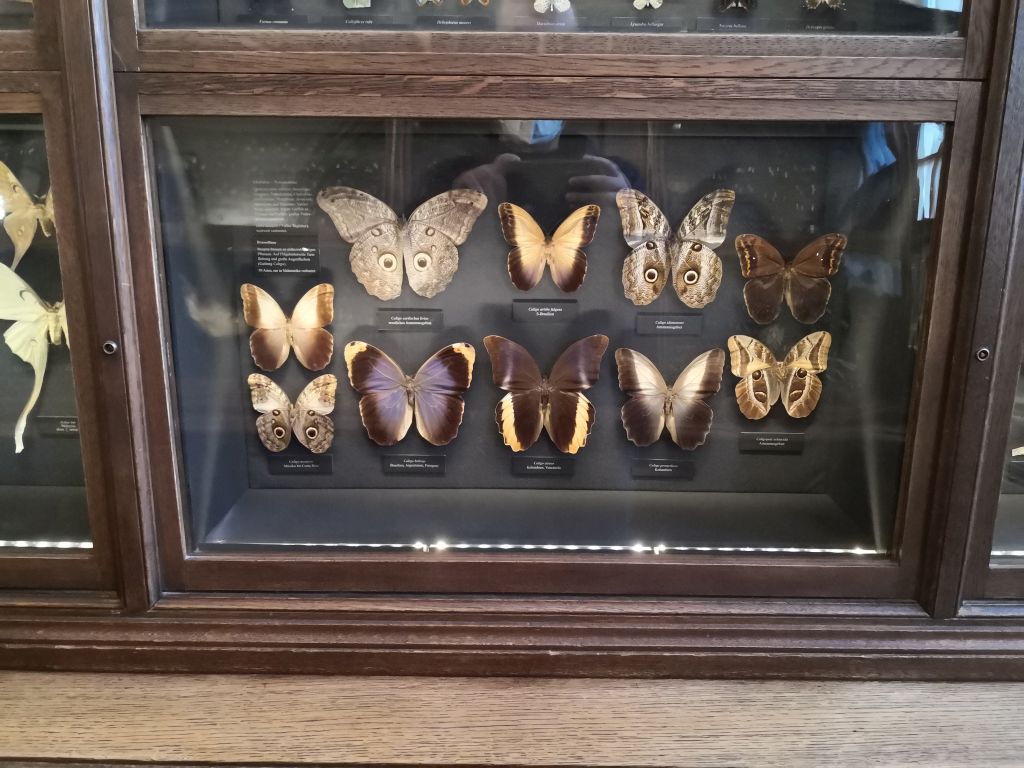 In the next halls (27 and 28) there are exhibits of amphibians and reptiles. The collection includes hundreds of species preserved in alcohol or dried-up form (skeletons, skins, dermoplastics). Hall no. 27 features amphibians, snakes, lizards, and tuataras: chameleons, giant salamanders, Gila monster, anaconda, cobra, and rattlesnakes. Hall no. 28 is focused on turtles and crocodiles.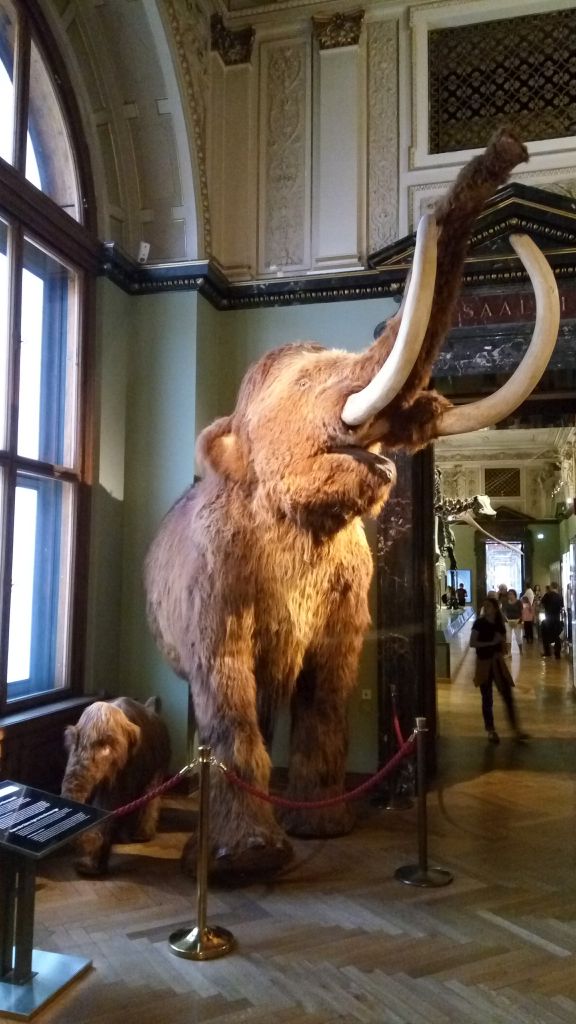 The largest part of the first flor (halls 33 through 39) is dedicated to mammals. Hall no. 33 features a selection of monotremes, marsupials, bats, insectivores, rodents, edentates, and pangolins. Hall no. 34 is dedicated to large mammals: whales, elephants, giraffes, hippopotamuses, elephant seals, and sea cows. Hoofed animals are represented in hall no. 35 – horses, boars, rhinoceros, among many others.
Families of goats, sheep, ibexes, gazelles, antelopes are featured in hall no. 36. Series of artiodactyls (deer, rain deer, mouse-deer, and others) are featured in hall no. 37. Series of carnivores are presented in hall no. 38 – cats, hyenas, tigers, cheetah, lions, wolves, brown and polar bears, and many others.
And finally, in the hall no. 39, there is a collection of primates – marmosets and tamarins, Capuchin monkeys, galagoes, Red-eared monkeys, orangutans, gorillas, chimpanzees, and several more.
What to do in Natural History Museum Vienna?
Walking through the museum and looking at the exhibits is one of the most common activities you can do while there. But, that's just one activity of many. Museum offers guided tours, workshops, and different specialized programs tailored based on age, interest, and group sizes.
The museum caters to children of all ages and delivers guided tours and presentations. Regular tours are organized for school children as a complementary learning activity.
For children and families, there are private guided tours, nights at the museum, where you can visit the museum outside of working hours and enjoy it in a more private atmosphere. There are also children's birthday parties offered in a museum setting.
The entire museum is child-friendly as there are many interactive and fun activities kids can do while exploring museum grounds.
For adults, the museum offers dinner nights, nights at the museum, and special guided tours for people with impaired vision. There are also several virtual reality tours to experience some presentation with the aid of technology.
Audio guides provided by the museum (for a fee) have themed exploration paths you can follow and discover exhibits chronologically through stories and explanations.
Museum has a cafe where you can take a break in between your explorations, and a shop where you can purchase books and souvenirs designed in museum theme. Please note that the shop is outside of the museum entrance, so once you go to the shop, your visit ends and you cannot return back.
The museum is worth exploring regularly and yearly tickets for adults (children/teenagers up to the age of 19 enter for free) which costs about $45 is worth considering if you live in Vienna or you are a frequent visitor. Apart from the permanent exhibitions we described above, the museum has special exhibitions throughout the year, which makes it even more enjoyable to visit.
Conclusion
With so much to see and learn, the Museum of Natural History Vienna is one of the top attractions in the city (and Austria in general). It offers priceless insights into natural history and it is suitable for visitors of any age or educational level. Interactive presentations make visit fun and interesting, especially for children. Since the museum is permanently adding new exhibits and presentations, it needs to be explored every time you visit Vienna. Safe travels and see you soon!
person, depends on age or group size. Children/teenagers up to age of 19 enter free
Founded 1876, opened 1889
U3, Stop Volkstheater, U2, Stop Museumsquartier, Trams 46, 48, buses 48A N46, Stop Ring/Volkstheater U, or 15 walk from Stephansplatz.