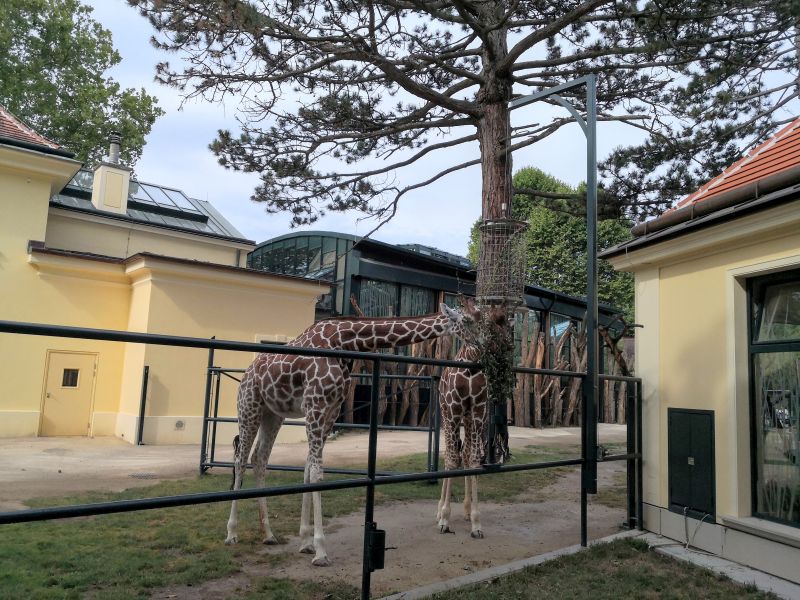 7 days a week, 09:00-17:30 (16:30 in winter and 18:30 in summer)
It is not an everyday occasion to plan a visit to a palace, royal gardens, and the zoo on the same day, but this would be the case when you go to Schönbrunn Zoo.
Schönbrunn Zoo is one of the oldest zoos in Europe dating back from 18 century and it is a great natural habitat conservation area with many species. There are around 700 species hosted in the zoo in an area of 17 hectares. Some species are critically endangered, and their survival depends on living conditions and care in the zoo.
Quick facts
Name: Schönbrunn Zoo (Tiergarten Schönbrunn)

Type: Zoo – zoological garden

Built/opened: 1752

Location: Maxingstraße 13b, 1130 Wien, 13th district, Hietzing

How to get there: U4, Wien Hütteldorf from Schwedenplatz or U3, Wien Ottakring from Stefansplatz (plus tram No. 10), or bus 10A

Ticket Price: From $14, depends on the type of ticket, children up to the age of 6 enter free.

Opening hours: 7 days a week, 09:00-17:30 (16:30 in winter and 18:30 in summer)

Official website: https://www.zoovienna.at/en/
The zoo has special and themed tours, where you can focus on certain animal groups or if you want to learn about what is happening backstage and how zoos and animals are managed. There is also a timetable for the feeding of the animals that is a spectacle of its own and very enjoyable for children.
There is a panoramic train riding throughout the zoo and Schönbrunn Palace complex that can be lots of fun for kids. When visiting as a family with children, plan to spend at least half a day as there are many things to see and do. There are several eateries, cafes, and ice cream parlors to have a nice relaxing break between exploring this wonderful habitat.
Outside of the zoo, there is a Desert house (separate entrance fee) that provides an environment for animals and plants specific to the various desert areas around the world.
In summary, Schönbrunn Zoo is one of the top attractions in Vienna and a great place to spend some time and learn about nature.
Animals and things to see in the zoo
Schönbrunn Tiergarten is home to over 700 animal species. They are divided into animal groups, families, and types. Here are the highlights of what to see:
Pandas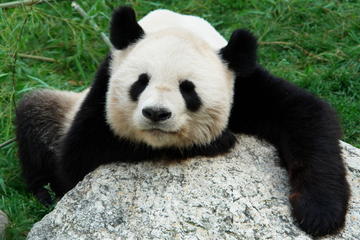 Giant pandas Yang Yang and Yuan Yuan became mascots of the Vienna Zoo, they can be spotted around the city on billboards and posters promoting it. Their enclosure is just at the main entrance and great start to the visit. Since pandas are animals who mostly sleep and eat, you need to be patient to spot them.
From the other side of the giant pandas' enclosure, there are red pandas. Much more active and cuter in appearance, they can be easily spotted.
Elephants
Families of African elephants have a large enclosure with outdoor and indoor areas. There were happy times with baby elephant Kibali, which was born in 2019, but sadly died suddenly in July 2021. Elephants were given extra attention after this incident since they are very sensitive animals.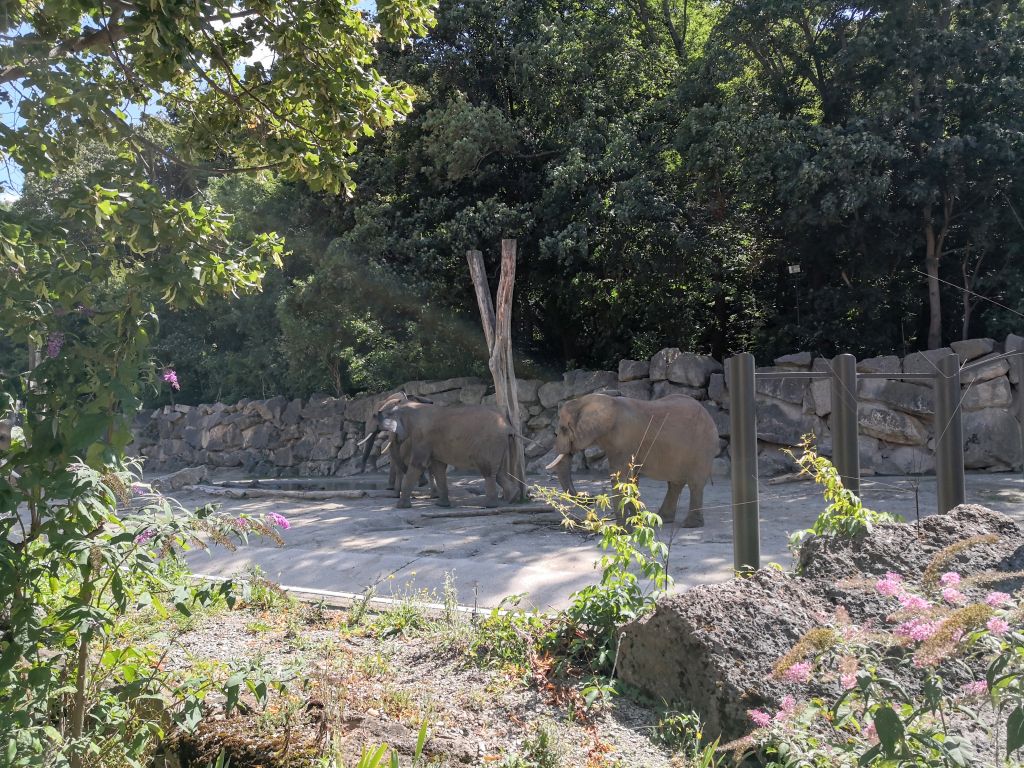 Polar bears
One of the most popular attractions at the zoo is a multilevel enclosure for the polar bears that includes a central tiered dome providing info about the animals and the polar environment. You can observe bears from outside or from inside of the dome by walking on the spiral path.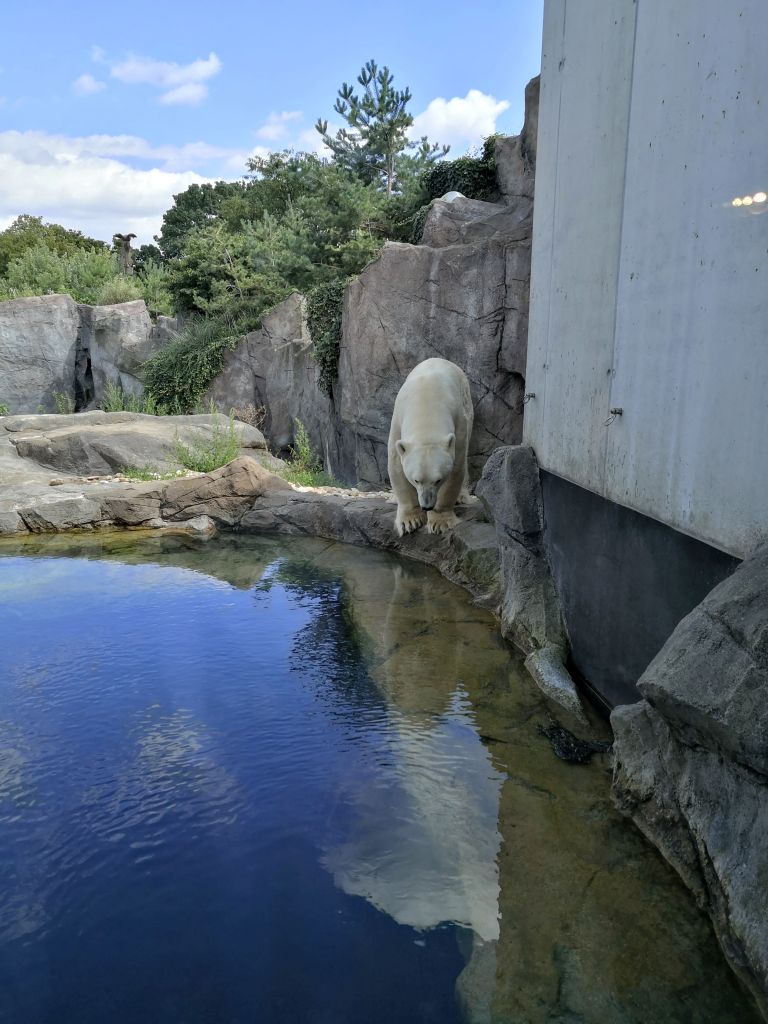 Lions, tigers, leopards, and cheetahs
There are several enclosures hosting lions, tigers, leopards, and cheetahs. These big cats are enjoying their leisure time and are oblivious to many visitors that are observing them.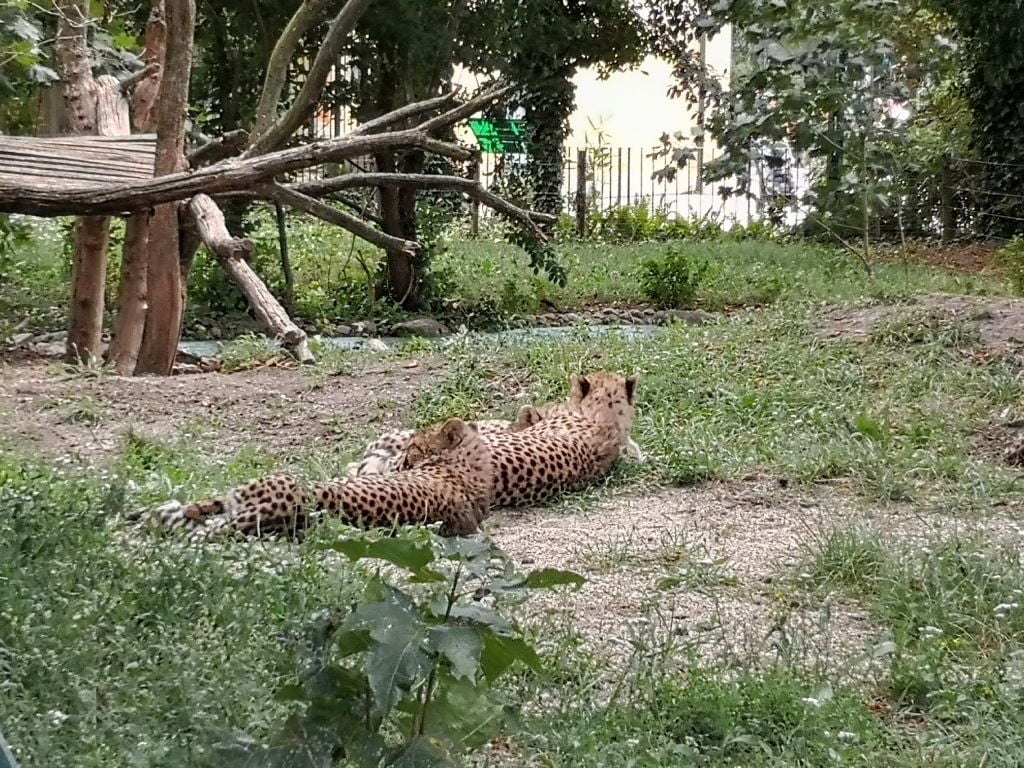 Regenwaldhaus (Rainforest house)
The rainforest house is a large glassed enclosure reproducing the conditions in a rainforest. The year-round tropical temperatures (between 25 – 35 ° C) and high relative humidity (70 – 90%) create the optimal natural living conditions for more than 400 plant and 60 animal species in the rainforest house. There are insects, birds, otters, and bats living in this enclosure in this self-sustaining ecosystem.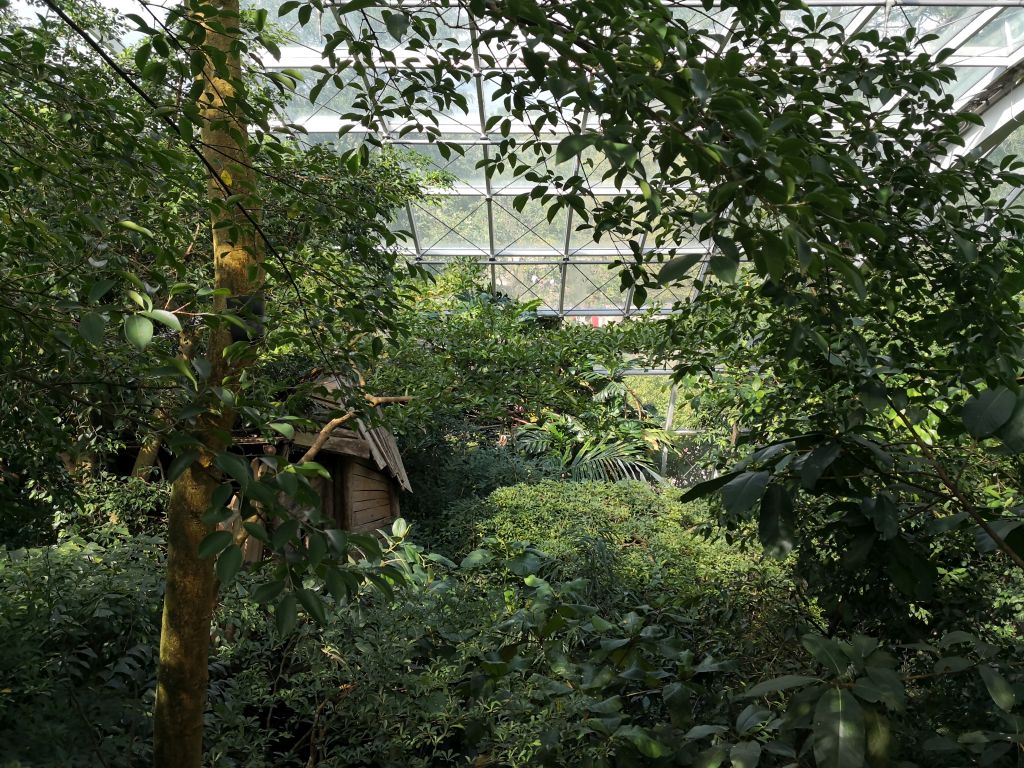 Aquariums and terrariums
The first area is a Crocodile pavilion with the possibility to observe them from above or inside the water. This area borders enclosures of giant tortoises, among which is the oldest inhabitant of the zoo – Menschik, in the zoo since the 1950s and is over 120 years old.
Next, there are antenna snakes, with two tentacles at the front of the head, which they use to locate small fish. On the opposite side, we can find Chinese crocodile tail lizards, which are among the rarest reptiles in the world. Their population in southern China and northeast Vietnam is estimated at only 600 to 800 animals.
In the aquarium house, there are several species of freshwater fish that are endangered or fully extinct and they are bread and kept in the zoo exclusively. Two of the species are Aphanius genus and Sahara Aphanius.
There is an 80,000-liter aquarium hosting diverse habitat of Indo-Pacific species with living coral reef and most notably sea horses that are specifically thriving in Schonbrunn Zoo.
Piranhas are placed in a separate aquarium for obvious reasons as they are predator fish and have to be kept isolated from others.
A huge tunnel aquarium connects the aquarium with the terrarium house and takes visitors into the Amazon region. Gigantic arapaimas, which are among the largest freshwater fish in the world, swim over the heads of the visitors in the eight-meter-long tube aquarium.
Inside the terrarium, there are several types of snakes: anacondas, vipers, cobras. Also, poisonous frogs are there, next to the rhinoceros iguanas.
There is an enclosed, dark area for nocturnal animals: flower bats, emperor scorpions, and the famous Solomon skink couple, who have lived together for 25 years and regularly produces offspring.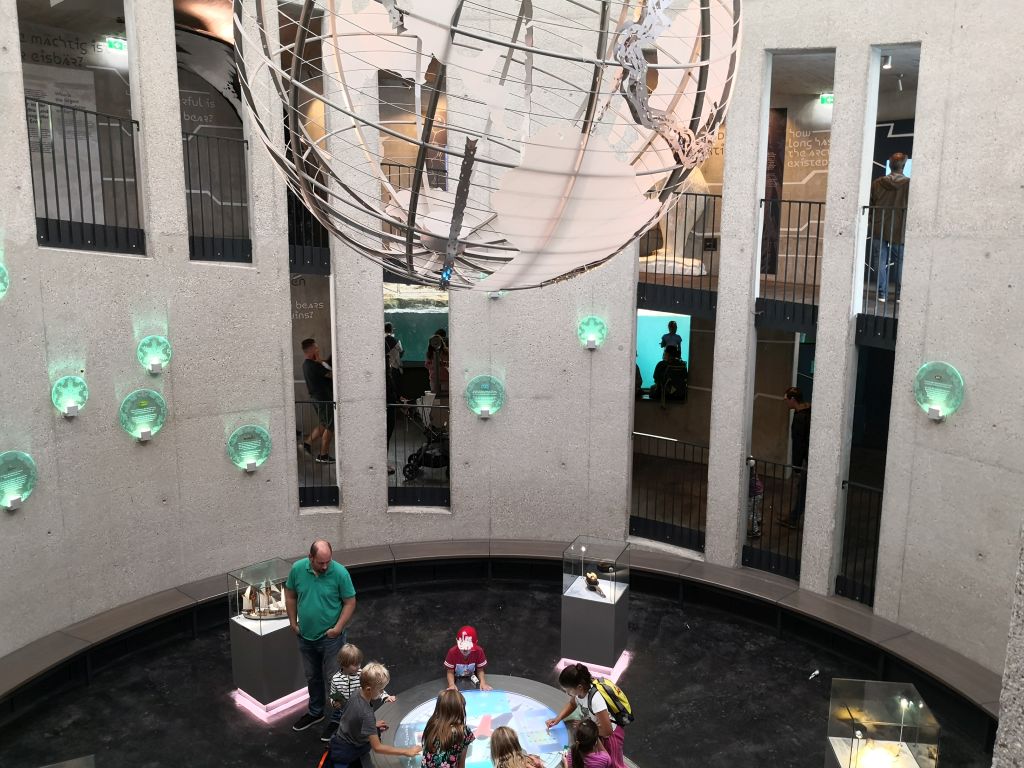 Rhinos
A large house and enclosure host various Asiatic mammals, including an Indian rhinoceros pair. Other animals include Nilgau antelopes, stag goat antelopes, and Vietnamese sika deer. This habitat with mixed animals is a great example of creating a mixed environment with compatible animals.
Polarium
The polarium area features several species of penguins (Rockhopper penguins and King penguins) and extended pools for the sea lions and seals. This area is very popular with children and especially during feeding times.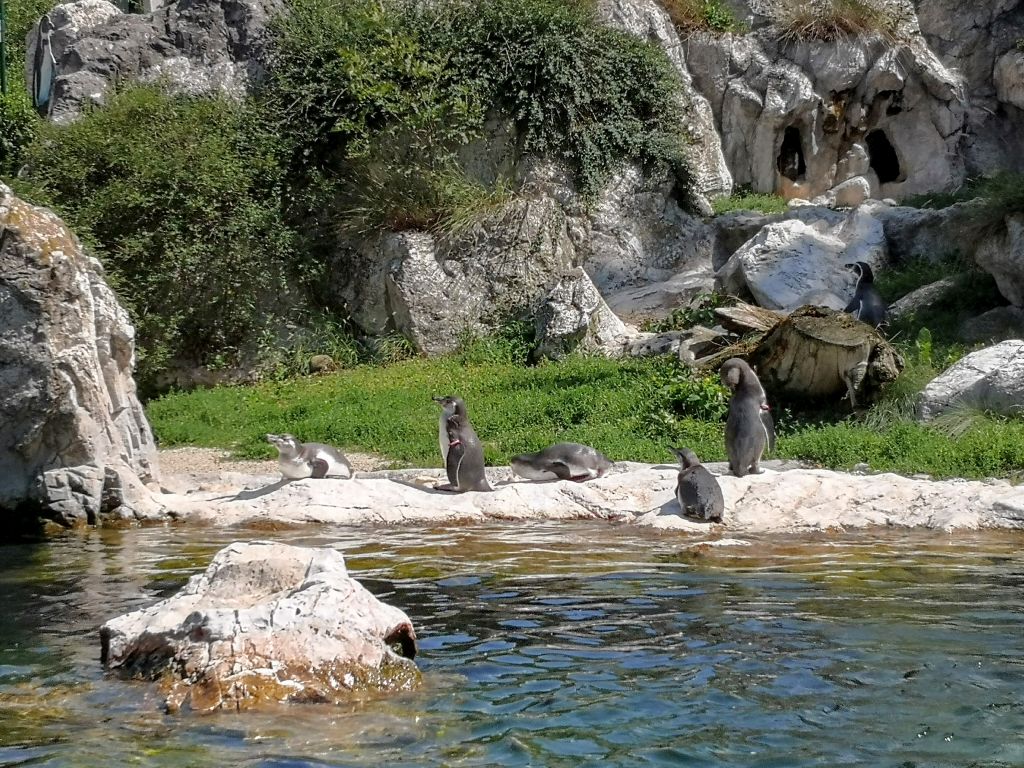 The insectarium
Walking leaves, cockroaches, and the heaviest insects in the world: the strangest locusts and their bizarre relatives are presented in the "House of Terror". On 120 square meters, many exciting species live in a total of 14 terrariums, such as the giant green ghosts, which are the heaviest insects in the world with a weight of 50 grams.
Giraffe park
Enclosure and open areas for giraffes are spacious and enable visitors to observe giraffes during their feeding times and while they are relaxing. There is also a gallery where visitors can observe them from their 'level'.
What is interesting about giraffe park, it is self-sustained with solar panels, generating its own energy.
Tirolerhof
A steep walk up the back of the zoo takes you to a large farmhouse with various domestic animals on display. This is an authentic, reconstructed Tirolean farm consisting of a residential wing and a stable and farm building. There is also a restaurant with Tirolean specialties and barbecue.
Other animals to observe
Apart from the most popular animal enclosures, there is several other animals that might interest you: hippos, koala bears, orangutans, zebras, antelopes, monkey and ape houses, a birdhouse, a gibbon island, meerkats, reindeer, camels, and many more. It is worth exploring it and you might notice something new every time.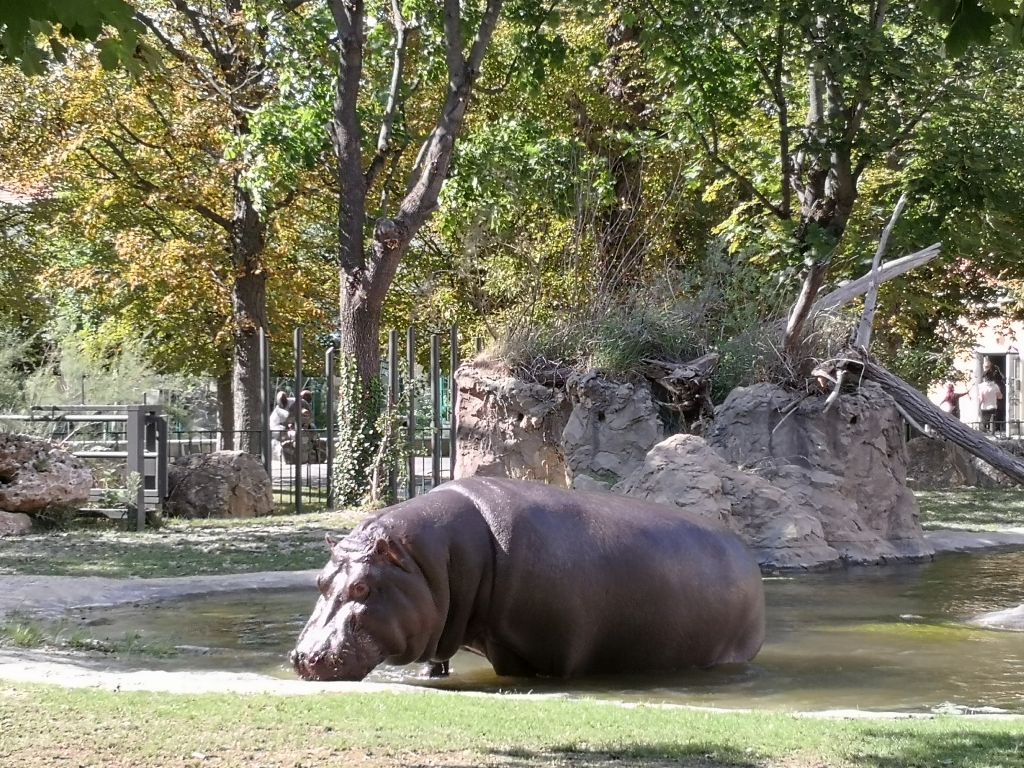 Desert house (Wüstenhaus)
Desert house is outside of the main zoo area and it has a separate entrance fee. It maintains desert conditions, together with plants and animals naturally existing n desert areas around the world.
There are rattlesnakes, Zagros newt, and naked mole rats. The house also maintains rare species of succulent plants that are considered endangered and rare.
Special tours and activities in the zoo
The zoo provides several special tours and events that can be arranged on demand and in advance.
The special tours and activities offered are as follows:
morning experience, the possibility to visit the zoo early in the morning when animals are just waking up. It costs €250 for two people with a duration of 1.5 hours
themed tours, specially designed guided tours to cover your specific interest. Cost – €85 per group (max. 20 persons), duration 1.5 hours
backstage tours, these tours are designed for people who want to have extensive knowledge of working with animals. It costs €145 per tour (max. 10 persons) + admission.
birthday parties, reserved for children, (minimum 6) and package starts from €20 (inclusive of a snack) per kid plus a fee for adults. There are various themes for each package, depending on the age and interest of children in order to cater for their experience and learning about the zoo,
animal feeding times, these are fun activities, especially for children, where animals are fed and they perform all kinds of plays and gimmicks. These activities are temporarily suspended.
Food and drinks in the zoo
The zoo has several places to sit and relax, enjoy the view and have a break with refreshments or full lunch. It caters to all visitors' needs, from ice cream to a full Vienna Schnitzel plate with a pint of beer. Here is the list of food and drinks venues:
Tirolergarten Tavern
In the upper area of the zoo, now easily reachable via a treetop pathway and next to the historic Tyrolean Haidachhof (traditional farmhouse), this tavern is designed in the Tyrolean style and serving Tyrolean delicacies. During the summer, the tavern offers grilled specialties.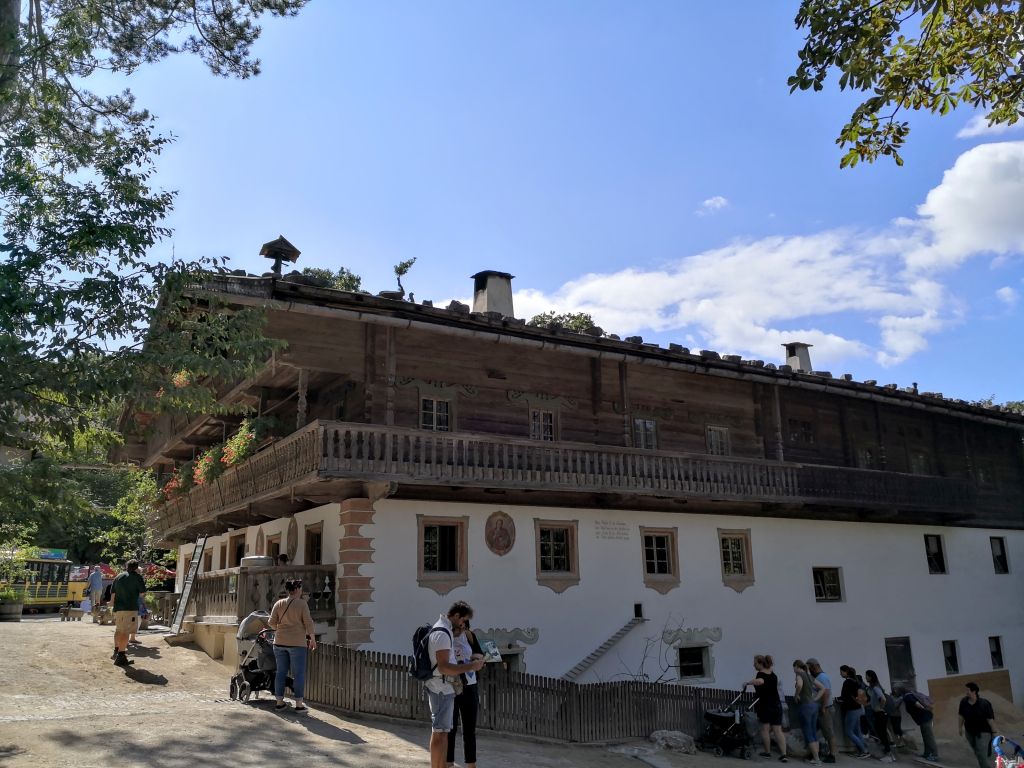 Emperor's Pavilion
Centrally located, this pavilion is a perfect place to stop and enjoy both the view of the zoo and the interiors – ornate ceiling and baroque paintings. You can almost feel the atmosphere of the past – this pavilion was built in 1752 by Emperor Franz I and it was opened for the general public in 1778.
It offers traditional Viennese food with some international items on the menu and an extensive list of ice cream desserts.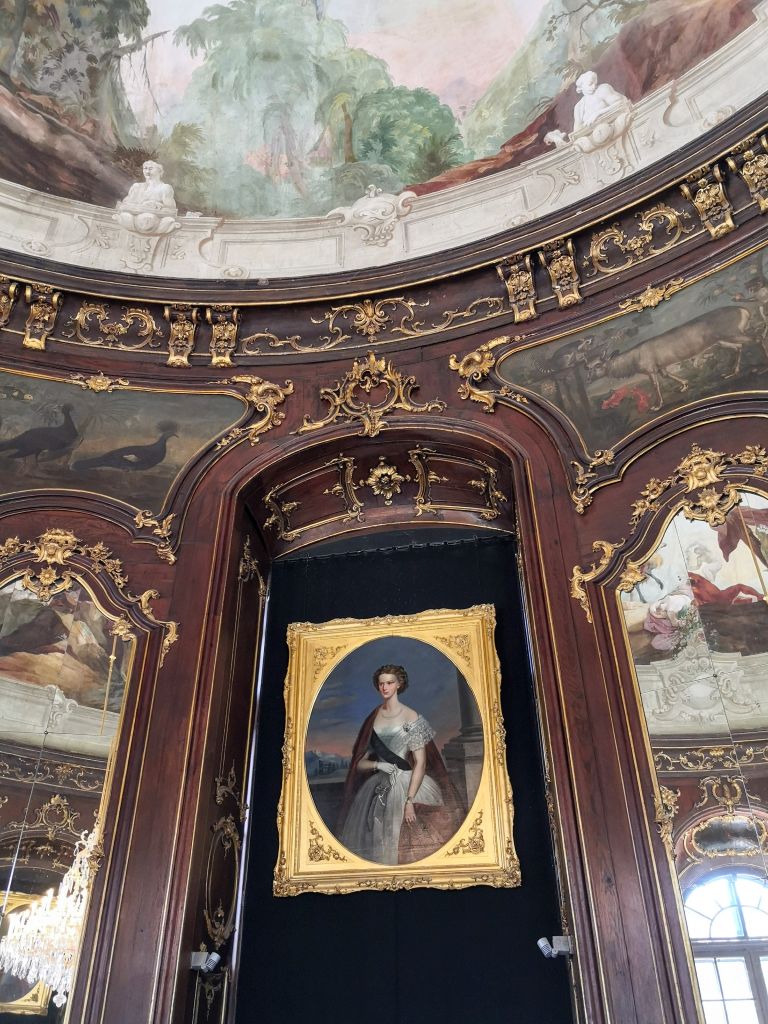 Café Restaurant ORANG.erie
Next to the home of Orangutans, a charming café and restaurant with a terrace is another popular place to visit between walks in the zoo. It has a small children's playground to entertain kids during the break. It offers local and Asian dishes, vegetarian food, seasonal dishes, a kids' menu, and a large assortment of teas.
Café Hietzing
A small café near Hietzinger Gate is perfect for a coffee break and a small snack. They offer different coffee products, cakes, and pies.
Jumbo Buffet
For light snacks and drinks, this small buffet is welcoming guests near the enclosures of the penguins, the sea lions, and the elephants. Perfect for a quick snack break while walking around the zoo.
Rhino Bar Ice Cream Parlor
Very popular during summertime, this ice cream parlor is near the entrance from the Neptune Fountain side. There are many ice cream flavors to choose from.
Beer Garden
Located next to the lion pen and under the shade of the trees, this beer garden is exactly what you would expect – various beer types, grilled meat, and fresh salads. The children's menu is available.
The Panorama Train
The grounds of Schönbrunn Palace and Gardens cover 160 hectares. Visitors can ride in the comfort of the Schönbrunn Panorama Train and visit effortlessly many landmarks throughout the grounds.
In the palace park
A tour through the palace park stops at nine stations, and at a speed of 10-15 km/h, lasts about fifty minutes.
With the Panorama Train, the Gloriette Hill is easy to visit, and especially for families with very small children or for people in wheelchairs. the last train car has a hydraulic lift for wheelchairs and baby carriages, as well as a boarding aid. Each train can accommodate a total of 55 passengers.
Both trains run daily from 10:00 am to 18:00 (6:00 pm). They stop every hour and every half-hour at the Gloriette Hill and the Schönbrunn Palace.
A day pass costs €9.00 for adults, €5.00 for children 14 and under, and €5.00 for handicapped persons. With ticket and hand stamps, passengers can get on and off the train as often as they like. Tickets are sold onboard the train.
The stations of the Panorama Train:
Schönbrunn Palace
Wagenburg
Hietzinger Gate
Zoo/Palm House
Tirolergarten Tavern
Gloriette Hill
Hohenbergstraße/Tivoli
Obelisk Fountain /Schönbrunn Spa
Meidlinger Gate
Inside the zoo
Inside the zoo, the train shuttles from 10:00 am to 18:00 (6:00 pm) between the Elephant House and the Tirolerhof.
Each interval lasts approximately 45 minutes.
Ticket prices: Adults – €2.00, children – €1.00
Rental of the train for parties, tours, and sightseeing
Each of the two Schönbrunn Panorama Trains can accommodate 55 passengers. The last car has a hydraulic lift for wheelchairs and baby carriages. The built-in PA system allows you to narrate your group's trip through Schönbrunn personally. Rental prices are as follows:
Shuttle from the palace to the zoo (20 min): €130 (€160 outside of working hours)
Palace park tour (60 min): €250 (€280 outside of working hours).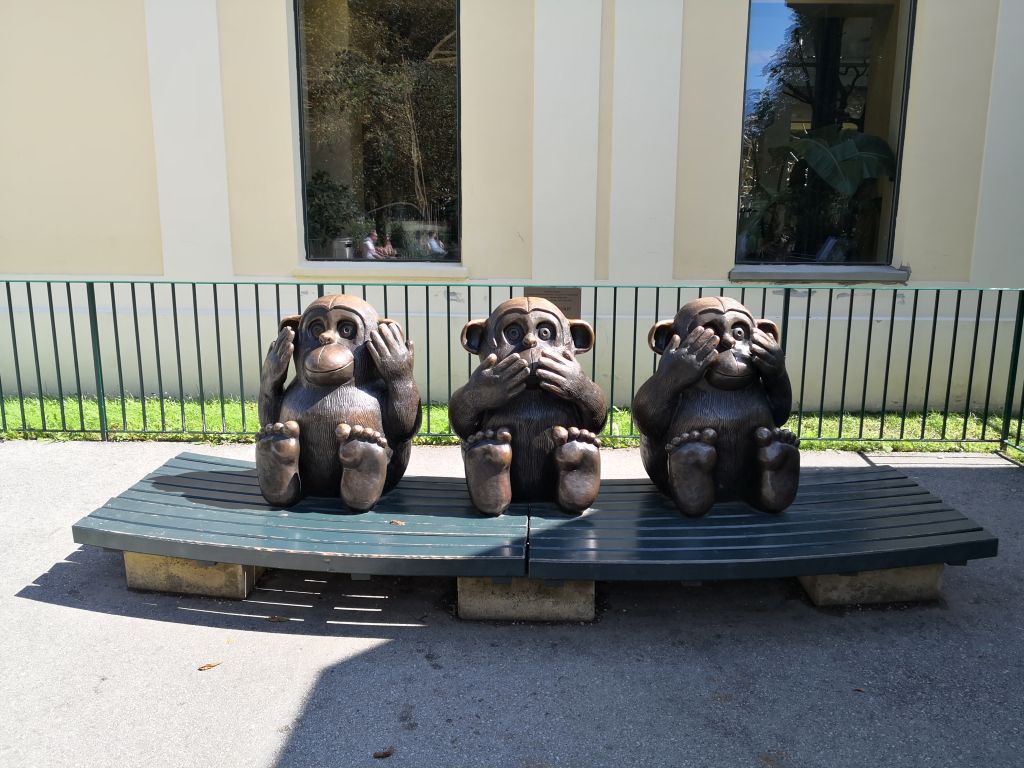 Conclusion
Schönbrunn Zoo is a great place to spend half a day or even a full day with the entire family, enjoy viewing animals, and learning about the environment and nature. It is worth coming back often as there is always something new to discover and learn.
person, depends on a package, age or group size
U4, Wien Hütteldorf from Schwedenplatz or U3, Wien Ottakring from Stefansplatz (plus tram No. 10), or bus 10A