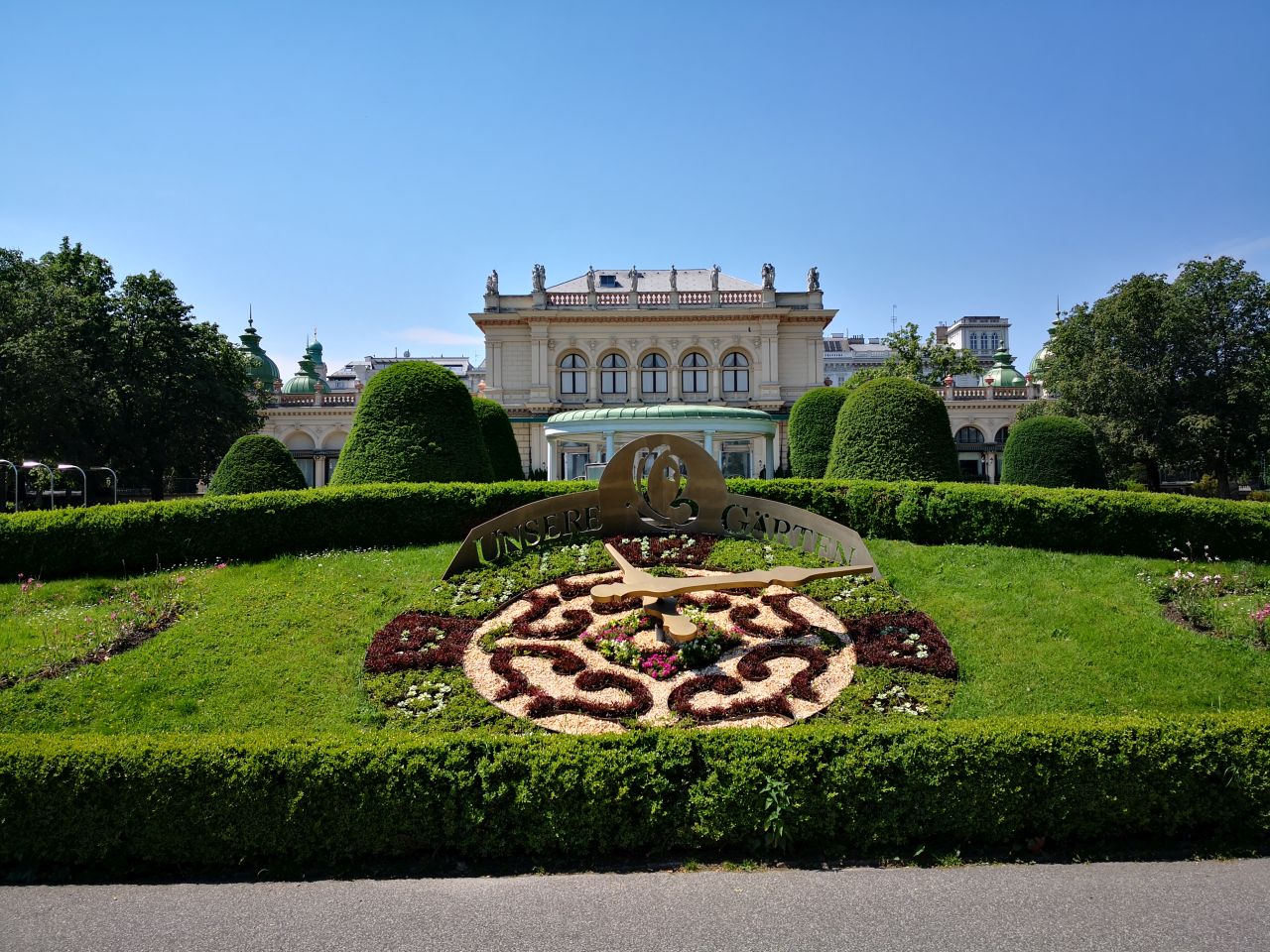 Stadtpark ("City Park") in Vienna is dating back from 19 century (it will be 160 years old soon), so it is one of the 'youngest' parks when comparing it to Prater, Augarten or Schonbrunn.
Nevertheless, this park has everything that modern city park needs: lots of greenery, lawns, flowerbeds, a pond, a river (Vienna River with river gate, Wienflussportal, wonderfully decorated), fountains, notable monuments and plenty of room to walk, relax or exercise.
With a size of under 10 hectares, it is also considered as medium sized park (when compared with others). The park has a layout in English landscape style.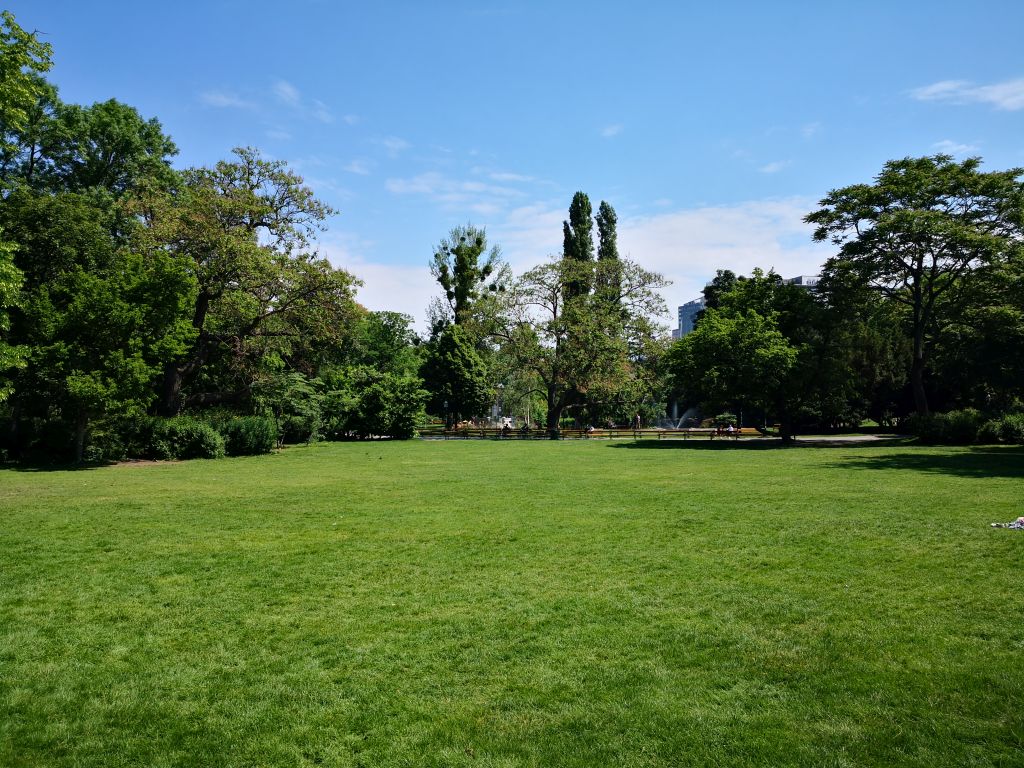 The Stadtpark is the first communal park that also marked the beginning of the Municipal Department Parks and Gardens department, which is taking care of many parks in Vienna today.
History
Stadtpark was built on the grounds of the former Water Glacis (the wide-open area around the central city, used for defense purposes to increase visibility) which was absorbed by the Ringstraße area build-up.
An initial sketch of the park was done by landscape artist Joseph Selleny and a draft plan by the city gardening director Dr. Rudolf Siebeck. The park was opened on August 21, 1862, while a smaller park called Kindepark (Children's Park), across the river, was opened a year later, in 1863. Both parks together form Stadtpark.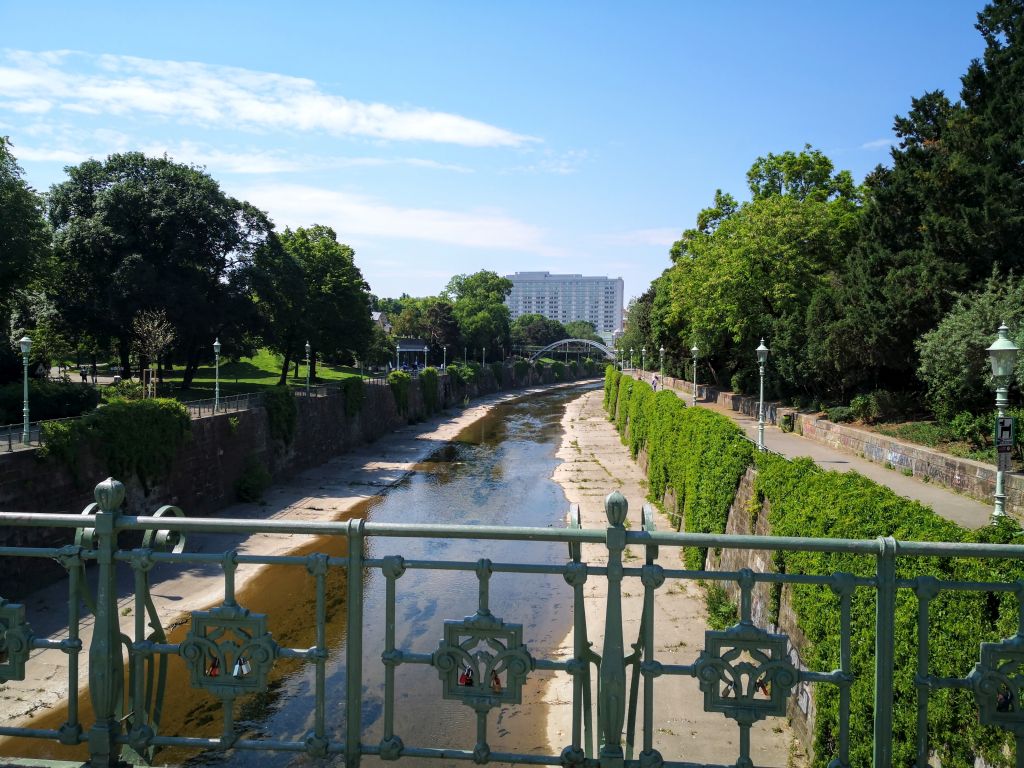 Originally, parks were connected by the Karolinenbrücke, built in 1857 from wood, then, since 1918 redesigned as Stadtparkbrücke, and from 1945 recast in iron as Stadtparksteg. There are two more bridges to go across: Kleine Ungarbrücke and Stuben Bridge.
The "drinking hall" (Trinkhalle) was built in 1903 by Friedrich Ohmann and Josef Hackhofer. The Kursalon Hübner (now a music hall) was built in 1867 based on a design by Johann Garben, and the 'weather house' (Wetterhäuschen) was built in 1913.
What to see in Stadtpark
Stadtpark is not only a green area to walk through and relax, but it also has many points of interest which will make your stroll even more enjoyable and you might learn a few things about Vienna history in the process. Some of the points of interest are attractions of their own.
Monuments and statues
There are several notable statues and monuments worth seeing and learning about them. Here is a list:
Zelinkadenkmal. Andreas Zelinka, Mayor of the City of Vienna (1861 – 1868) has a small, but richly decorated bust monument. It was designed by Franz Pönninger and unveiled on May 3, 1877.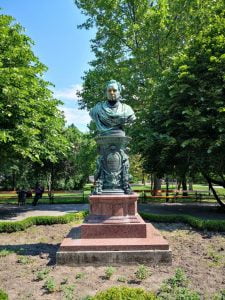 Amerlingdenkmal. Friedrich Ritter von Amerling was an Austrian painter. Together with Ferdinand Georg Waldmüller, Amerling is one of the most respected portrait painters of the 19th century.
Brucknerdenkmal. The bust of Anton Bruckner was made by Viktor Tilgner and exhibited in 1899. The original bust was moved to Palais Bourgoing in the 3rd district, so the one in the Stadtpark is a replica made by sculptor Kameyeczky.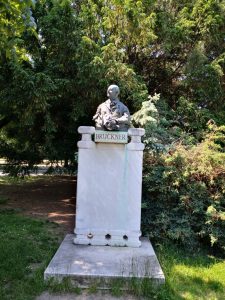 Canondenkmal. Another 19th-century Austrian portrait painter, Hans Canon, has a monument here, located in the corner towards Johannesgrasse (past the Kursalon). The monument was created by Austrian sculptor Rudolf Weyr in 1905.
Lehárdenkmal. A stone bust of Franz Lehár in an expressive cubic frame, designed by Franz Anton Coufal, was unveiled in 1980. Franz Lehár was an Austro-Hungarian composer, mainly known for his operettas, and best known is The Merry Widow.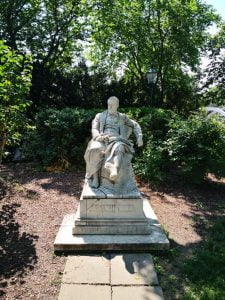 Makartdenkmal. The monument of painter Hans Makart was designed by Fritz Zerritsch the Elder, based on a sketch by Viktor Tilgner, was unveiled on June 13, 1898.
Schindlerdenkmal. The marble monument of Emil Jakob Schindler, Austrian landscape painter, was created by Edmund Hellmer and unveiled on October 14, 1895.
Schubertdenkmal. Famous composer Franz Schubert has a memorial in Stadtpark as well. Designed by Theophil Hansen and Carl Kundmann the monument shows Franz Schubert sitting with a music sheet and a pencil. Reliefs on the side of the column depict musical themes related to instrumental and vocal music. The monument was unveiled in 1872 and it was financed from the donations of the Men's Choir Association.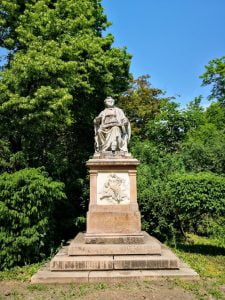 Stolzdenkmal. The Robert Stolz memorial was unveiled on December 31, 1980. It is a curved stone monument with a metal bust and inscriptions, standing on stone plinths. It was designed by Rudolf Friedl. Robert Stolz was an Austrian songwriter and conductor and a composer of operettas and film music.
Straußdenkmal – Johan Strauss (son) memorial is an attraction of its own within a Stadtpark. The monument consists of a bronze statue of Johann Strauss (son) with marble relief (round arch decorated with relief figures) and was designed by Edmund Hellmer.
It took some time since the idea for the memorial was approved in 1904 until the memorial was erected in 1921. The memorial underwent restoration in 2010 to return to its original state. Today, it is a very popular photo location in the park.
Fountains
Fountains are kind of Vienna thing. With pristine water supply, the city does share it through fountains, both decorative and drinking ones, throughout the city. Stadtpark is not an exception in this sense. Here are the fountains in the park:
Befreiung der Quelle. This fountain is a sculpture of two men trying to lift a rock, which is blocking a water source. Two male figures made of limestone are trying to lift a boulder that is obstructing the flow of water from a spring. From a gap that has already been created, the water flows into a deeper oval water basin.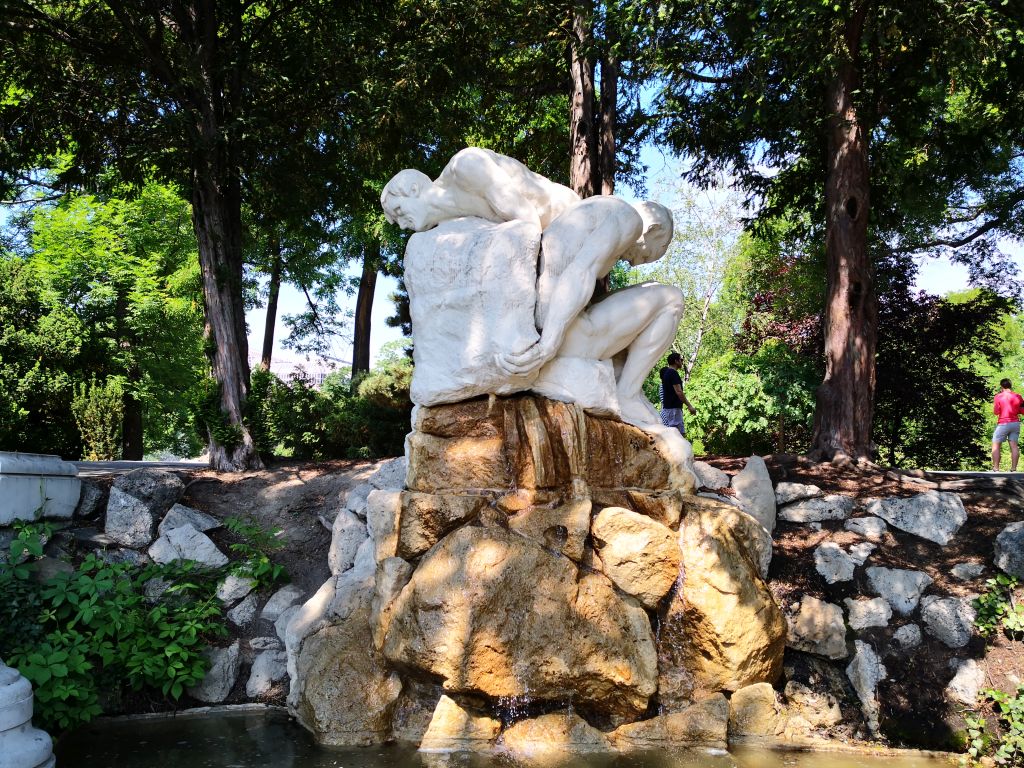 Donauweibchenbrunnen. This fountain has a stone statue of the Danube Mermaid, at her feet a small shield with the coat of arms of Vienna. The base has four fountain basins. The Danube Mermaid is a legendary figure who supposedly helped fishermen and warned them about Danube floods.
The Donauweibchen fountain was commissioned by the City of Vienna in 1858 by Hanns Gasser for the Fischhof, however, it was never set up there, but deposited in an urban warehouse. On 30 September 1865, it was finally unveiled as the first figural decoration in the city park.
During the Second World War the statue was badly damaged, so the sculptor Fellinger made in 1948 a stone copy that now replaces the original.
There is a waltz composed by Johann Strauss II called Donauweibchen.
Labetrunkbrunnen. This fountain has a sculpture of a mother (designed by Carl Lahner) who gives her child a refreshment drink (water?). This fountain has unfortunate history, like many works of art in Vienna – it was unveiled on May 22, 1909, destroyed in 1945, and rebuilt in 1950 by Florian Josephu-Drouot. On the side of the base, there are two small basins that receive water flowing from the gargoyles.
Vogeltränke. The sculptor Mario Petrucci created this birdbath located near the Johann Strauss Son Memorial in 1953. On a small base, which is representing a rock, there are three penguins made of bronze. And against them, on a small island in the basin sits another small penguin. This one and the middle one of the bigger penguins act as gargoyles.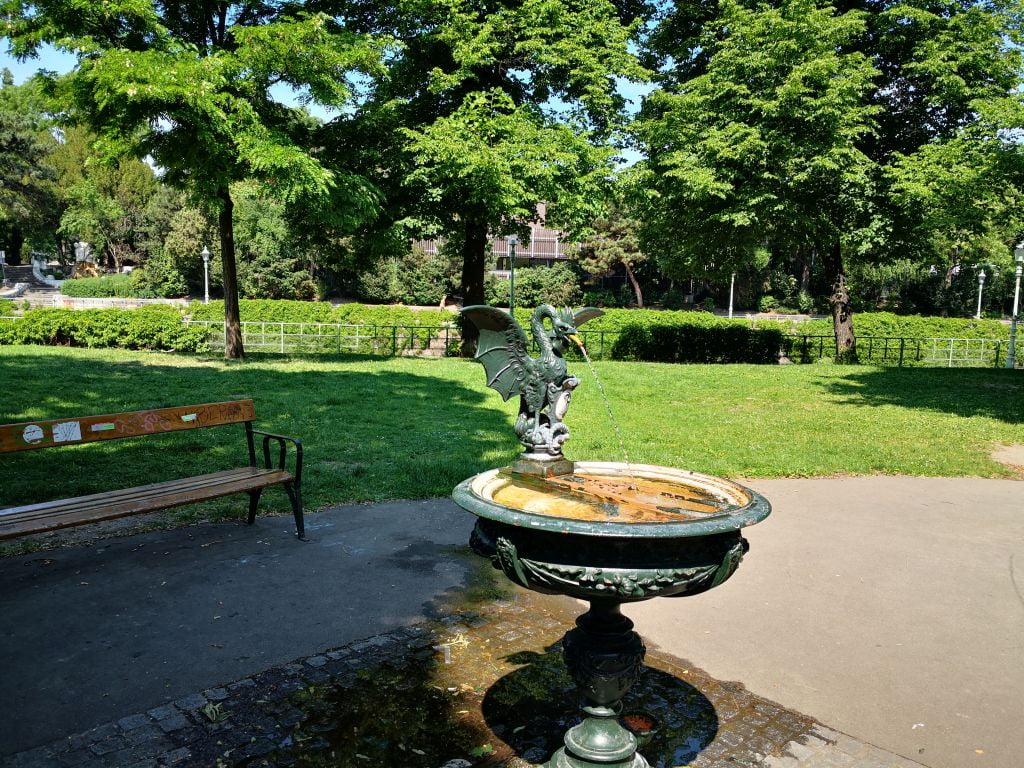 Basiliskenbrunnen. Basilisk Fountain. There were originally about 50 of these fountains in Basel. The basilisk is the arms bearer of Basel. The design was made by Wilhelm Bubeck in 1884. The city of Basel donates these fountains to other towns.
Other points of interest
Wetterhäuschen im Stadtpark
The weather column (meteorological column, Wetterhäuschen) has a clock on the top, a thermometer, a barometer for measuring pressure, a hygrometer for measuring humidity, and a wind vane for measuring wind direction. Directions and distances to several European and world cities are engraved on the guardrails. It was restored in 1999.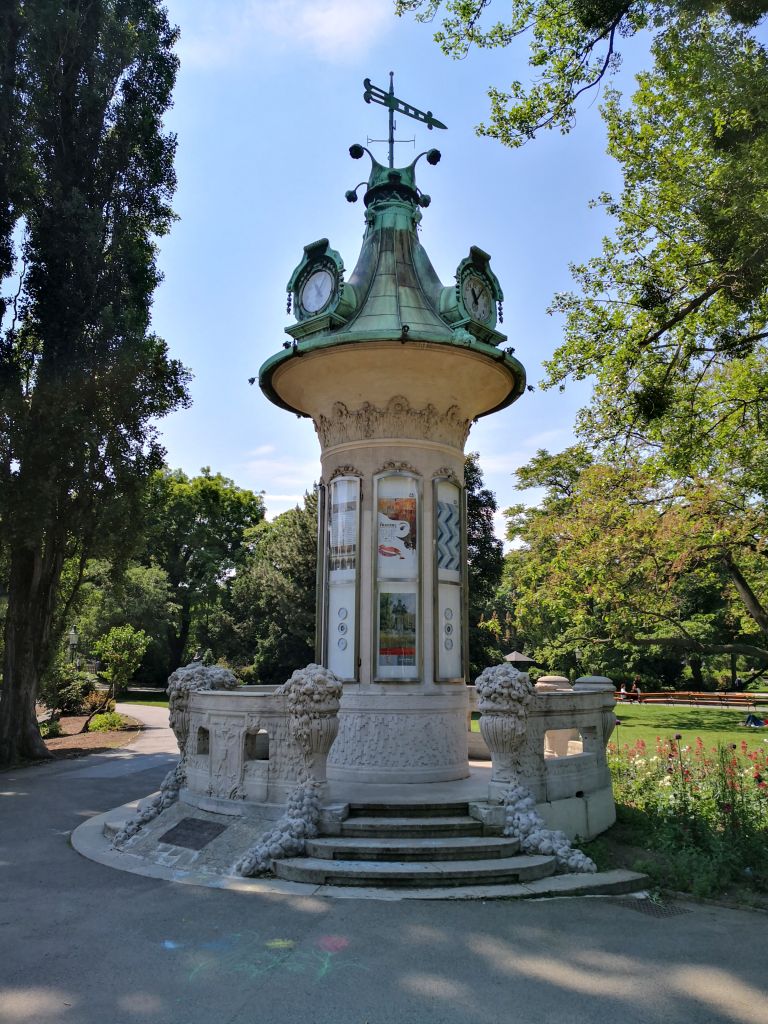 Flower clock
One of the unique features of Stadtpark is a huge clock made of flowers. The flower clock is located in front of the Kursalon at the southwest corner of the park. It works and it shows accurate time.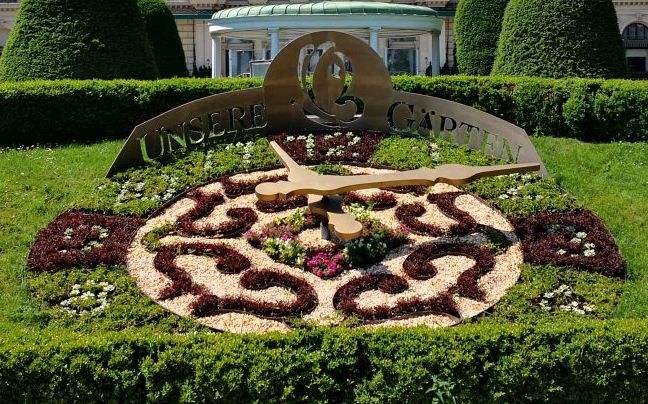 Kursalon Hübner
The Kursalon served as a place where visitors could get mineral waters to drink. Any amusements and social events were not allowed initially until the first concert by Johann Strauss took. Since then, the venue became a place for concerts and events. In 1908 the Kursalon was rented by Hans Hübner. In the late 1990s the city government decided to sell the venue to the Hübner family, hence Kursalon Hübner.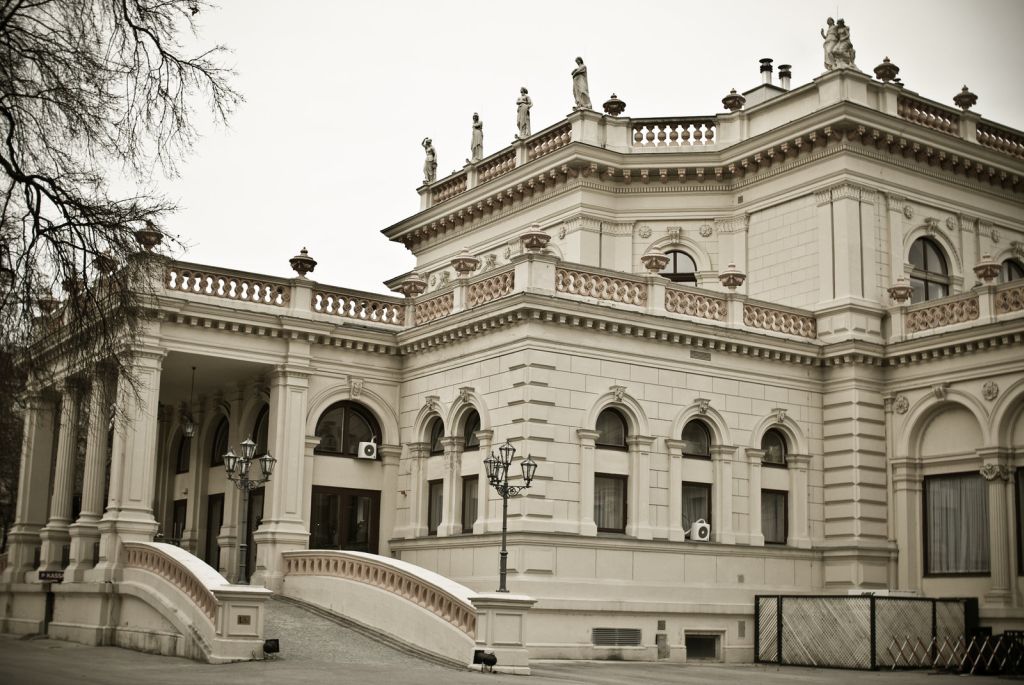 The pond
A small pond in the center of the park is popular with locals and tourists alike for both walking around or sitting on the shorelines and relaxing. There are ducks floating around and trying to fight back pigeons swarming on the grounds.
What to do in Stadtpark?
Stadtpark is a link between the first and third district as it stands in between, and it is often used for passing through by many locals during their daily commute. You must admit, it is great to have a refreshing walk through the park after a busy day (or even before).
People are doing all kinds of exercises here, mostly walking and running as it is not that big for more demanding sports. There are regular yoga classes organized weather permitting. Many people come to Stadtpark just to sit on a bench and read a book or just observe people passing by.
There are promenades along the river where you can also sit and enjoy the view. There is a restaurant, two bars, and a beer garden, so it caters to any taste.
Children have plenty of opportunities to play and exercise, as there are large playgrounds with all kinds of gears and a skatepark and basketball court (for older children and young adults). There is also a kindergarten in Kinderpark.
You can walk on the promenades alongside the river and also enjoy sitting on the benches. Please note that dogs are not allowed in the park, you can walk them only alongside the river promenade.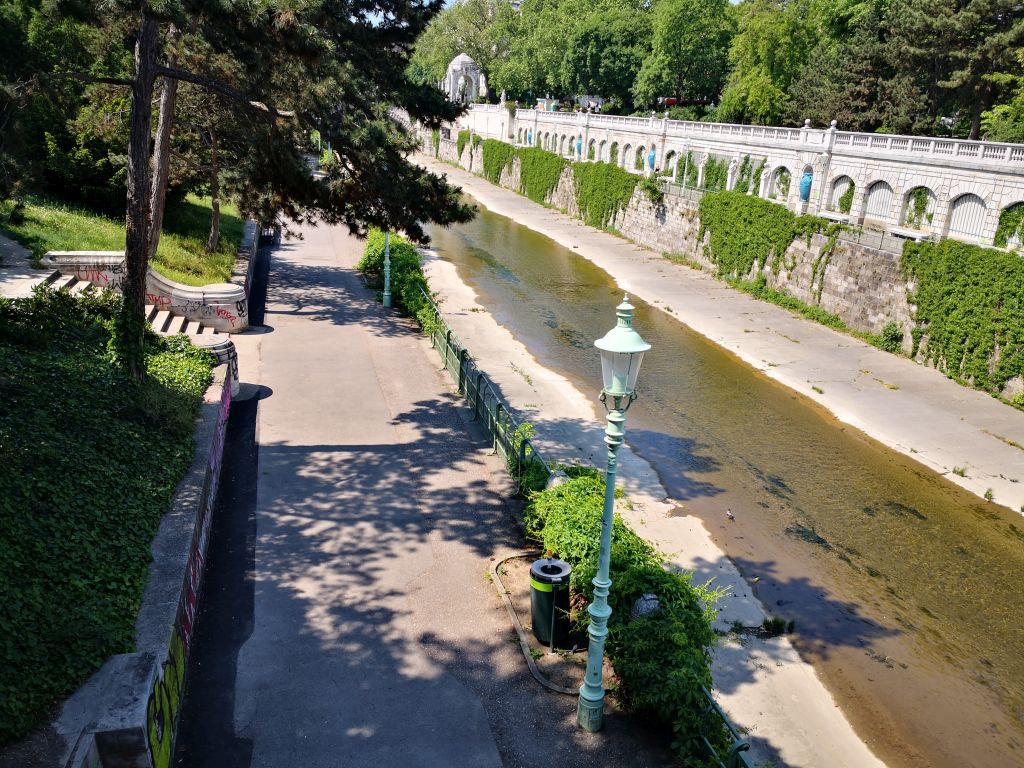 Conclusion
Stadtpark is truly a great place to spend some time relaxing in Vienna or just pass through on your way between the first and third districts. You can also learn a lot about Vienna's history by looking at the statues and monuments. Whatever the reason, you will find it quite enjoyable and it will help you recharge your batteries.
U4 Stadpark stop (inside Children Park area) U3 Stubentor stop, Tram No 2 Stubentor stop, or even easy walk of 10 minutes from the Stephansplatz.