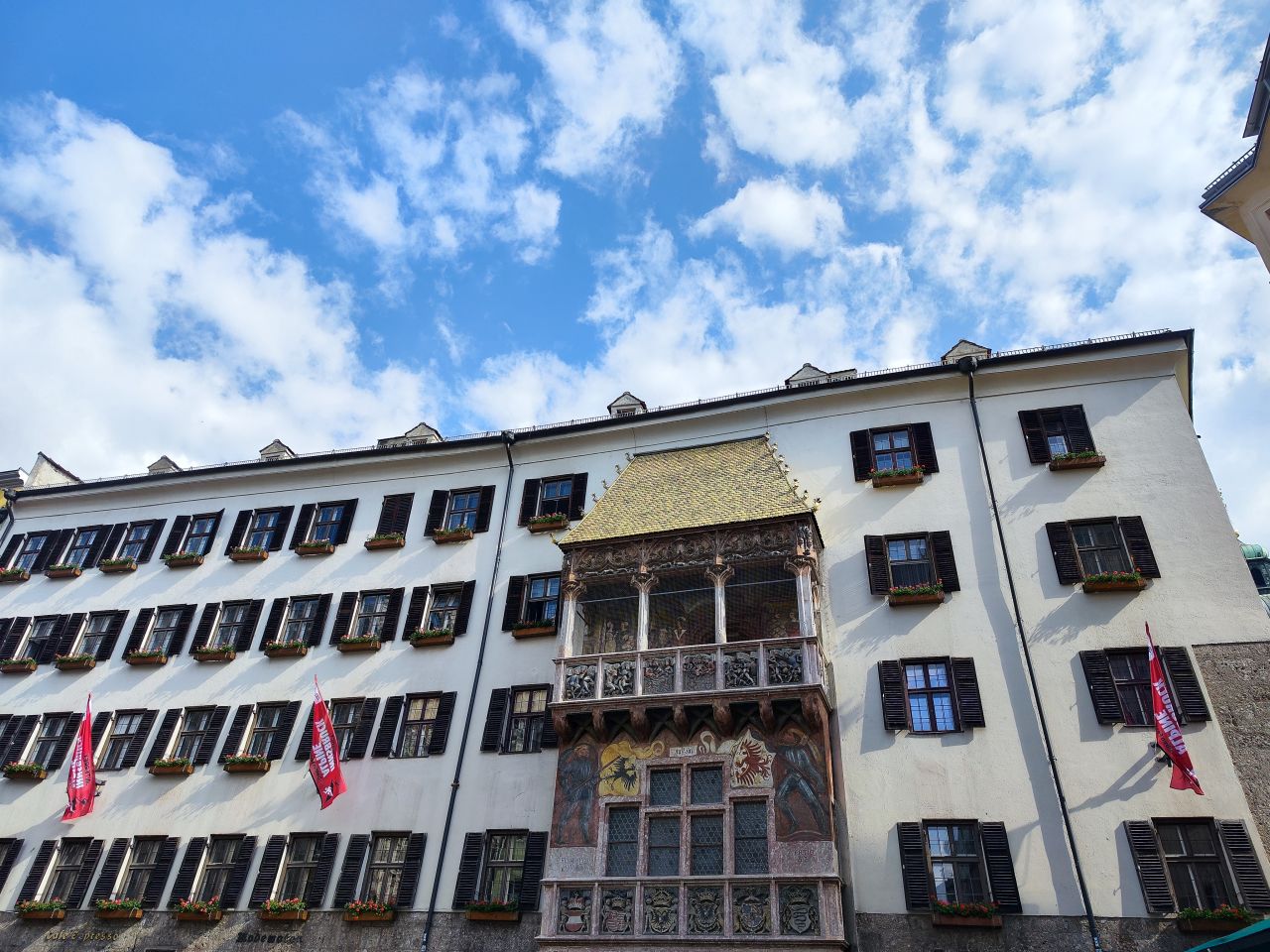 ---
Herzog-Friedrich-Straße 15, 6020 Innsbruck
---
The Golden Roof (Goldenes Dachl) in Innsbruck, a late Gothic oriel with loggia constructed for Emperor Maximilian I and decorated with 2,657 fire-gilt copper tiles, is the city's most recognizable structure and can be found in the center of the Old Town neighborhood.
Near the city's emblem, the Golden roof is among Innsbruck's most recognizable landmarks with the City Tower and the Column of St. Anne.
The Golden Roof can be found on Herzog-Friedrich-Straße 15 in Innsbruck's bustling downtown, right off the pedestrian plaza.
The house ("Neuhof") for the sovereigns of Tyrolean, first Duke Frederick IV, was constructed in 1420.
At the turn of the XV and XVI centuries, during the reign of Emperor Maximilian I, a gold Bay window in the late Gothic style was added to the home, along with a raised "Royal balcony" ("the Royal loggia") for the use of the Imperial family.
The Bay window, a sign of affluence and nobility in the Middle Ages, was designed to dazzle visitors to Innsbruck and the Central Transalpine Route. The nobility could watch the city square, the tournament, the gala, and other festivities from their balcony.
The balcony was built specifically for the day of the Emperor's second wedding to Maria Bianca Sforza.
The Goldenes Dachl Museum
The Goldenes Dachl Museum gives visitors a fresh look at the city's most photographed landmark. From the spectacular dungeon, take in the sights of historic Innsbruck. Learn about the period of time between the Middle Ages and the Modern Era.
Maximilian I, Emperor of the Holy Roman Empire, was a patron of the arts, (family) political genius, and the "last knight" in Tyrolean history. An insightful and multifaceted look into the reign of Emperor Maximilian I is made possible by the integration of centuries-old artefacts and cutting-edge multimedia technologies.
The Golden Roof (Goldenes Dachl) is located in the very city center and it is reachable on foot. Public transport – tram lines 1, 2 and 5 have stops nearby.