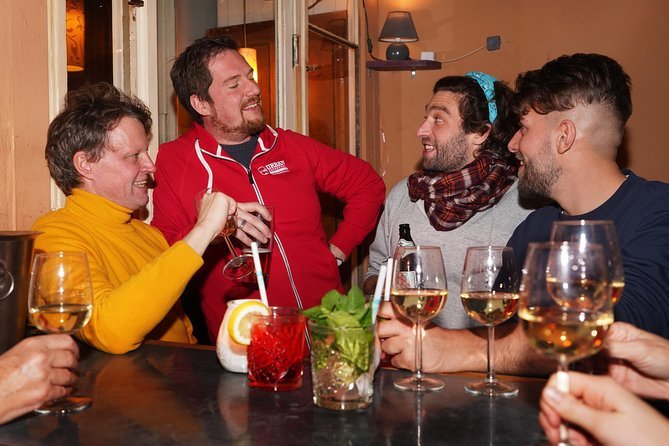 ---
Karlskirche, Karlsplatz 10, 1040 Wien,
48.1982785, 16.371895063817
---
Vienna Private Evening Tour with Food & Drink. On this small-group walking tour, you'll get a taste of Vienna's vibrant nightlife and see the city from a different perspective. You'll meet your guide outside the Karlskirche in the late afternoon and then head to the bustling Naschmarkt, where you'll be able to peruse local market stalls and sample some of the city's best chocolate. After that, you'll visit some of Vienna's hippest neighborhoods, where you'll drink cocktails, eat hearty street food, and more.
Vienna Private Evening Tour with Food & Drink
Highlights
Itinerary
Karlskirche
Widely considered the most outstanding baroque church in Vienna, as well as one of the city's greatest buildings, the church is dedicated to Saint Charles Borromeo, one of the great counter-reformers of the sixteenth century.
Vienna Naschmarkt
The Naschmarkt has existed since the 16th century when mainly milk bottles were sold (as milk bottles were made out of ash (wood from an ash tree), "Asch" (German for "ash") led to the name "Aschenmarkt").
Pöhl am Naschmarkt
The owner "Christian Pöhl" says: My profession has become a hobby. I keep finding that the selection of the finest foods – in dealing with our customers who appreciate and appreciate them – is one of the daily gifts in my life. It's just fun!. Because of their incredible selection of foods, pastries, and wine we choose this place as our first stop.
SCHOKOCOMPANY
Zotter Schokoladen Manufaktur is a manufacturing company of organic and Fairtrade certified chocolates founded in 1999 by its owner Josef Zotter. Zotter is a bean-to-bar chocolate manufacturer and therefore carries out the whole chocolate production process within the company on-site: from the roasting of the cocoa beans on rollers to the grinding in the conche.
Vollpension Generationencafe Gmbh (Vollpension)
This beautiful Cafe is run as a social enterprise. In short, this means that they are building a financially independent and sustainable catering company. They deliberately employ senior citizens, for most, this is an additional income of 40%. All the pastry available to us is baked by seniors.
Brunnenmarkt
The Brunnenmarkt is Vienna's longest street market and the 16th district of Vienna, Ottakring, in Brunnengasse from Thaliastraße to Ottakringer Straße.
We have the opportunity to enjoy one of Vienna's most traditional foods. Wurst & Gulasch at one of the most famously known "Würstelstand" in the area of Ottakring.
Not only is it a family-owned business it will also give our guests the opportunity to see how the Viennese typically eat dinner.
Le Troquet
A real "French Pub", with Focus on the typical "Savoir Vivre en Paris!" The only difference is, that it's located in Vienna. After the previous foods, we get together at this nice pub for a glass or two of white wine.
Zum Schwarzen Kameel
The restaurant Zum Schwarzen Kameel is a traditional Austrian restaurant at Bognergasse 5 in Vienna's 1st inner-city district, which is now managed by the Friese family. In 1618, Johann Baptist Cameel bought an existing house and set up a spice shop. Alluding to his surname, he gave the shop the name it still bears today.
This concludes our Vienna Private Evening Tour with Food & Drink.
More tours of Vienna: