Albertina is an important art museum in Vienna, whose extensive collection of drawings and prints was started by Duke Albert of Saxen-Teschen, who moved his personal collection to the palace. Later on, Genoese count Giacomo Durazzo gifted collection of 1,000 various pieces of art to the Duke and collection was then well established.
Today, this art museum hosts about 65,000 drawings and one million master prints in its collections, together with few collections of impressionists and early 20th century art pieces.
The museum was transferred from Habsburgs to Austrian state in 1919 and name Albertina was first used in 1921. Before that, the palace was referred officially as Palais Erzherzog Albrecht.
The building was heavily damaged at the end of WWII, in 1945, and it was finally fully refurbished and redesigned in the period of 1998-2003.
Quick facts
| | |
| --- | --- |
| Name | Albertina |
| Type | Art museum |
| Founded | 1805 |
| Location | Albertinaplatz 1, 1010 Wien, and Karsplatz 5, 1010 Wien for Albertina Modern, both in the 1st district, Innere Stadt |
| How to get there | Bus 2A, stop at Albertinaplatz, or U4 Karlsplatz stop for Albertina Modern. Both locations are in the city center and reachable on foot from Stephansplatz. |
| Ticket Price | Starting from $10, depends on the collection |
| Opening hours | 7 days a week, 10:00-18:00 (even on public holidays), Wednesdays and Fridays: 10:00-21:00. |
| Official website | https://www.albertina.at/en/home |
Since March 2020, there is another location of the museum – Albertina Modern Museum, where modern artworks (approximately 60,000 pieces) from around 5,000 artists is on a display.
Albertina Modern Museum is a 10-minute walk from Albertina.
Apart from drawings and prints, collections also include paintings and sculptures, photography, architecture plans, studies, and models, and state rooms on display. In architectural plans, there a re works from Adolf Loos, Fischer von Erlach and Otto Wagner.
Permanent collections cover the most important art movements of the past 130 years ranging from French impressionism to German expressionism through the Russian avantgarde and the present-day art. Permanent collections include the Batliner collection of art named "from Monet to Picasso" (Herbert and Rita Batliner, famous art lover couple donated their art collections to Albertina in 2007). Museum's temporary collections are also very diverse and valuable, where pieces from Van Gogh, Matisse and Cézanne can be seen regularly.
Monet's "Water Lily Pond", Degas' "Dancers" and Renoir's "Girl" are few of spectacular works of art on display, together with paintings by Beckmann, Macke, Chagall, Malevich, Rothko, Rainer and Katz.
Famous drawings of Leonardo da Vinci and Albrecht Dürer are also on display in several galleries. There are several artworks of Picasso, including Woman in a Green Hat (Frau mit grünem Hut).
There are 22 state rooms fully renovated and styled in their original design from early 19th century. These rooms were actually used and being occupied by members of the Habsburg family. What is exciting is that you can rent a space in the museum for a cocktail party, fancy meeting or a wedding reception and celebrate your day in style!
To complete your genuine Vienna experience when visiting the art museum, you should have a lunch or coffee and a cake in adjacent Do&Co restaurant.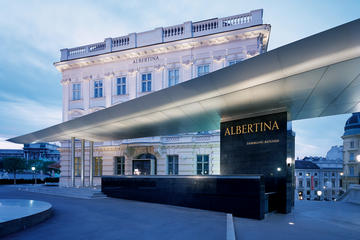 person and depends on exhibition, age of visitors and group size
Bus 2A, stop at Albertinaplatz, or U4 Karlsplatz stop for Albertina Modern. Both locations are in the city center and reachable on foot from Stephansplatz.