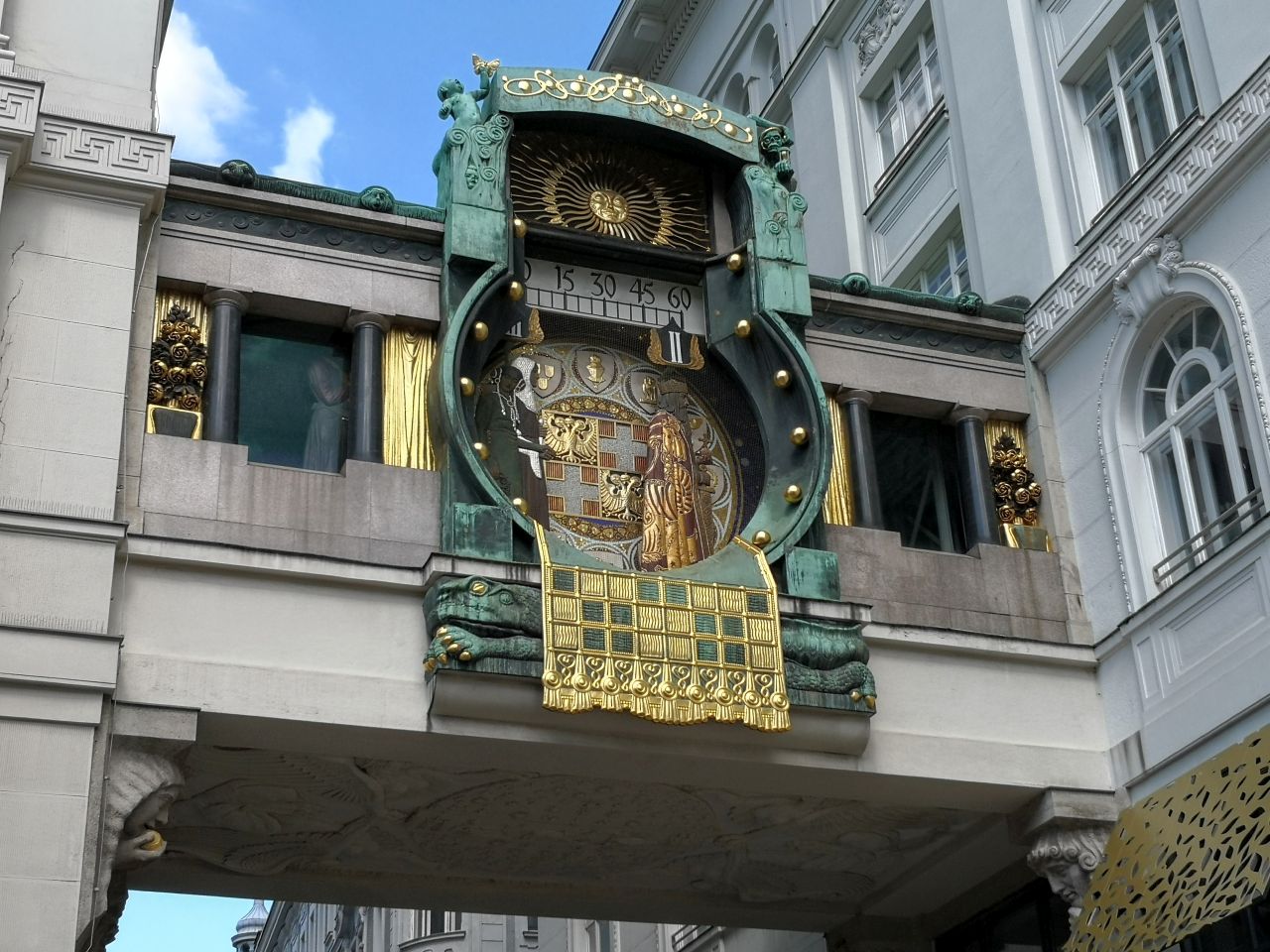 ---
Hoher Markt 10-11, 1010 Vienna
---
Landmark Anker Clock (Ankeruhr) is easy to miss. Located on a busy Hoher Markt square and just steps from the impressive Vermählungsbrunnen monument, which will certainly distract you, Anker Clock is a real gem of Vienna.
This elaborate and functioning clock is built on a bridge between two buildings as some kind of extravagant advertisement at the time. Insurance company 'Anker' commissioned the clock, and its historical figures should bring Vienna's past to mind, remind people of the transience and thus 'subliminally' promote the idea of life insurance.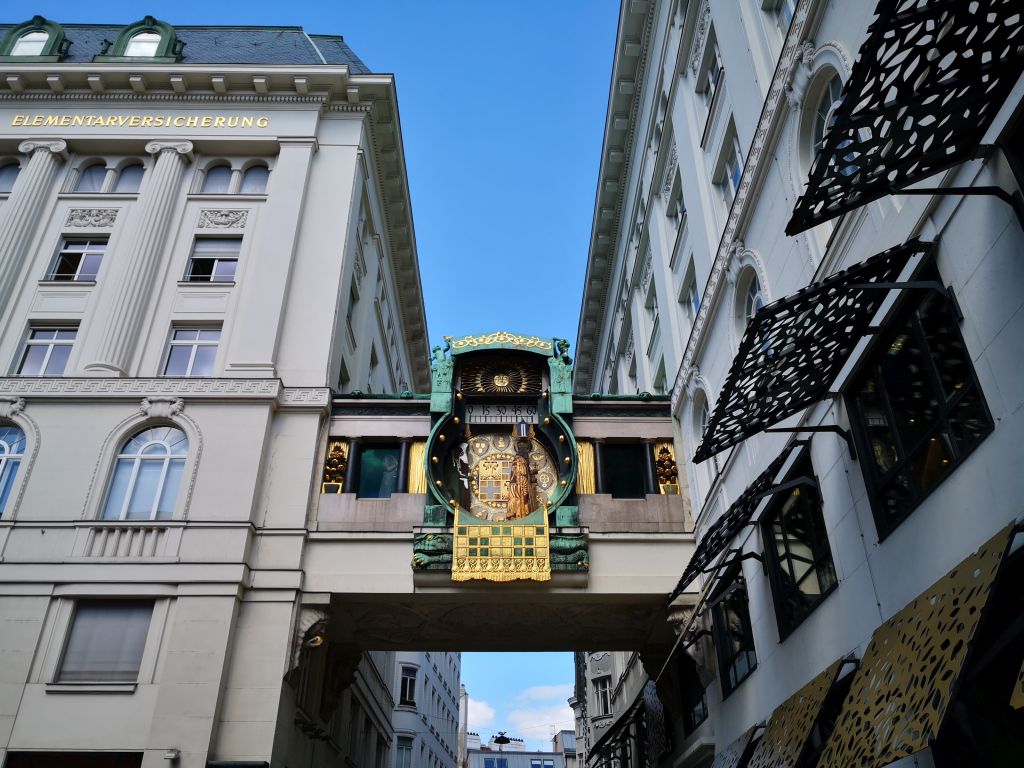 The company also wanted to link two of their buildings with a bridge and made good use of the space with this unique combination of mechanics and Art Nouveau.
History
Since 1861, 'Anker' insurance company (it is called 'Helvetia' today) started buying property around Hoher Markt, one of the oldest squares in Vienna. Their two main buildings needed a connection, so the bridge was built on a second-floor level for easy passage. The company wanted to utilize this bridge for the promotion of their business, so they commissioned this elaborate clock, which is now more than 100 years in function and very popular with tourists and locals alike.
The painter and a sculptor, Franz Matsch, was hired to design the clock. He was quite famous at the time and he was working closely with Gustav Klimt. It took several years to build the clock, during the period of very turbulent years for the Empire (1911-14), leading to World War I.
Anker Clock design and function
The bridge where the clock was installed is supported by four figural consoles (front: Adam and Eve; rear: angel and devil). The central part of the bridge is crowned by a sun disk and two allegorical figures (life and death).
The clock is four meters wide and has a mosaic made of glass and metal and marble on the front. The central part is with the Vienna flag with the two Viennese coats of arms – the double eagle coat of arms and the cross shield, and in the circle, twelve coats of arms with symbols of the professional and private life of Vienna families.
How does this clock work?
Twelve figures (or pairs of figures) pass by in the central part of the clock over the course of twelve hours, followed by a suitable song or piece of music related to the person(s) represented. A dial on top of every figure with a mark of the hour in Roman numerals crosses slowly and points at a minute scale on the top to indicate minutes of the hour passed.
At noon, there is a 'parade' of all twelve figures (or pairs) passing, so spectators can see the entire suite at once. This is when most of the tourists flock to see the 'show'.
Here is the list of appearances and music played by the hour (there is a bronze plaque on the wall next to the clock listing all the persons appearing):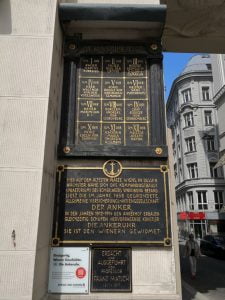 1-2 Marc Aurel (Marcus Aurelius), Roman Emperor: "Pythische Siegesode des Pindar"
2-3 Karl der Große (Charlemagne), added Austria to Roman Empire: "Hildebrandlied"
3-4 Leopold VI, Duke of Austria: "Nibelungenlied"
4-5 Walther von der Vogelweide, famous singer form times of Leopold: "Kreuzfahrerlied von Walther von der Vogelweide: Palästinalied"
5-6 König Rudolf von Habsburg und seine Gattin Anna von Hohenberg (The first Habsburg): "Lied des Minnesängers 'Unverzagt' auf König Rudolf von Habsburg"
6-7 Meister Hans Puchsbaum (famous architect from Vienna): "Es liegt ein Schloss in Österreich"
7-8 Kaiser Maximilian I.: "Innsbruck, ich muss dich lassen"
8-9 Bürgermeister Johann Andreas von Liebenberg (Mayor of Vienna during Turkish siege in 1683): "O du lieber Augustin"
9-10 Graf Ernst Rüdiger von Starhemberg (Led the defense of Vienna during the siege): "Kriegslied"
10-11 Prinz Eugen von Savoyen (Price Eugen of Savoy, built Belvedere and Schloss Hof Palace): "Prinz Eugen, der edle Ritter"
11-12 Kaiserin Maria Theresia und ihr Gatte Kaiser Franz I. von Lothringen (Empress Maria Theresa and her husband): "Menuett von Wolfgang Amadeus Mozart"
12-1 Joseph Haydn: "Kaiserhymne; heute durch eine andere Haydn-Melodie ersetzt"
During Christmas times, carols are played at 5 and 6 pm, which is another treat for the visitors.
Here is a video showing the clock in action:
Conclusion
Anker Clock (Ankeruhr) is a unique landmark and sure to catch your attention when walking downtown Vienna. Also, it is easy to miss it among many others in the city center. Plan to visit it around noon, so you can enjoy the entire 'parade' of historical figures. You will not only enjoy intricate mechanics and design, but you will also learn something about Vienna's (and world) history. Safe travels and see you soon!
Buses 1A, 3A (Hoher Markt stop) or few minute walk from Stephansplatz