Austrian National Library (Österreichische Nationalbibliothek) is clearly the largest library in Austria, and it hosts over 12 million items or various types in its multiple collections. It was established in 1368 by Habsburgs as Imperial Court Library (Kaiserliche Hofbibliothek), which makes it one of the oldest continually functioning libraries in the world. The name Austrian National Library came in place when it was handed over to Austrian Republic in 1920, after the end of Habsburg era.
Today, Austrian National Library is a center of research and repository of books, newspapers, historical texts on law and judicial matters, pictures and invaluable collections of original works of famous composers, such as Beethoven. Large portion of stored items is also available online and very convenient for students and science and history researchers.
Austrian National Library has several museum sites under its umbrella:
State Hall is a baroque style hall built in 18th century as a part of former Imperial Court Library and it hosts 200,000 books, manuscripts and other library items. There are also four ancient globes from Venetian era. The hall is long and with a high ceiling and central cupola painted by Court artist Daniel Gran. The hall has several statues of Habsburg and European monarchs from the past.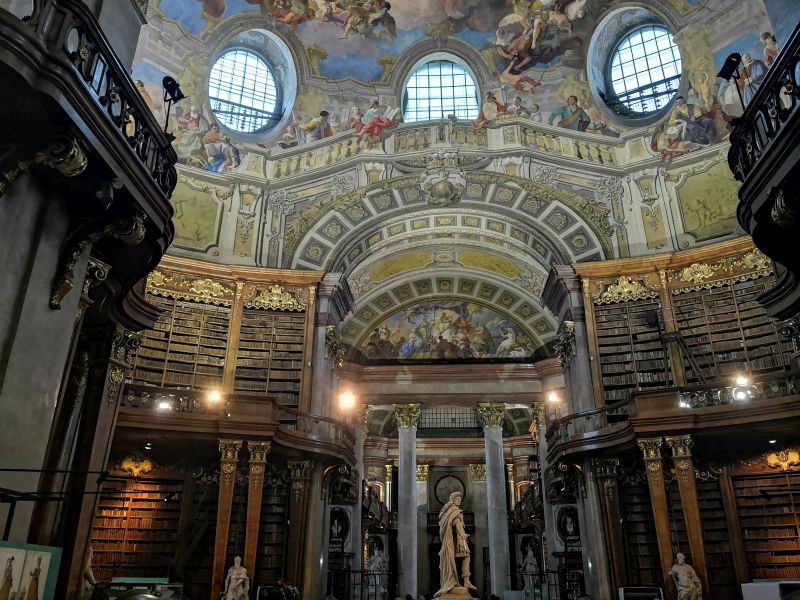 Literary Museum showcases Austrian literature from the end of the 18th century until the present day in the themed historical sections. Presentations of Austrian literature are intertwined with references to arts, music and theatre arts as a unique and common intersection of literature and performing arts in the country.
Globe Museum focuses on terrestrial and celestial globes and related artefacts before the year 1850. The focus is both on cartographic and artistic part of the globes and maps, both of Earth and the sky and their attempt to each tell us a story of the past times. Globe museum hosts the oldest terrestrial globe in Austria made by Gemma Frisius in 1536.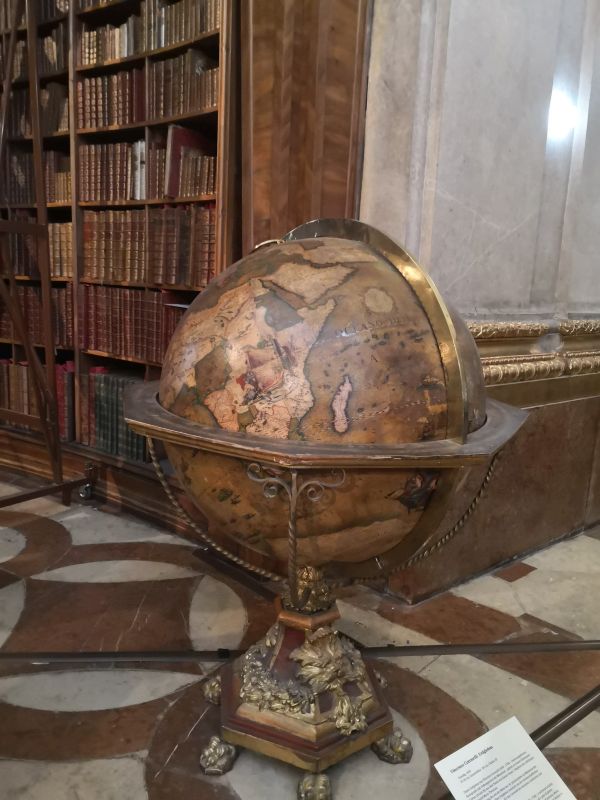 Papyrus Museum hosts several hundreds of papyrus-based document, both literary and non-literary from various periods, but mostly focusing on the time between 1500 BC to 1600 AD. Fragments of works from many cultures are preserved here: Egyptian, Greek and Latin literature, Egyptian Book of the Dead, the Bible, the Quran and other religious texts as well.
Esperanto Museum is one of the world's oldest language museums and among the most important institutions of its kind. It documents Esperanto and around 500 other planned languages from around the world.
House of Austrian History (Haus der Geschichte Österreich) is the first Austrian museum of contemporary history. The exhibition focuses on the period starting in 1918 and modern Austrian Republic and tries to open the discussion on the past in order to better understand the present and the future of the country.
As you can see, Austrian National Library is a diverse and complex institution that preserves history and builds knowledge for present generations, which will be definitely used in the future. If you are visiting Vienna, you should allocate two days to fully enjoy all museum sites. If you are moving to Vienna, the library will be invaluable part of your life here.

Starting from $6, depends on a museum or package selected. Children and teenagers up to age 19 have free entrance.
There are four locations, all in the 1st district, Innere Stadt: Josefsplatz, Herrengasse (Palais Mollard), Heldenplatz (Neue Burg) and Johannesgasse