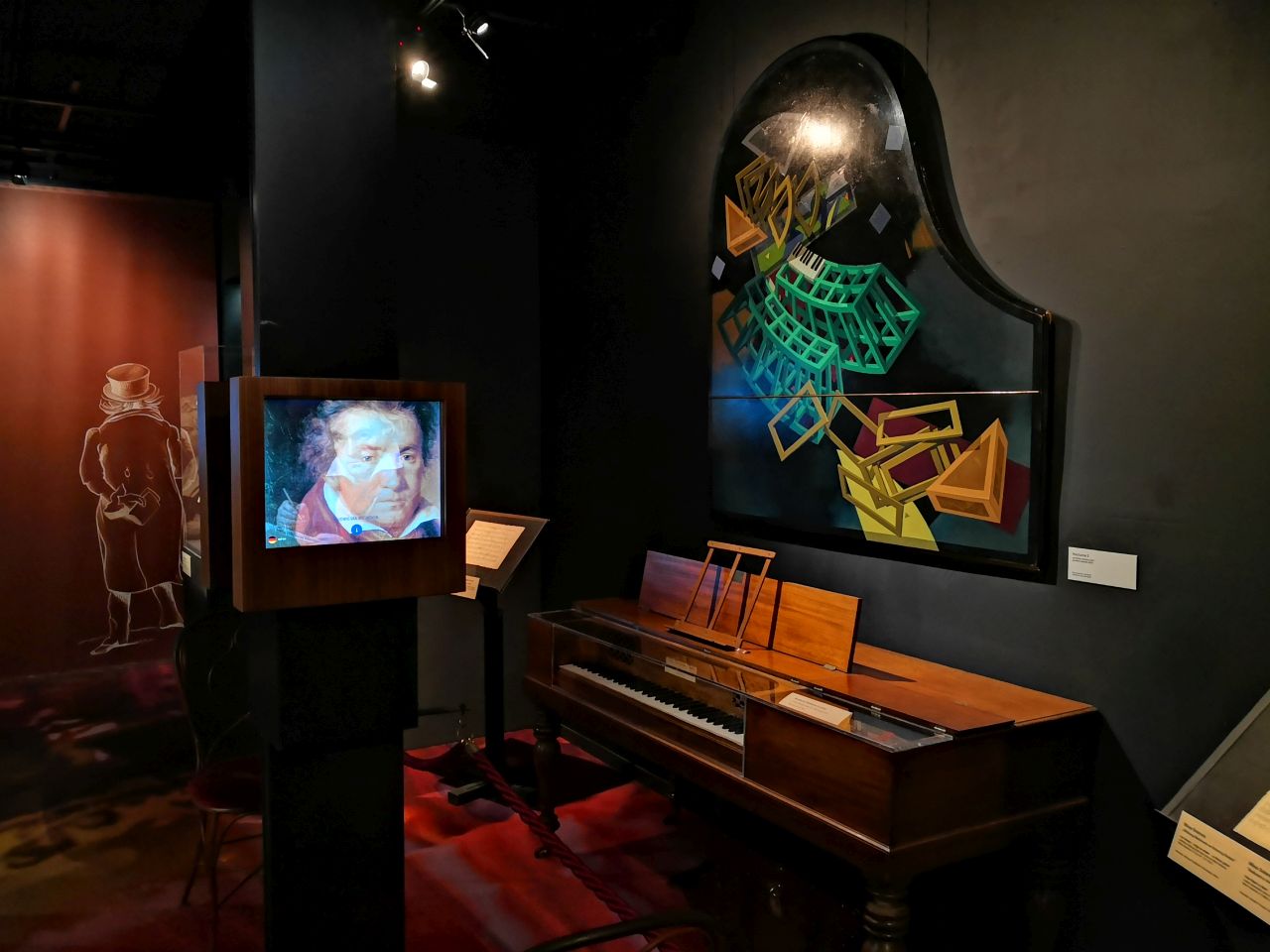 For music lovers, the House of Music in Vienna is a must-see. This unique venue combines art, sound, and technology to create a joyful symphony that is unlike anything else. It is a perfect mixture of a museum, educational and entertaining institution and it brings hundreds of visitors every day.
House of Music (Haus der Musik, Klangmuseum) is very popular with families, as people of all ages can enjoy, learn, and amuse themselves through many interactive installations and science experiments with sounds.
Quick facts
Name: The House of Music (Haus der Musik)

Type of attraction: Museum/Music Venue

Built/opened: June, 2000

Location: Seilerstätte 30, 1010 Vienna (1st District)

How to get there: Public transport: Bus 2A and trams No. 2, 71 and D (Schwarzenbergplatz), U1 (Stephansplatz) and walk 10 minutes. The museum is very near Kärntner Ring 1.

Price/ticket: adults € 16, children under the age of 7 – € 7, children up to 3 years old – free. Special discounts for organized groups. Family ticket – € 33. Discounted night tickets are possible, after 8 PM.

Opening hours: Daily – 10:00 AM – 10:00 PM

Official website: https://www.hausdermusik.com/
A Brief History of the House of Music
The Palace Erzherzog Karl where the House of Music is today was the home of Otto Nicolai (1810 – 1849), composer of the opera "The Merry Wives of Windsor" and de facto founder of the Vienna Philharmonic Orchestra, who organized the Philharmonic concerts in his place since 1842.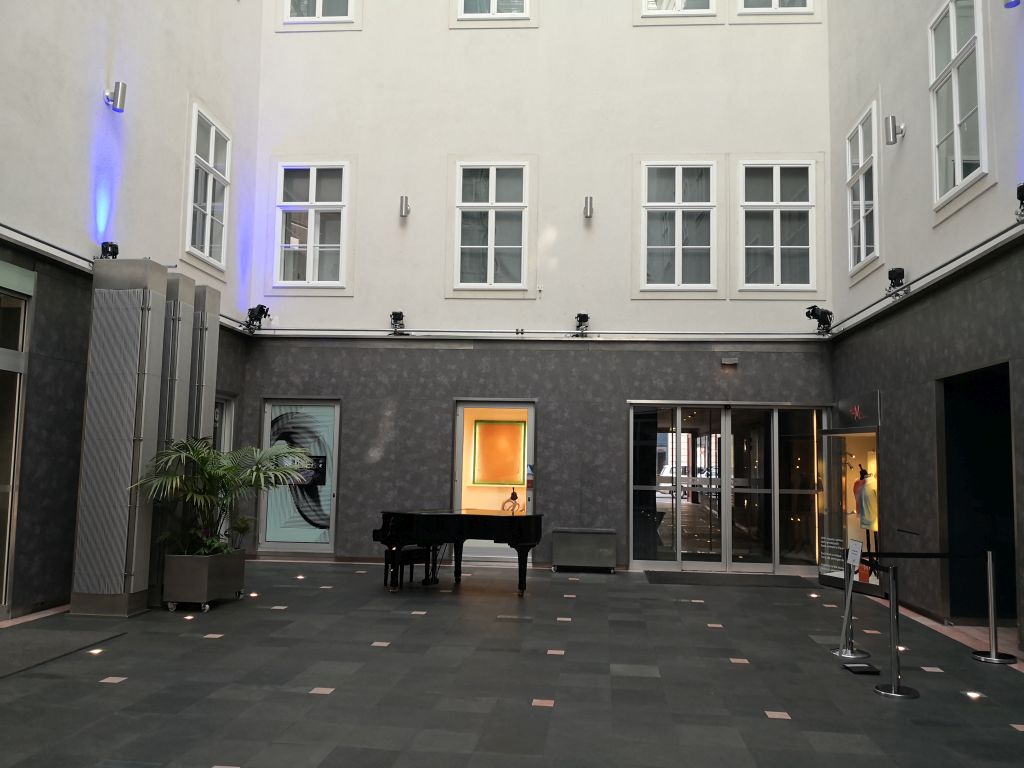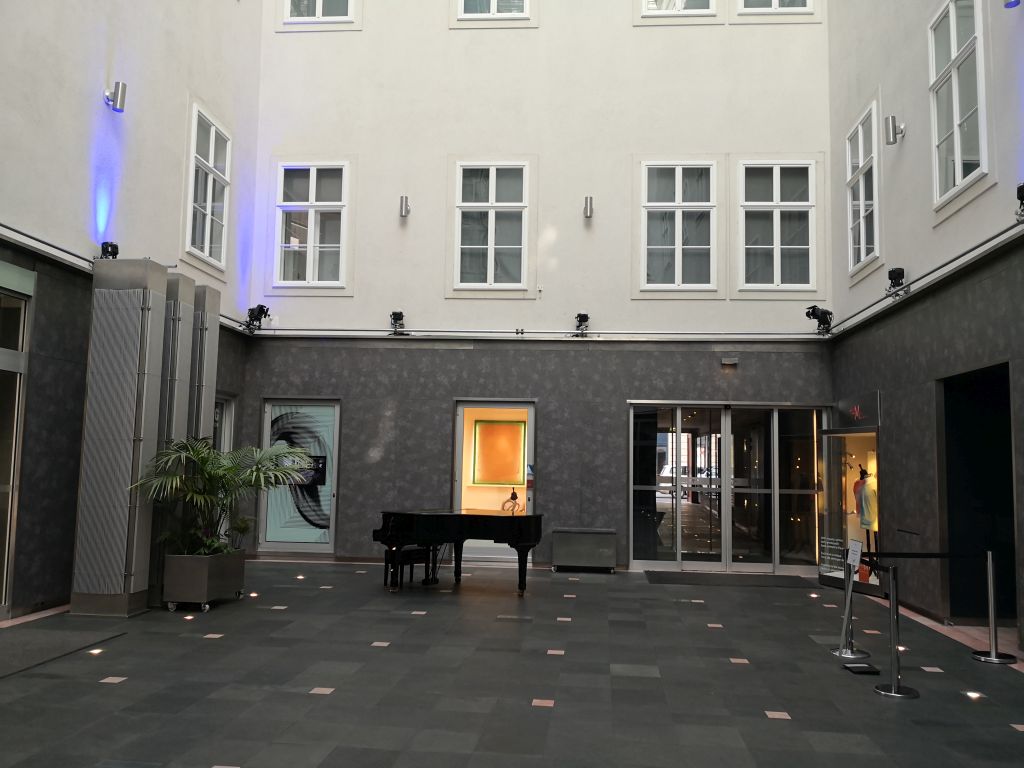 It is no wonder that the Museum of the Vienna Philharmonic is located in the House of Music, treasuring important artifacts of one of the world's best orchestras. Legendary maestro Zubin Mehta is an honorary president of the House of Music since he was very impressed with how music was presented and introduced to people from different music tastes, backgrounds, and music education.
What you can see and do in the House of Music?
The venue is divided into thematic areas by the floors. Each floor has a distinguished design and layout to serve its purpose, whether it is a museum or a fully interactive area.
The first floor is a museum dedicated to Vienna Philharmonic. Its rich history is presented through many valuable historic artifacts, such as original music sheets or genuine conductor batons from Herbert von Karajan, Richard Strauss, and Karl Böhm. There is a wealth of information treasured in historic documents, photographs, and personal items of famous composers.
There is a virtual concert hall where you can sit and enjoy various performances by Vienna Philharmonic, played over the video screen.
Live concerts are performed several times a week in the Imperial Hall on the first floor. These concerts require separate tickets.
Last, but not least, there is an interactive 'create your own waltz' game, very popular with children, where they can throw dice and generate their own waltz tunes. The music generated can be collected from the reception as a souvenir.
The second floor is all about the science of sound and music and about interactive installations and games. Visitors can learn about sound creation, its scientific facts, and how music is created, and they can also participate in making sounds and interactive visual products through a series of experiments. The floor was named Sonotopia, a very clever word play.
There is a comprehensive and interactive setup to learn and experience different sounds, frequencies, music scales, and harmonies and how they are generated and used. The entire floor is designed for visitors to engage their hearing and visual senses through play and learning. A variety of virtual and real instruments are available to visitors to play and generate their own sounds and music.
The third floor is dedicated to famous music masters, where each room is dedicated to one legend of classical music: Joseph Haydn, Wolfgang Amadeus Mozart, Ludwig van Beethoven, Franz Schubert, Johann Strauss Sohn, and Gustav Mahler.
Each room is a wealth of information and artifacts from the lives of famous composers, their musical scores, pictures, paintings, and original writings. This floor also has some interactive elements, such is Namadeus, a fun game that will convert your name into a musical piece. You can also collect this piece at the reception.
The fourth floor is usually most popular with both children and adults. The highlight of this floor is definitely a Virtual Conductor, where you have an opportunity to conduct Vienna Philharmonic! This simulation is done so well, that it creates a real sense of conducting the orchestra.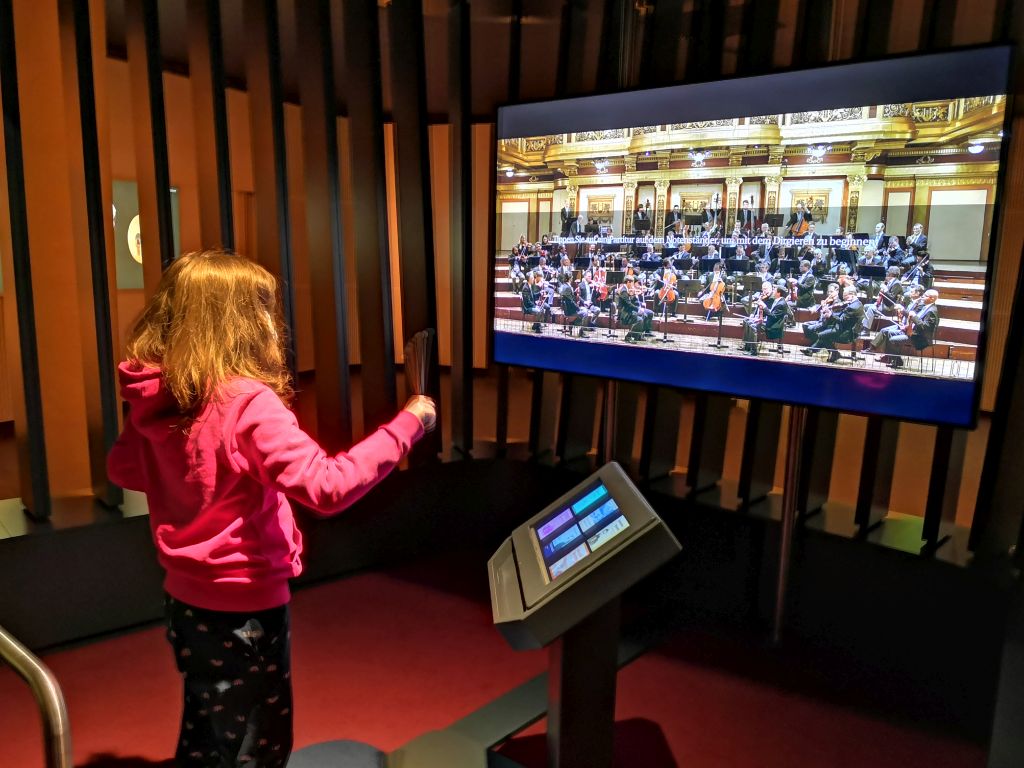 How does this work? You select a music piece, a waltz, or similar and you start conducting. Based on your movements, the virtual orchestra will play at a certain tempo and if you don't keep the pace, the orchestra will go out of rhythm and Zubin Mehta himself will come to you and give you a lecture about proper conducting. But don't worry, nobody was born a conductor (except for Mr. Mehta, probably 🙂 ).
The simulation is very realistic, with musicians playing real pieces and even complaining when you conducted them out of rhythm. It is a very funny and educational experience.
On the way down to the ground floor, you will also encounter music stairs, where every step is a piano key, and it plays as you step on them. Another fun time for kids (and adults alike).
Other services of the House of Music
Apart from standard museum collections and interactive installations, the House of Music provides some other, interesting services to the general public
Concerts
As the original concert venue of Vienna Philharmonics, the House of Music maintains this tradition by organizing many concerts regularly. From classical concerts performed by Imperial Classic Orchestra, through popular music performers, and finally, to a variety of children's concerts and performances, House of Music has a full repertoire throughout the year.
Most of the concerts require separate entry ticket, but they can be free with a House of Music membership card, so this is recommended option if you are a frequent visitor.
Education
House of Music also provides educational services related to music. Organized groups of school children can be given guided and educational tours, together with all interactive installations offered by the museum.
Event hosting
House of Music provides also event hosting services. There are three spaces that can be used for various public or private events: a courtyard with up to 200 visitors, a concert hall with 140 seats, or two spaces on the top floor with a panoramic view of Vienna (up to 80 people each).
Projects
In an effort to promote music and interactive musical education, House of Music has started two projects abroad.
House of Music has partnered with Lang Lang International Music Foundation. This foundation's goal is a "worldwide network of music teachers and musicians to win over future generations for classical music and to inspire them to live with music".
The foundation is behind Musical Stairs in House of Music, where every step is a piano key and plays as you walk on it.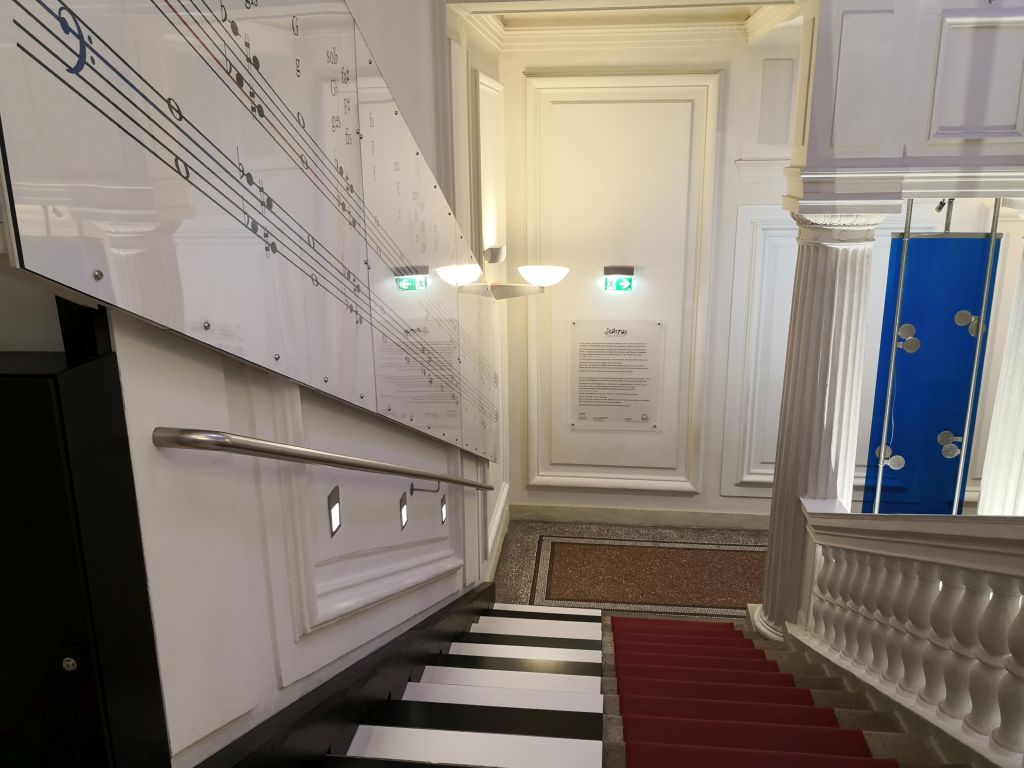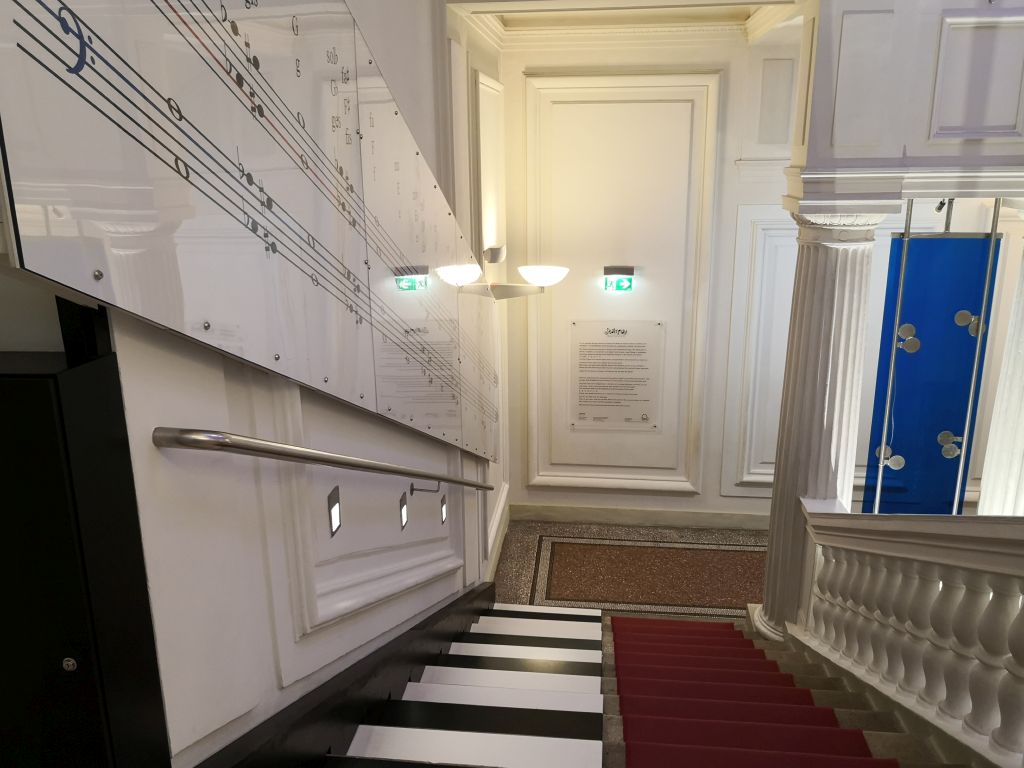 Lang Lang International Music Foundation and House of Music work together to bring musical education to children of Austria, by supporting music teaching and providing necessary instruments to children in need.
In Mexico, House of Music has licensed similar interactive museum called Casa De La Música De Viena En Puebla. With a very similar concept, this museum showcases musical artifacts, education, interactive installations, and concerts. This museum has a massive initiative – Orquestas Sinfónicas Esperanza Azteca, where over 13,000 children and 800 conductors in 58 orchestras – 56 in Mexico and two in El Salvador are involved in learning about music and playing in the orchestra.
Shop
Every museum has a shop, but House of Music has such a variety that many people spend considerable time browsing unique and original items sold there. Apart from standard books and souvenirs related to music, the shop has dozens of music-inspired designs, including ties, pencil cases, toys, bags, mini busts of famous composers, and last but not least – tiny music boxes! These wind-up music boxes play famous classical pieces. Great entertainment for both kids and adults.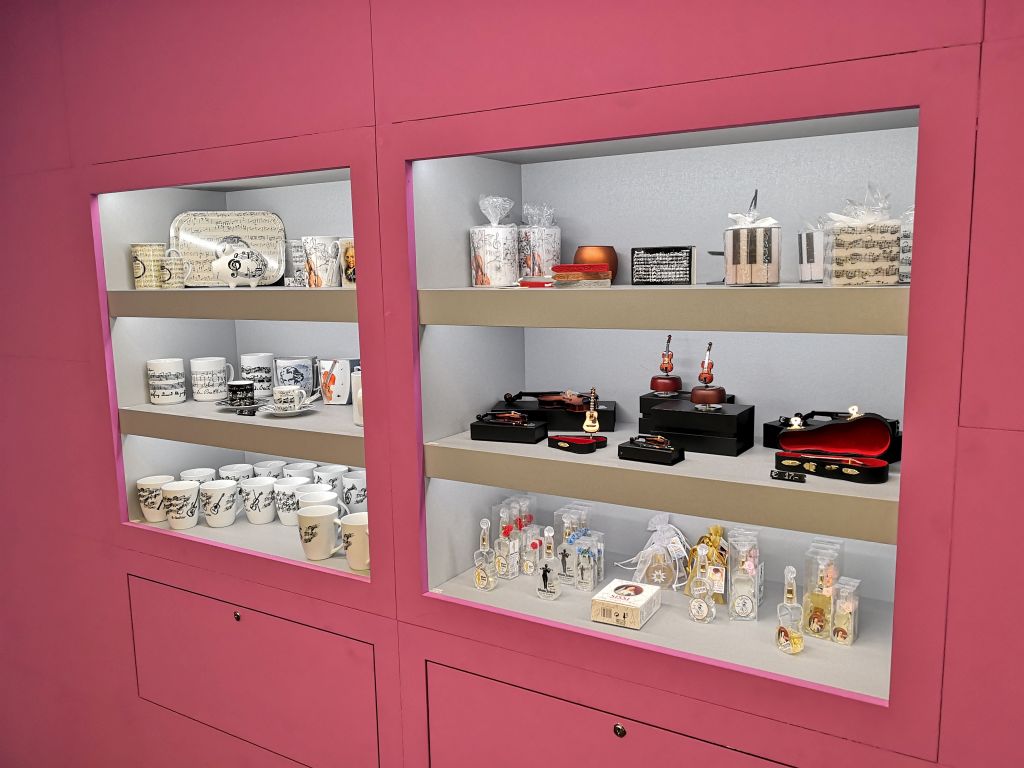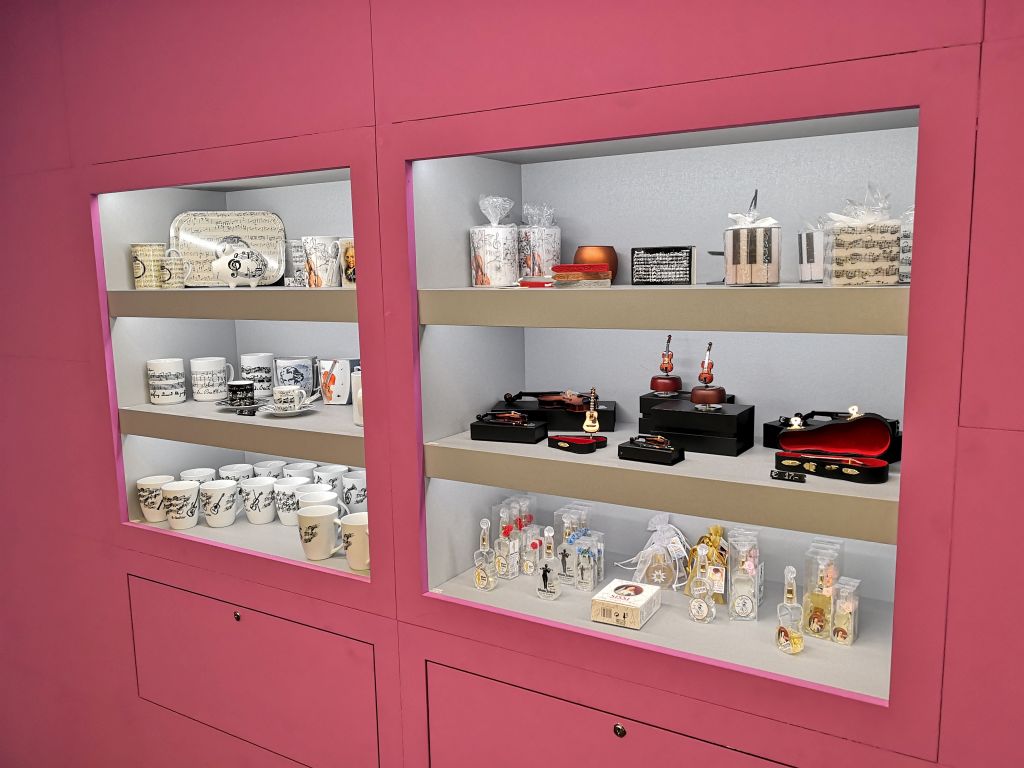 Conclusion
House of Music is a must-see landmark and attraction in Vienna. It brings together the best aspects of music – history, education, science, and entertainment. Being a venue that is dedicated to music and music education and promotion, it is a great place to bring your entire family and enjoy several hours filled with joy and awe. So don't miss it, next time when you come to Vienna! Safe travels and see you soon!
adults € 16, children under the age of 7 – € 7, children up to 3 years old – free. Special discounts for organized groups. Family ticket – € 33. Discounted night tickets are possible, after 8 PM.
Public transport: Bus 2A and trams No. 2, 71 and D (Schwarzenbergplatz), U1 (Stephansplatz) and walk 10 minutes. The museum is very near Kärntner Ring 1.