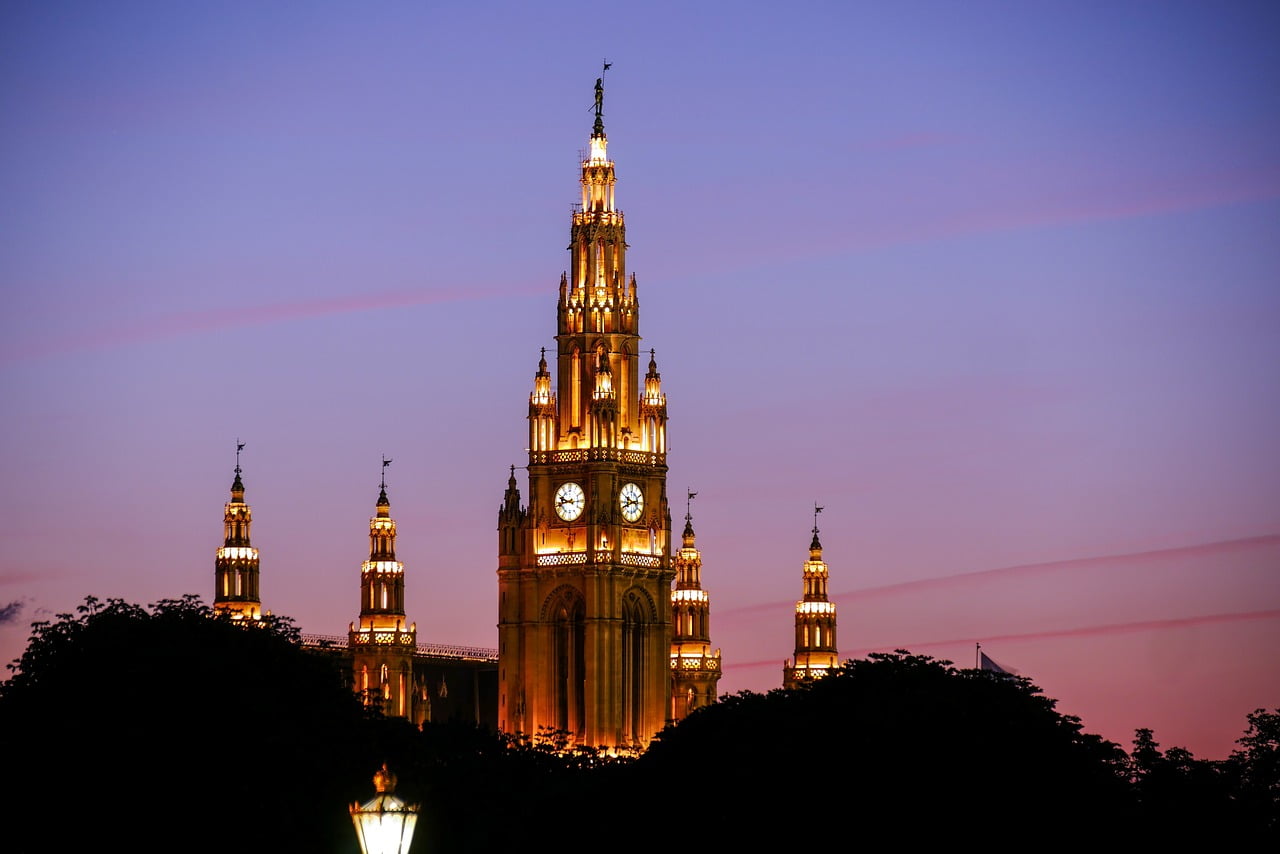 The Vienna City Hall (Rathaus) is the seat of the local municipal government and houses the offices of the mayor and the town council, as well as other related government institutions. Amongst them is the legislature of the States of Austria, called the Landtag.
Located on the Ringstrasse, Vienna City Hall has a large square in front of it – Rathausplatz, and it is surrounded by Rathaus park on the side and behind the building. Across the Ringstrasse is the famous Burgtheater, Vienna's state theatre.
The construction of the building began in 1872 and was supervised by the famous architect Friedrich von Schmidt. It was built in classical Gothic style with elements of Neo-Gothic style with a prominent tower, which is one of the highest constructions among historical buildings.
You can go to the top of the tower by climbing exactly 331 steps and be rewarded with an amazing view of the city.
The building, whose construction finished in 1883, has close to 1,500 rooms and almost 2,000 windows. Windows are often used to display works of art for charity events.
The area is known for a number of outdoor activities and festivals like the Christmas market, summer concerts, film festivals, and a very popular ice rink during the winter.
There are free guided tours through the Vienna City Hall showcasing staterooms. The tour covers the Council Chamber, the two Coat of Arms Halls, the Stone Halls, the Festival Hall, the Senate Chamber, the Grand Staircases, and the Arcade Courtyard with a view up the Rathausmann.
It is worth also visiting the restaurant inside the Vienna City Hall – Wiener Rathauskeller.
Interesting fact, the name for English speakers might sound funny – Rathaus – 'House of rats', but 'rat' in German means 'advice' or 'council', so it is literally translated into a 'council house'.
U2, Rathaus station, and Trams 1, 2, D, also reachable on foot from Stephansplatz.
Free tours Mon/Wed/Fri, check on http://www.wien.gv.at/