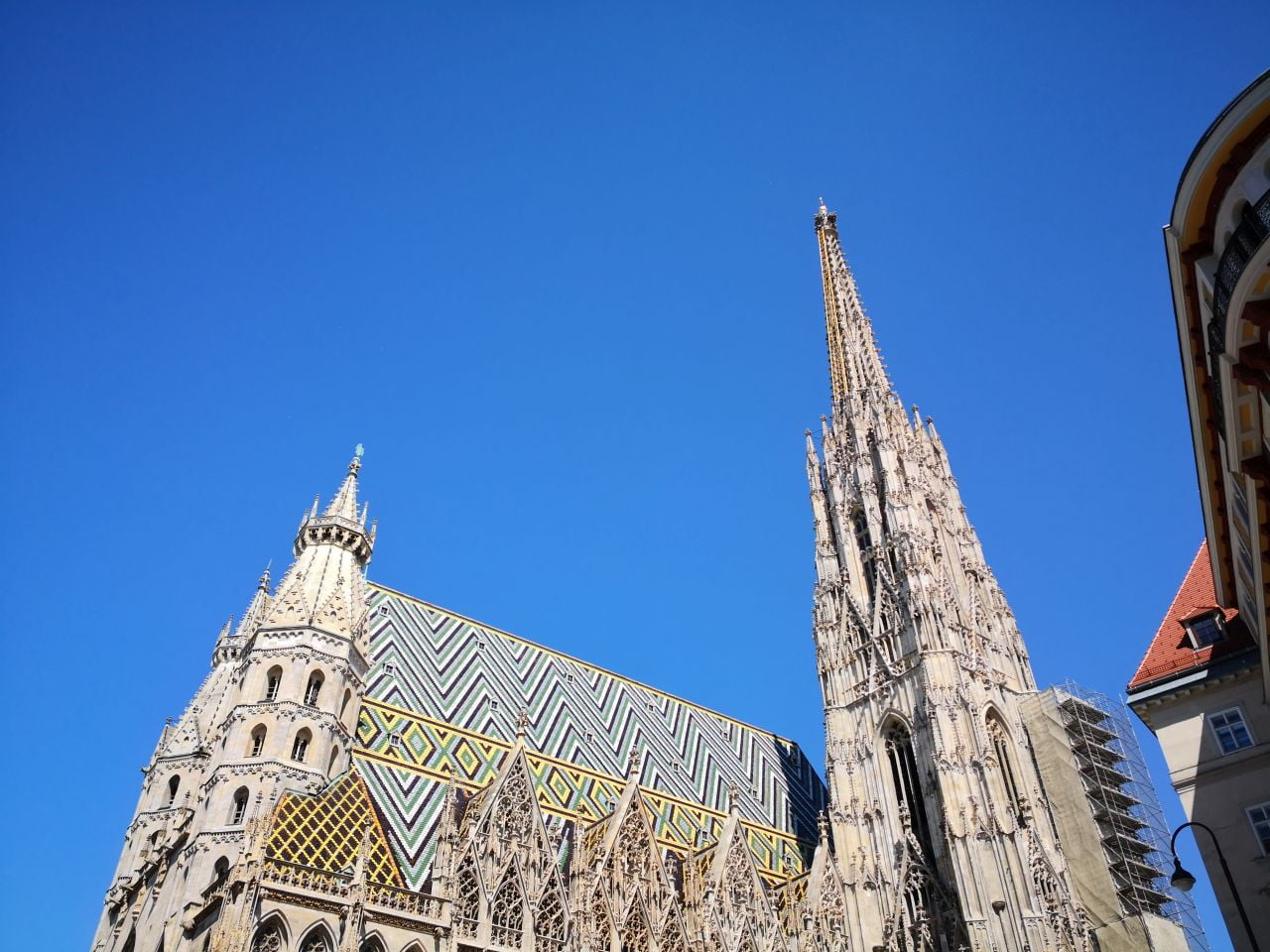 Famous St. Stephen's Cathedral, or Stephansdom, as it is known locally (also affectionately called Steffl by Viennese), is a central landmark of Vienna and one of the most recognizable attractions. It is a symbol of Vienna and a remarkable part of the city's skyline. Located in Stephansplatz, it dominates the area with its splendor.
Originally built in the 12th century, the cathedral has been destroyed, rebuilt, and renovated several times through its rich history and now it is a living monument consisting of several styles – Gothic (mostly) Romanesque and Baroque.
St. Stephen's Cathedral was dedicated to St. Stephen, the first Christian martyr, and church services are active to this date. The cathedral hosts many performances of both choral and orchestral music and tourists can attend Sunday service. It is considered that Mozart's Requiem sounds the most magnificent when performed in the cathedral.
The cathedral complex consists of a church, north and south towers, catacombs, and a treasury. The south tower is almost 137 meters tall. There is a total of 13 bells and the largest one, Pummerin, is hanging in the north tower. This bell is rung only on special occasions.
A popular attraction is a roof walk, where visitors can observe the great view of Vienna. The roof is designed with mosaic tiles creating an image of an Imperial double-headed eagle with a coat of arms of the city of Vienna. You can climb to both north and south tower and also visit catacombs.
There are several important historical figures buried in sarcophaguses and catacombs such as Emperor Friedrich III, Prince Eugene of Savoy, and Habsburg duke Rudolph IV.
There are several chapels in the cathedral, most notable being Tirna Chapel, Catherine Chapel, St. Barbara's chapel, and Eligius Chapel.
There is a cathedral treasury hosting many historical religious relics and texts of significant importance.
Due to its central location in Vienna's Innere Stadt, it is usually starting point in the exploration of Vienna and a popular meeting place. A visit to St. Stephen's Cathedral is a must when visiting Vienna and Austria.
Visiting of church premises is free, except during the mass (when you can visit as a churchgoer, not as a tourist). There are regular classical music concerts with paid entrance, but they are usually held in the evening, so there is plenty of time to explore church during the day.
Interesting facts about Stephansdom
The mosaic on the roof consists of over 230,000 colored tiles.
One of the church bells, the Pummerin, is the 2nd largest free-swinging church bell in Europe.
Stephansdom is one of the most popular venues for classical music concerts in Vienna.
The cathedral is so popular, it is featured on ten cents Euro coins made in Austria.
Among many statues and ornaments, there is one nicknamed 'Christ with a toothache' due to the peculiar head position of Christ in the statue.
The famous Maria Pötsch Icon was reportedly seen 'crying' several times.
person, free to visit, paid tours available. There are also some parts that require tickets, such as climbing the tower or a museum.
St. Stephen's Cathedral is the most central landmark in the city – U1, Stefansplatz, Bus 2A, Rotenturmstraße