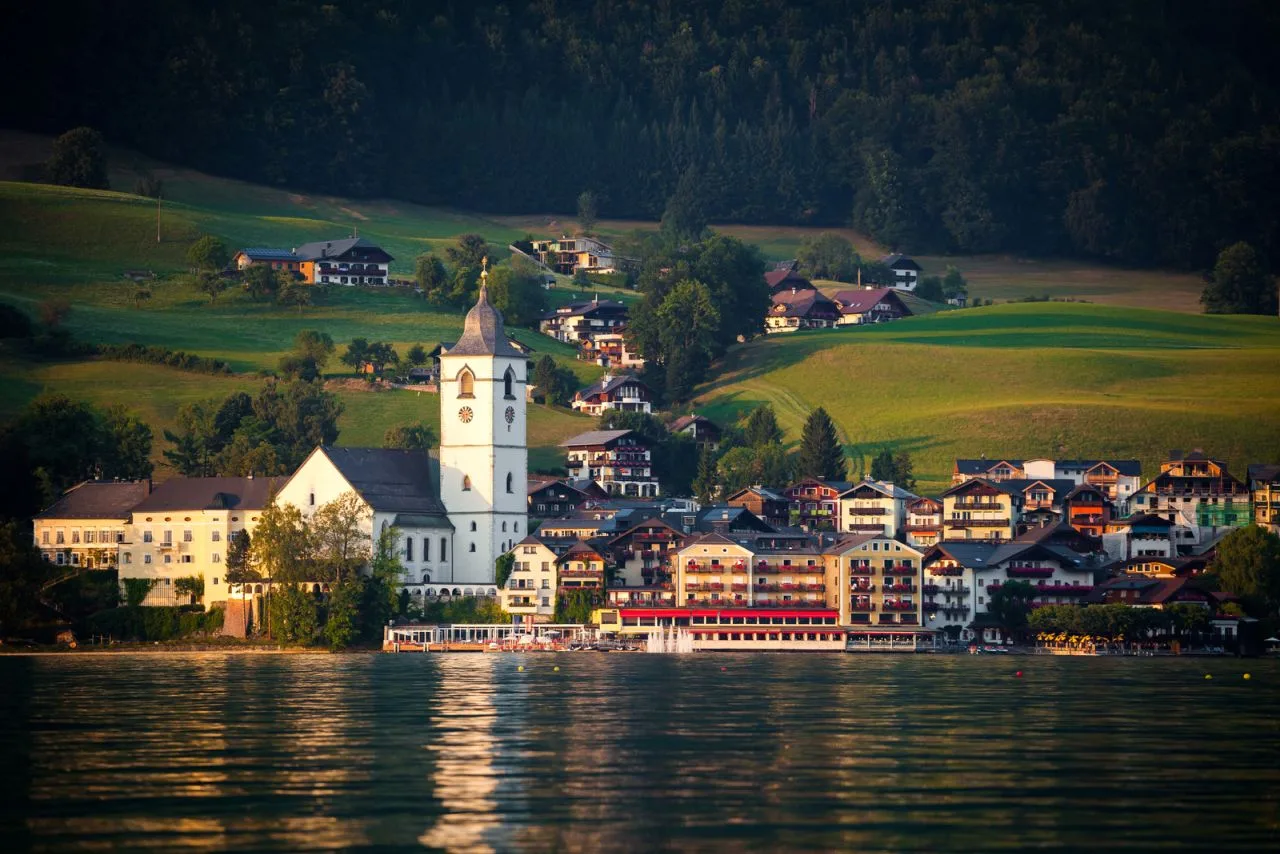 St. Wolfgang is a spectacular Austrian town located on the shores of Lake Wolfgang and at the foot of the Schafberg Mountain in the Salzkammergut area. In the 10th century, as the legend tells it, St. Wolfgang, Bishop of Regensburg, hurled an ax and planned to create a church along the then-Abersee bay.
The church housing Michael Pacher's gothic altarpiece has since been a place of pilgrimage for many over the years. The town is also famous for its Weisses Roessl, or White Horse Inn, which is the setting for the famous musical comedy of the same name.
The clear, cool water is perfect for swimming and other water activities, and its inviting deep blue colour is a bonus. A boat excursion is a great way to experience the atmosphere of Lake Wolfgang. Lake Wolfgang is the perfect setting for the unconventionally romantic.
St. Wolfgang's major draw is the lake, no contest. The perfect lake day begins with a stroll along the water's edge, followed by a delicious breakfast on the terrace overlooking the water. Then, the beaches and lidos beckon you to come soak up the sun and have a dip.
The nearby mountains are calling out for some physical recreation. From St. Gilgen to St. Wolfgang, via the Falkenstein, is a historically significant and well-marked pilgrimage path. Here, the pilgrimage site's thousand years of history are palpable. A spiritually potent location.
A trip to the Falkenstein with a torch in hand is an adventure you won't soon forget. The calm weather during 'Autumn Enjoyment at Lake Wolfgang' makes it possible to go to dizzying heights and walk across the tourist zone as the leaves begin to change colour in the forests around Lake Wolfgang. During the winter months, the snowy slopes of the Zwölferhorn and the surrounding Postalm ski region make for excellent skiing and snowboarding.
One of the most well-known Gothic altars in the world can be found at the church of St. Wolfgang. Michael Pacher fashioned it out of stone. Thomas Schwanthaler and Meinrad Guggenbichler both left behind pieces of art here as well. One of the most successful operettas of all time was filmed in the world-famous "Weisses Rössl," therefore a trip there is a must. The White Horse Inn on Lake Wolfgang is a well-known landmark.
From St. Wolfgang, you can take a cog railway up to the summit of the 1,783-meter-high Schafberg. It takes about 35 minutes to go the 6 kilometres on this, Austria's steepest steam cog railway. When visitors reach the Schafbergspitze, they are treated to a breathtaking panorama of Lake Wolfgang and the nearby communities of Strobl and St. Gilgen.
The nearest city is Salzburg, from where you can take scenic car ride of about 45 minutes,