Top 5 museums to see while in Vienna. Vienna is not that big as a city (compared to some other world capitals), but it has more than 100 museums. There are impressive art and historical collections and artifacts which can impress every visitor seeking cultural heritage. We are listing here the top 5 museums to see while in Vienna, to get you started; you can keep exploring and maybe visit all of them!
Belvedere
Location: Prinz-Eugen-Straße 27, 1030 Wien
Opening Hours: Daily: 9 am–6 pm, except on Fridays: 9 am-9 pm
Ticket Prices: From 13.5€ ($15) for adults, free for persons 19 and under
Belvedere is actually a museum complex, consisting of Upper Belvedere, Lower Belvedere, and Belvedere 21. World famous for Klimt's The Kiss, the museum is hosting the largest collections of key works by Gustav Klimt, Egon Schiele, and Oskar Kokoschka.
Upper Belvedere is a Baroque palace, built by Prince Eugene of Savoy, a general and art connoisseur. It hosts about 420 works, thematically organized to present the main artistic styles and also the history of Belvedere itself.
Lower Belvedere was the residential palace of Prince Eugene, which shows throughout the lavish interior and gardens.
Belvedere 21 is dedicated to contemporary art and it is a walking distance from Upper Belvedere.
The entire complex is surrounded by gardens and there is a large reflecting pool, that gives the opportunity for a great photo shoot.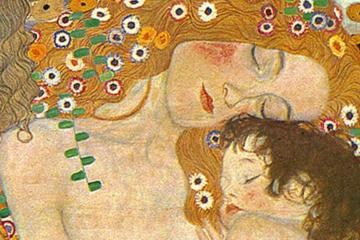 Albertina
Location: Albertinaplatz 1, 1010 Wien
Opening Hours: Daily: 9 am–6 pm, except on Fridays: 9 am-9 pm
Ticket Prices: From 12€ ($14) for adults, free for persons 19 and under
The Albertina museum is hosting one of the largest and most valuable graphic collections in the world. Famous works such as Dürer's "Young Hare" and Klimt's 'studies of the female form' are on display there. The latest exhibition showcases masterpieces ranging from Monet to Picasso and Baselitz.
The original collection, which was established in the 18th century by Duke Albert of Saxony-Teschen, consists of over one million prints and 60,000 drawings.
A permanent display of the new exhibition collection covers the most important art movements of the past 130 years ranging from French impressionism to German expressionism through the Russian avant-garde and present-day art. Monet's "Water Lily Pond", Degas' "Dancers" and Renoir's "Girl" are a few of the spectacular works of art on display, together with paintings by Beckmann, Macke, Chagall, Malevich, Rothko, Rainer, and Katz.
Kunsthistorisches Museum Wien (Art History Museum)
Location: Albertinaplatz/Maysedergasse, 1010 Vienna
Opening Hours: Tuesday – Sunday, 10:00 – 18:00; Thursday, 10:00 – 21:00
Ticket Prices: From 12€ ($15) for adults, free for persons 19 and under
The Kunsthistorisches Museum Wien (Art History Museum) was built in the late 19th century near the Imperial Palace with the initial idea to house the extensive collections of the imperial family. The current collection of famous works and the largest Bruegel collection in the world, it is considered one of the most eminent museums on a global scale.
Among numerous artworks of European art history, we can find Raphael's "Madonna in the Meadow," Vermeer's "The Allegory of Painting," the Infanta paintings by Velazquez, and masterworks by Rubens, Rembrandt, Dürer, Titian, and Tintoretto. The Egyptian and Near Eastern collections contain fascinating artifacts from early cultures as well.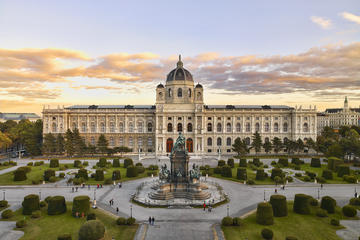 Leopold Museum
Location: Museumsplatz 1, 1070 Wien
Opening Hours: Mon-Wed-Thu-Fri-Sat-Sun 9:00am–6:00 pm; Tuesday – closed
Ticket Prices: 9€ ($11) for adults, 6.5€ ($8) for ages 18–25, free for children 17 and under
Leopold Museum is located in MuseumQuartier, where several other museums and galleries are located, so it can be full day exploration: mumok – Museum of Modern Art, Kunsthalle Wien, Az W – Architekturzentrum Wien and ZOOM Children's Museum.
The Leopold Museum has a unique collection of Viennese art nouveau, the Vienna Workshop, and the Expressionist period. It showcases the largest Egon Schiele collection in the world as well as masterpieces by Gustav Klimt.
Both permanent and temporary exhibitions are hosted in an area of 5,400 m² over four floors.
Kunst Haus Wien
Location: Untere Weißgerberstraße 13 , 1030 Wien
Opening Hours: Daily: 10:00-18:00
Ticket Prices: From 11€ ($13)
Kunst Haus Wien is a unique museum and exhibition space created by Friedensreich Hundertwasser, an Austrian-born New Zealand artist, and architect. The former Thonet bentwood furniture factory was completely redesigned in a very playful fashion, using glass, metal, bricks, wood, and ceramic tiles in many colors and shapes.
Opened in 1991, Kunst Haus Wien houses a permanent Hundertwasser exhibition on two floors, and two other floors are dedicated to temporary exhibitions.
On the ground floor, there is a space called "Garage", where artists and creatives perform art exhibitions based on the topics of sustainability, climate change, recycling, and urban life. On the lower ground floor, there is an exhibition of the works of young photographers.
Conclusion
With more than 100 museums in Vienna, the average visitor will have to spend a few months visiting all of them. That's why we recommend coming back to Vienna often and seeing them all. For detailed information about museums in Vienna, together with current exhibitions and events, please visit Wien Info page.
Safe travels and see you soon!
(This post was originally published on our parent site, gotravelyourself.com).