Moving around Vienna: public transport and more. Vienna is an exciting city with so many things to do and see. It will take the average visitor several days or even weeks to explore it fully. If you are visiting Vienna individually, without an organized group through a travel agency, it will be very useful to know how to move around the city and see as many attractions as you possibly can. Vienna has several means of transport available and here are our recommendations and tips.
The fastest and cheapest way of moving around Vienna: public transport, especially underground
To get from point A to point B, the best and cheapest way is public transport. Vienna has comprehensive, integrated, efficient, punctual, and very affordable public transport, which includes underground, trams, trains, and buses. It is operated by Wiener Linien company (www.wienerlinien.at) sells tickets, manages an app, and provides all travel info.
Tickets are sold by duration and type of passenger – children and senior citizens ride free or have discounted tickets and you can purchase daily (also 24-hour ticket), weekly, monthly, or yearly tickets. You can also buy an individual ticket for each ride, but this would be too cumbersome and will delay your trip. There are machines at every station to purchase tickets with a card or cash, but this makes sense only if you want to take a single trip.
Daily ticket is valid from the time of purchase until 1 AM the next day. Very useful for daily travels throughout the city. Price 5.8 Euro ($6.5)
24-hour ticket is valid for 24 hours from the time of purchase. It is suitable if you are planning to move during the night (concerts, clubs, etc). Price 8 Euros ($9)
48 hours ticket is valid for 48 hours from the time of purchase and it is a very good option for a weekend visit to Vienna. Price 14 Euros ($16)
72 hours price is 17.10 Euro ($19) and it is also very suitable for weekend transportation.
A weekly ticket is the same price as 72 hours ticket, but this one is valid only from Monday following the purchase, so it is suitable if you start your visit on Sunday evening.
The monthly ticket starts on the first of the month and costs 51 euros ($58). This is great value if you are staying longer period in Vienna,
A yearly ticket is obviously not suitable for visitors, but if you are moving to Vienna, this is the way to go. It costs 365 euros, so you will be paying 1 Euro per day to ride on the entire Vienna public transport as much as you want!
It is recommended to download the Wiener Linien app from Appstore or Google Play and has all your tickets ready on your mobile. You can also buy tickets from the ticket office or from the ticket machines.
But, if you want to make sure you get a correct underground line, bus or tram, please use Google Maps instead. It was proven to be more user-friendly and more accurate than the Wiener Linien app. Don't ask why, but very few companies can beat Google in their own game. So, in short – use the Wiener Linien app to buy tickets and check the schedules, and use Google Maps for navigating and trip planning.
Taxi and Uber
Classic taxi service is available throughout Vienna and there are, besides Uber, several other online solutions.
Standard taxi has the following numbers:
+43 1 60 160
+43 1 40 100
+43 1 31 300
Please note for making this call, you should have a local number or roam on your phone. You can also book online at the following addresses:
If you don't have Uber or another app installed, the above option might be suitable for you.
Uber is available all-around Vienna and services are reliable, safe, and affordable. They offer several types of vehicles for each trip and you can choose standard, lux and large transport like van or similar.
Bicycles and scooters
For those of us who are fit and don't mind weather conditions or uneven tracks or sidewalks, Vienna has bicycle and scooter rentals available.
Bicycles can be rented online via www.citybikewien.at where you can also check the maps and bike locations. The price per hour is 1-2 euros.
Electric scooters are available via Lime (http://v1.li.me/electric-scooter) and are available throughout Vienna's city center.
For both bicycles and electric scooters, you will have to observe traffic rules and ride them only in the designated areas (bicycle tracks).
Transport from and to Vienna Airport
There are several options for transport from and to Vienna airport and it will all depend on your situation, travel needs, and budget.
Trains
If you are traveling with small children, we recommend CAT service – City Airport Train. The ticket is 11 Euros (discount for return tickets and coupons) and children up to 12 years old ride free. It runs every 30 minutes and the trip is only 16 minutes! When departing Vienna, you can even check in your luggage at CAT station, so you can travel on the train with just a carry-on bag.
The train stops at Wien Mitte, Central station and you will need another transport from there to your accommodation, so you will need to plan and calculate your budget/expenditure.
The most optimal ride from the airport is to take the train to Mitte and then either public transport or an Uber.
You can also take a regular train from the Airport, from the local OBB company. They depart every 20-30 minutes and the price is 4.30 Euro ($5).
Buses
Buses operate from the Airport bus terminal every 30 minutes and the ticket is 3.9 Euro ($4.5). The bus takes the longest to arrive in Vienna, around 30 minutes. If you are not in a hurry, this is the most economic option.
Taxi to and from Vienna airport
Taxi from and to the airport will cost you between 38 and 55 Euro, depending on the time of the day, public holidays and how far is your destination. This is a good option for a group of 4 people, who will pay price for a train ticket but will be delivered straight to their destination address, without changing the transport.
Uber
Uber is another option, as it is usually cheaper than a standard taxi. The price should be about 30 Euros, also depending on your accommodation destination. The advantage of Uber is the online option and very reliable service. The only problem is getting an Uber when coming from the Airport, the main taxi stand is usually reserved for standard Taxi service and Uber might not be able to reach you there.
Private airport transfers
If you want to pre-book your transport and want a driver waiting for you, we have several options and the price is very affordable. Please check the links below:
Car rental
If you are comfortable driving throughout the busy city of Vienna and have no problem with your budget, you can also rent a car. This option can be interesting, but please take into consideration finding parking and limitation in parking areas and available parking time around attractions.
This will add a bit more stress to your vacation and more money will be spent. And not to mention possible traffic tickets you might receive for violating traffic rules. So, car rental – is not recommended for city movements. We do recommend car rental when traveling outside of Vienna and between cities and the countryside, where you can stop whenever you see wonderful scenery and there are plenty of those throughout Austria!
Horse carriage
If you want to go around Vienna in style and enjoy the sights like from fairy tales, we recommend taking a horse carriage from the city center. This is not actually what you would take to go from point A to point B (as they will drop you off at the exact same spot where you left off), but it counts as means of transport .
It costs between 40 and 80 Euros for a trip and four people can ride at the same time. The ride is between 20 minutes and one hour and depending on the driver, you will have a nice guide explaining attractions as you pass by them.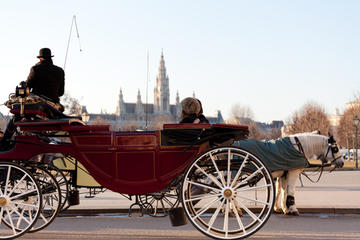 Romantic Vienna Combo: Vienna Card, Horse and Carriage Tour, Belvedere Palace, and Candlelight Dinner
Hop-on, Hop-off bus
This is not a standard transportation facility, but if you want to quickly visit all central attractions, this is the way to go. Qualified tour guides will tell you a story of the city via headsets available and you will ride on the bus and have nice photo and video opportunities. The advantage of the hop-on/hop-off option is that you have the possibility to use the bus throughout the day, so you can hop on, see some sights, hop off, go for lunch or a walk and then go back to the bus to continue exploring. Prices range from 20 Euro and up. Here are some recommendations:
Conclusion
There are many reliable and affordable options for moving around Vienna and you will need to choose what is the best option suitable for you. It will depend on your preferences, budget, or if you are traveling with small children, alone or in a small group. In any case, transport will definitely not be a problem when you come and visit. Enjoy your trip and safe travels!
This article was originally published on gotravelyourself.com.