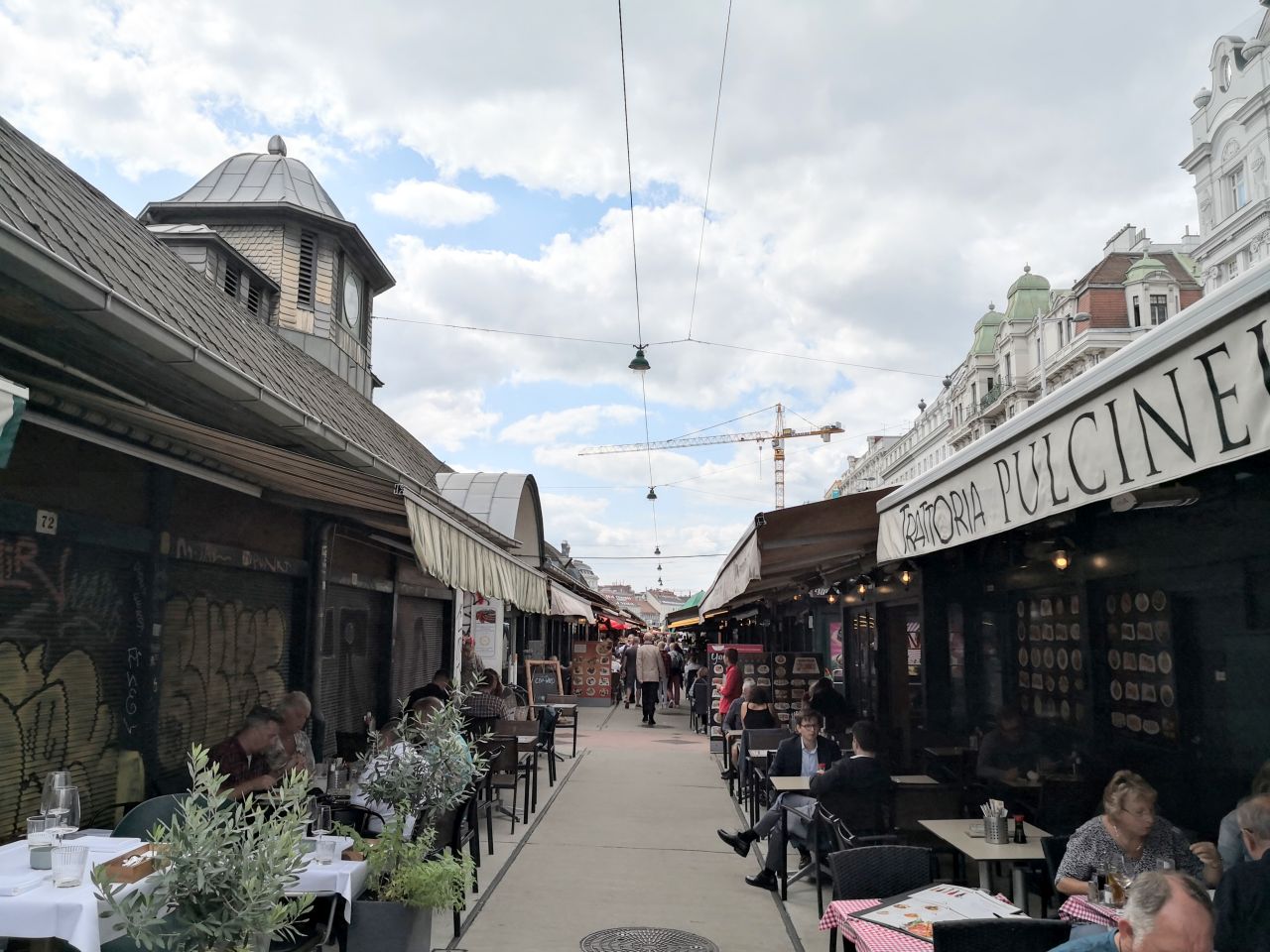 ---
Jasomirgottstraße 3, 1010 Wien
---
Food, Coffee, and Market: Small Group or Private Walking Tour in Vienna. A guided walking tour celebrating Vienna's world-renowned culinary reputation lets you eat, drink, and repeat. As you walk from the city center to Neubau, stop to sample local fare from restaurants and markets while learning about the history of Vienna's cuisine.
Food, Coffee, and Market: Small Group or Private Walking Tour in Vienna
Highlights
Walking culinary tour of Vienna with a maximum of 12 other people
Explore the city's historic coffee houses, pastry shops, and hotels.
Visit the Naschmarkt and a Mariahilf bohemian open-air market.
Shop for fresh ingredients, such as fruit and vegetables and seafood at a local market or restaurant
Try some of Vienna's best coffee at a private tasting in Neubau.
Samples of coffee and food will be provided; however, any additional food, drink, or souvenirs will be at the guests' expense.
Make your way to the meeting spot in the middle of the city. A small group of no more than 12 people will accompany you as you travel down the famed Graben boulevard to a coffee shop that has served fine Vienna brew since 1685.


Afterward, visit a world-renowned pastry shop and chocolatier to satisfy your sweet tooth, and then head to the hotel that is credited with creating the Sachertorte, a chocolate cake with an apricot jam filling and chocolate icing.
Discover how the hotel's kitchen produces 500 of these cakes every day. Spend time browsing stalls selling colorful produce, sweet treats, and homewares at the Naschmarkt and Brunnenmarkt open-air markets. Ask for recommendations for hot local eateries as you go.
Try the fresh fish and seafood at this tiny restaurant near the market, as well as the spices and cheese. Your tour comes to a close with a private coffee tasting in the hip Neubau district of Vienna, where you say your goodbyes to your guide.
Itinerary
Stephansplatz
St. Stephen's Cathedral (more commonly known as Stephansdom) is the mother church of the Roman Catholic Archdiocese of Vienna and the seat of the Archbishop of Vienna, Christoph Cardinal Schönborn
Reumannplatz
The square was created in 1872 as a city square on the southern edge of what was then the 4th district or the city of Vienna at the historic fork of Laaer Straße (today Laaer-Berg-Straße) and Himberger Straße (today Favoritenstraße).
After exploring this place we will eat Viennese sweet confectionery creations and drink freshly roasted coffee at Groissböck. Their recipe for success? Baking with love and only using the best ingredients for their fine masterpieces.
Café Korb
The Café Korb is a traditional coffee house at Brandstätte 9 / Tuchlauben 10 in Vienna's 1st district, Inner City. Specialties of Café Korb are the homemade apple strudel and the Kaiserschmarren. The beautiful garden of the coffee house is located between the short street front to the Tuchlauben and the Tuchmacherbrunnen and will provide us with a beautiful view of the inner city
Brunnenmarkt
The Brunnenmarkt is Vienna's longest street market and the 16th district of Vienna, Ottakring, in Brunnengasse from Thaliastraße to Ottakringer Straße. We have the opportunity to enjoy one of Vienna's most traditional foods. Wurst & Gulasch at one of the most famously known "Würstelstand" in the area of Ottakring. Not only is it a family-owned business it will also give our guests the opportunity to see how the Viennese typically eat dinner.
Stephansplatz
Our ending point is also our meeting point as well. PS: During the tour, we may also pass but can not be guaranteed: Viktor-Adler-Markt (Farmers Market), Alles Walzer Alles Wurst, Gegenbauer, ÖZ Aslan
Vienna Naschmarkt
Zotter Schokoladen Manufaktur is a manufacturing company of organic and Fairtrade-certified chocolates founded in 1999 by its owner Josef Zotter. Zotter is a bean-to-bar chocolate manufacturer and therefore carries out the whole chocolate production process within the company on-site: from the roasting of the cocoa beans on rollers to the grinding.
This concludes our Food, Coffee, and Market: Small Group or Private Walking Tour in Vienna.
Tour details
Tour type: Guided tour/Foodie Tour
Guide language: English
Duration: 4.5 hours
Price: from $118 (per group)

More tours of Vienna: