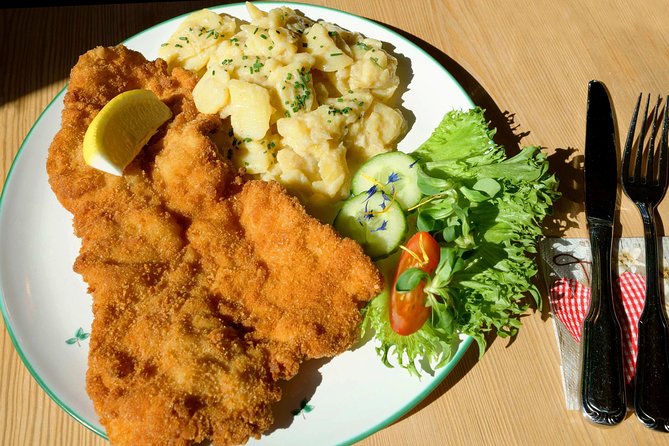 Vienna Self-guided Food Tour. Be your own guide and meet local Top Food and Old Town highlights easily and safely! With a huge passion for sightseeing, we give you a comprehensive source of Old Town route fulfilled with the best sights and a dose of restaurant tips!
Highlights
Meet the culture of Vienna, see Old Town in a flexible way and try local traditional food
Avoid tourist traps and visit only the best restaurants and patisseries with recommended dishes
Choose easily thanks to our specially prepared menu proposal to try traditional specialties
See selected highlights as St. Stephen's Cathedral and Albertina with a dose of interesting facts
Use this Booklet and save yourself a lot of time for tiring research
Itinerary
Historic Center of Vienna
Be your own guide during a self-guided tour in the fascinating historic center of Vienna. In your hand, you will have an introduction to 2 restaurants and 1 patisserie, 14 dishes, and interesting facts of 10 selected highlights, prepared by a 5-Stars guide. Admire its rich and beautiful architecture, including Baroque castles and gardens. It's a great combination with food tasting! Here you will find the first restaurant where you will try several traditional Viennese dishes in a venue maintained through three generations already! (details in the booklet)
Stephansplatz
After your amazing meal, take a walk around Old Town. Get to Stephansplatz and explore the square named after its most prominent building, St. Stephen's Cathedral. Feel the fantastic vibes of historic tenements and meet the atmosphere of the city! It's an interesting to mix of new and old architectural styles and a wonderful place to simply hang out and watch the world pass by.
St. Stephen's Cathedral
See the exceptional style and the idea of the roof. It's Austria's most prominent national symbol and one of the highest cathedrals in Europe. Walk inside and find out interesting facts in your booklet!
Mozart Haus
On the way to the second venue, you will also pass the place where Wolfgang Amadeus Mozart actually lived. It's not only a historical apartment but also an extensive presentation of major works by Mozart. You can step inside or just pass by in reading something more in your booklet! Just 3 min on foot from here you will get to another restaurant that will amaze you thanks to their specialty – the Wienerschnitzel – discover more interesting dishes and facts in the booklet.
Anker Clock
Walk out and turn left, stroll down the alley and take a moment to look at this special clock. There are figures representing "life" and "death" flanking the sun motif above the center and behind them, there is an interesting fact that you should know.
Plague Column (Pestsaule) (Pass By)
You cannot miss the next attraction, look at this very beautiful monument – the Column of the Trinity or The Column of Pest as it's also called. For sure it is worth stopping for a few pictures as it has many sculptured details. Read and discover how it is connected nowadays!
Peterskirche
Right next to Plague Column you will find Peterskirche. Small from the outside, but rich inside. Enter with the guide and see the gorgeous interior. It delights its murals, paintings, and a domed roof with lots of gilding. Visit inside and get our tips on how to fully explore and enjoy this place.
The Hofburg
Move along Habsburgergasse and meet the true Habsburg empire! Look around the rich residence with magnificent gardens. As you are your own guide spend as much time as you want, in Palace or in the gardens with free entry, or visit just selected parts as we recommend.
Kaiserliche Schatzkammer Wien (Pass By)
If you decide to visit at Hofburg Palace Complex you can also explore the Imperial Treasury. There are the biggest collections of the Holy Roman Empire. Inside you will find the Imperial Crown, the famous Holy Lance, and the Order of the Golden Fleece and there is more!
Michaelerplatz
Feel the vibes of the historic city center and find out fascinating legends and unique facts right next to the magnificent Hofburg Palace and St. Michael's Church.
St. Michael's Church
This church stands right next to Hofburg, it's shy, but still with some interesting pulsation… Yes, because it hides something. Get an introduction in your booklet or step inside for a visit! From here it's already an easy route to get to the final station of your Food Tour. It's a patisserie with a huge history, you will get to know who used to sit here in the past (I'll tell you a secret, even Freud was among them)! They serve just excellent food and especially traditional desserts and coffees.
Minoritenkirche
If you will be already at your last stop at Food Tour for sure you will see Minoritenkirche. It's monumental, so your eye will catch it easily. Also, it's one of the oldest and artistically most valuable churches in Vienna!
Rathaus
Right across the street from Minoritenkirche you will be able to see the amazing Rathaus building. Be amazed by this massive building built using over 30 million bricks! It's a monumental and very impressive town hall.
Ringstrasse (Pass By)
Ringstrasse is one of the more important streets which make Vienna alive, from Opera, around Hofburg to Rathaus you will see multiple sights and there are some fascinating facts about them.
Volksgarten (Pass By)
During your Old Town walking tour, you can always take relaxing moments, this place is perfect for this as it's a bit quiet and peaceful park full of green colors and a rose garden.

More tours of Vienna: