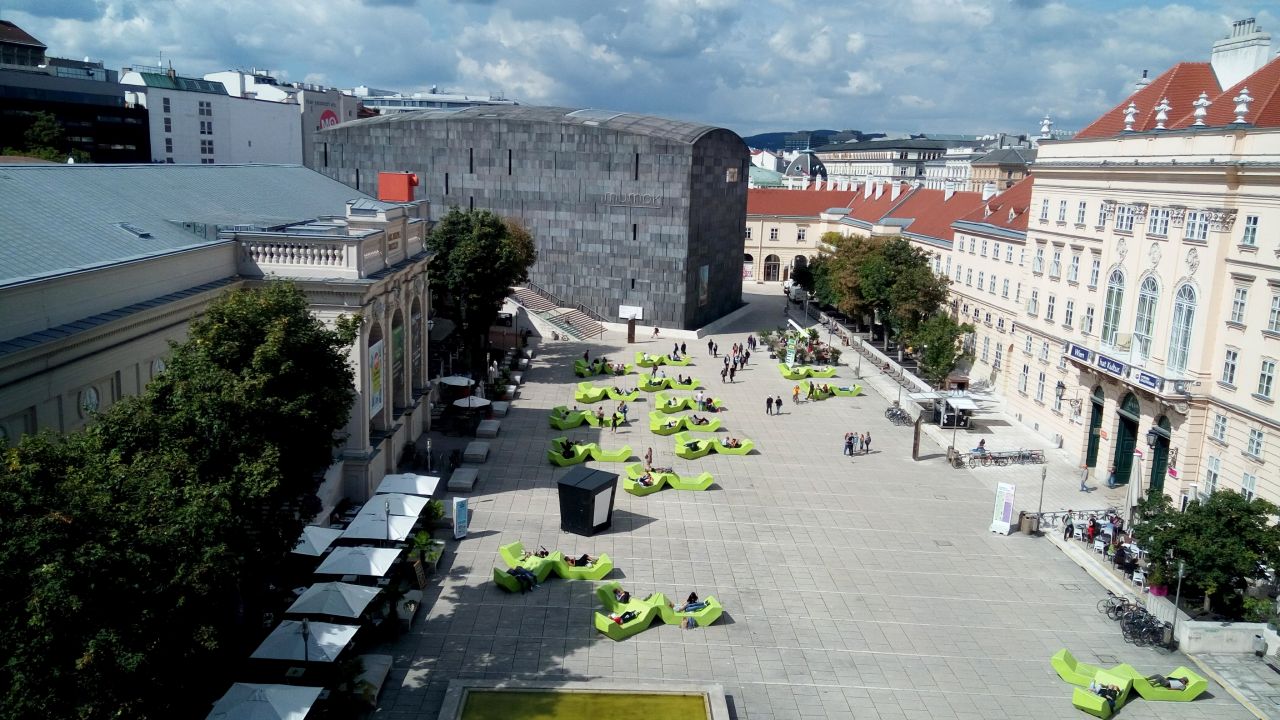 Most places are open 7 days a week 10:00 – 19:00/21:00
Encompassing more than 90,000 m2 of museum and gallery space, MuseumsQuartier is one of the largest museum complexes in the world. More than 60 cultural institutions have a home here and they promote a wide range of cultural genres and styles: classical fine art, architecture, music, fashion, theater, dance, literature, children's creativity, game culture, street art, design, and photography.
With such diversity, no wonder it has become the heart of many cultural events in Vienna and Europe in general. Here are the most important parts of MuseumsQuartier: Leopold Museum, Az W – Architekturzentrum Wien, MQ Point, Designforum Wien, mumok – Museum of Modern Art, Kunsthalle Wien, and Q21.
The history of the MuseumsQuartier starts in the 18th century when Vienna's imperial stables were designed and built by Austrian architect Johann Bernhard Fischer von Erlach. The newly designed stable complex was supposed to be a part of the so-called "Kaiserforum", imagined as an urban core ensemble together with the Hofburg Palace, New Hofburg Palace, and the Museums of Art and Natural History.
The baroque façade 400m in length, was completed in 1725. The Winter Riding Hall was completed in 1854 and this is now serving as the main courtyard of MuseumsQuartier.


Since the initial construction of the main elements in the 18th century, the MuseumsQuartier area was a work in progress and the latest one was completed recently (1998-2001) with the addition of modern museum buildings, such as MUMOK.
This was the design effort of Austrian architects Laurids and Manfred Ortner and this officially placed MuseumsQuartier on the world map.
MuseumsQuartier is a very popular area for tourists not only to visit cultural institutions but also to hang out in a really cool courtyard with uniquely designed seats. Frequent public music and art performances enrich this space regularly
MuseumsQuartier offers guided tours throughout the complex where you can discover the history and hidden treasures of this incredible cultural space. There is also an opportunity to rent exclusive halls and rooms for various events and public meetings. As far as a visit to Vienna is concerned, this is a must-visit attraction for which you should dedicate a couple of days, due to its size and diversity.
person. From $10, depending on a museum/venue/event
U2, Museums or Volkstheater stations, U3 Volstheater, also reachable on foot from Stephansplatz (20 min) and Hofburg (7 min).