---
Stephansplatz, 1010 Vienna
---
Stephansplatz is the central square in Vienna, also located in the geographical center of Old City (Innere Stadt). It is the most popular square in the city, both with tourists and with local commute traffic as the busiest station of U1 is located there, intersecting with U3.
The square takes its name from St. Stephen's Cathedral, located in the center and obvious main landmark in the area. There was another square, Stock-im-Eisen-Platz, which was separated by a line of houses, but since they were demolished in the early 20th century, now it is one single square, Stephansplatz.
There are two, most exclusive shopping streets connected to the square: Graben and Kärntner Straße. These streets are very popular with tourists, not only for shopping but for strolling around the area.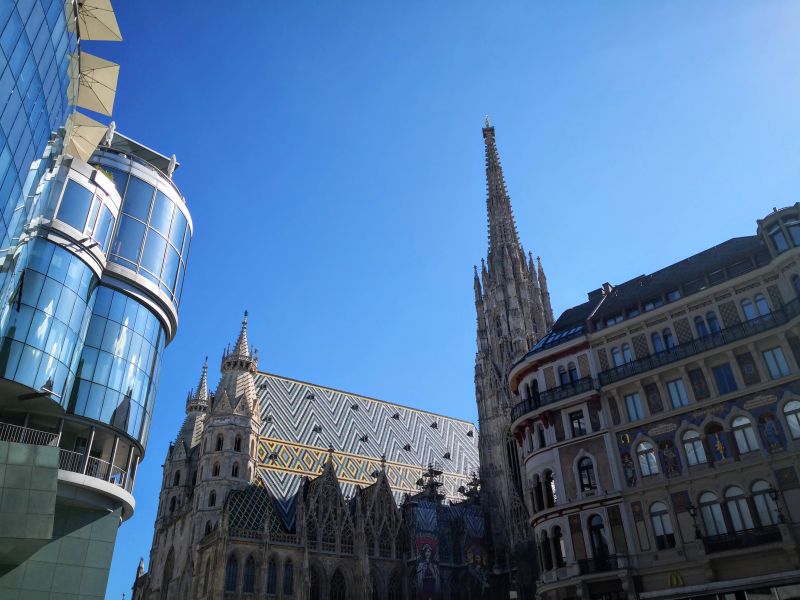 Stephansplatz area has a well-preserved architecture that was here for ages, since the area started taking shape together with the building of St. Stephen's Cathedral, starting in the 12th century. However, there is a brand-new modern building, Haas House, which was built just opposite the cathedral. This brought lots of criticism and claims of ruining the authenticity of the square. Some other opinions claim that it is a great combination of old and new.
One of the curiosities of Stephansplatz is Virgilkapelle, a medieval chapel that was discovered underground in 1973, during the excavations for the subway. It is located 12 meters underground and it was built in 1250.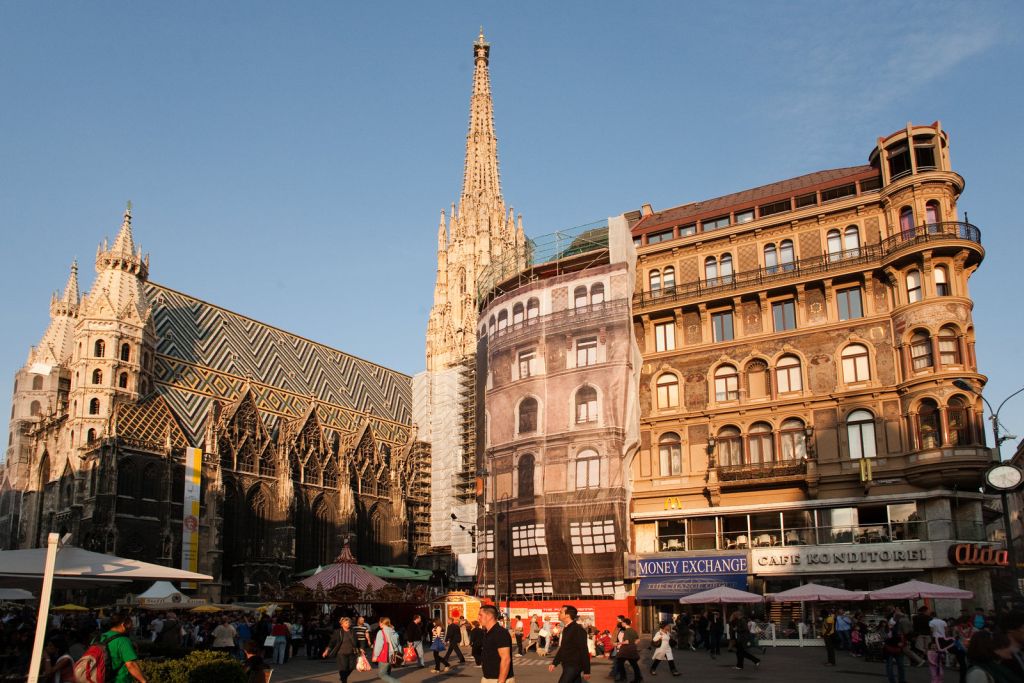 Another interesting thing from the area is the famous Stock im Eisen, a large piece of wood with nails and metal rings, dating from the early 16th century, believed to be used in rituals to ward off demons. It is located on the corner of Graben and Kärntner street, in a glass enclosure on the wall of Palais Equitable. This is an amazing historical artifact on public display.
Stephansplatz is the main touristy area in Vienna and many organized groups start their tour from here. Since it is a central location, it is the best place to start the exploration of the city or meet somebody for a walk in the area. St. Stephen Cathedral gives it a monumental look and it is a favorite place for photoshoots. There is a carriage station behind the cathedral, where visitors can take old fashion rides around the city.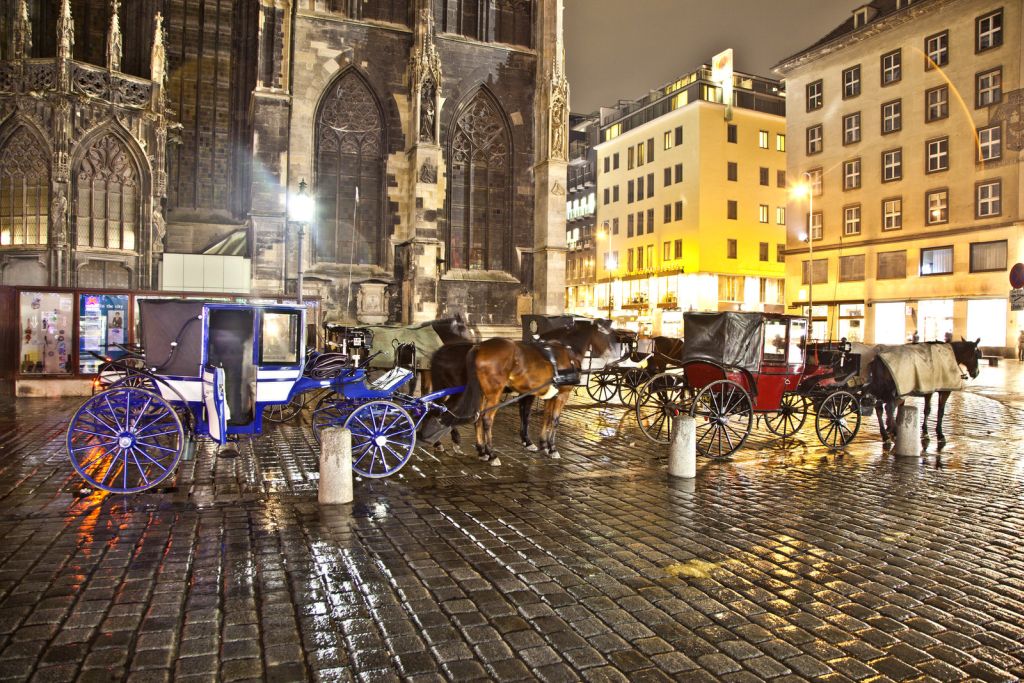 During Christmas time (November-December), Stephansplatz is the host of a very popular Christmas market (one of several in Vienna), where many visitors come to buy souvenirs, take some photos and enjoy mulled wine and cookies. Christmas time, and especially if it snows, is a magical experience in Stephansplatz.
Things to see and do at Stephansplatz
Besides the obvious landmark of St. Stephen's Cathedral, Stephansplatz has several other points of interest, cafes, and shops worth visiting.
Dom Museum Wien – Treasures from St. Stephen's Cathedral and the Vienna Archdiocese are on display in the Dom Museum Wien, along with modern masterpieces from the collection of Otto Mauer.
Wien Museum Virgilkapelle. Underground chapel, discovered during the excavations for Vienna underground.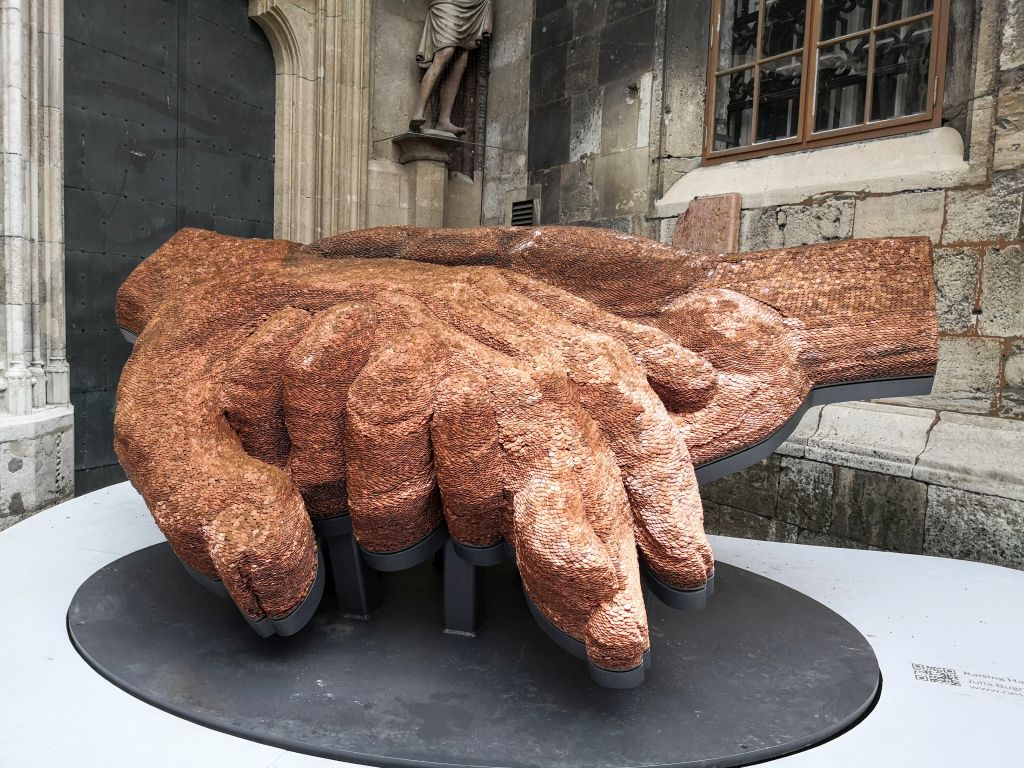 Raising Hands – a unique sculpture installation on the side of the cathedral, hands made of coins. Julia Bugram's Raising Hands is a community art project that depicts two raised hands ready to lend a hand by using one million 1-cent coins. Raising Hands is a symbol of unity and mutually beneficial cooperation; it stands 1.5 meters tall, is 3 meters wide, is 2 meters deep, and weighs 4 tons.
Shops and cafes. Since this is a tourist hotspot, there are several nice shops to visit and buy something to remind you of Vienna or a café to take a break between your city walks. Here is a list:
From other points of interest, there are two hotels on Stephansplatz, Do&Co Hotel Vienna and Hotel Am Stephansplatz. There are several ATMs in the area and a Drei shop, where you can buy a SIM card if you want to use local calls and a data plan.
From things you can do while at Steohansplatz, apart from an obvious visit to landmark Stephansdom, walking around the square, and seat for a coffee break, you can also take some spectacular photos, take a ride in a horse-drawn carriage or take a local bus (1A or 2A) which will take you around the city center for a very cheap price.
Conclusion
Stephansplatz is literally a geographical center of the city of Vienna and using it as a starting point in exploring the city is always a good idea. Not only you can start your tour there, but the location is also a very popular landmark on its own and it is worth exploring. Safe travels and see you soon!
Stephansplatz is the most central landmark in the city – U1, Stefansplatz, Bus 2A, Rotenturmstraße