We cannot talk about Vienna without talking about Austria. Here is an article originally published on gotravelyourself.com.
Austria is a Central European country with stunning nature, rich history, and amazing cultural heritage. Mozart, Schubert, and Strauss are notable few famous composers born in Austria and are just a small part of a vast number of masters of their art. World-famous painters, Klimt, Kokoschka, and Schiele were also from Austria, and the list goes on.
The most populous cities are Vienna (the capital), Graz, Linz, Salzburg, and Innsbruck and there are numerous mountain villages scattered throughout breathtaking mountain landscapes.
In the west, there are the famous ski resorts of Alpbach, Ischgl, and Kitzbühel that offer skiing experiences for skiers of varied skills, coming regularly from all around the world.
Here are 14 essential things you need to know when you go visit Austria:
1. Quick facts
Official name: Republic of Austria
Capital: Vienna
Population: 8.7 million
Area: 83,871 sq km (32,383 sq miles)
Major language: German
Major religion: Christianity
Life expectancy: 80 years (men), 84 years (women)
Currency: Euro
2. Where is it?
Austria is located in Central Europe and it shares its borders with eight countries: Czech Republic, Hungary, Slovakia, Slovenia, Liechtenstein, Germany, Italy, and Switzerland. It's a small country – based on its size, Austria is the 113th country in the world and 20th in Europe.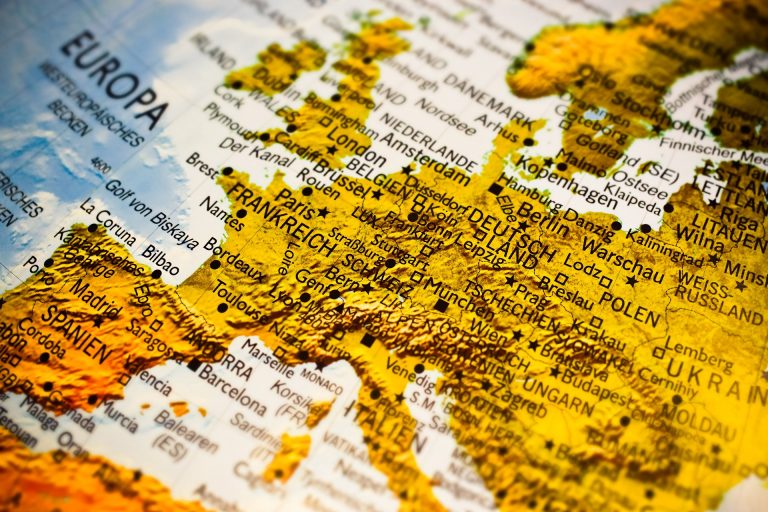 3. Visa requirements
As with many countries, your passport must be valid for at least three months after you complete your visit to Austria, so please plan ahead. Austria is part of the Schengen agreement and a visa for any of the countries from the Schengen group is also valid for Austria. A list of countries requiring visas can be found here.
4. Getting there
Getting to Austria is the best via Vienna Airport (VIE) or other, smaller airports: Salzburg (SZG), Innsbruck (INN), or Graz (GRZ) or via train, bus, or car from a neighboring country. If you have plenty of time, then driving through any of the scenic routes is the best choice.
Check the flights to Vienna here.
5. Where to stay in Austria
Depending on where you want to go in Austria, your options for accommodation vary from standard hotels or AirBnB to rustic chalets in the Alps.
It is up to you and your budget and personal preferences. For budget (and young) travelers, there is plenty of cheap accommodations to choose from in a selection of hostels.
For the latest offers on hotels from our providers use the search form below:

6. Moving around
Austria has very efficient and reliable public transport. Trains, underground, and buses run smoothly and are very affordable. You can also rent a bicycle to ride around cities along designated lines or rent a car if you prefer to move around faster (although, parking in cities can be quite expensive).
For traveling between cities, you can even fly between local airports, although flights are very short and might be expensive since distances can be reached quickly by trains and buses.
Again, depending on your budget and your travel needs, you can choose the option most suitable for you.
Here is the public transport authority info for Vienna.
More info about moving around in Austria.
7. Food in Austria
Austria has great food, it's a part of central European cuisine and definitely inherited from the Austro-Hungarian Empire, where many influences were embedded into a variety of recipes.
The top dish is of course, Wiener Schnitzel, breaded weal steak (although there are variations with chicken or pork), world known, and especially popular in Germany as well. Knödel, or dumplings is another famous Austrian food, which comes in different flavors, savory or sweet. Savory ones are made from potatoes or bread and sweet ones have fruit added.
Tafelspitz, beef boiled in a broth made of mixed vegetables is often served with dumplings made in this short list of Austrian food as well. Brettljause is simply a 'snack' served on a wooden board (or a cutting board) and can consist of meat cold cuts, cheese, and pickled vegetables, served also with bread (hence the 'snack').
From the sweet part of the Austrian menu, let us not forget Apple Strudel, an apple pastry originating all the way from the 17th century and remaining a popular sweet delicacy until now. There is much more sweet stuff to be found in Austria, such as Sachertorte and Esterhazy-Schnitte, both delicious and rich in flavor cakes.
8. Safety
How safe is Austria for tourists and to move around? Austria is very safe; it is ranked number 3 to 5 on the world's safest country list (on various indexes). Tourist areas are generally safe, both for single tourists and groups or families, but extra caution for pickpocketers is advised.
9. Prices
Austria is not that costly for tourists, and you can always find great deals on accommodation, meals, and attraction tickets. For detailed pricing information for various items, click here.
Prices throughout Austria are almost the same, with slight variation, but Vienna is the most expensive for general tourism. Same places in exclusive ski resorts can be very costly, but these exclusive areas always come with a price.
10. Weather
Austria has a continental climate, with winter temperatures going down to -22 C (-8 F) and with summer to up to 35 C (95 F). Rain and snow are very common during autumn and winter.
11. Best time to visit Austria
Austria can be year around destination for any traveler as there is so much to see and do, but the most popular times are April to October to the main cities, including the capital Vienna and January to March for visiting ski resorts during snow season.
There are many festivals and Christmas markets in December, so count this as another good time to visit.
12. Money matters
Austria is part of the European Union and Euro zone and the official currency is Euro. You should always pay attention when paying bills if you are coming from non-Euro countries and mind the exchange rate. (Xe.com).
Major credit cards are accepted almost everywhere, but please check card charges from your bank in foreign countries before the trip. It is always good to have some cash on you, especially when leaving a tip in the restaurant or for a taxi ride.
There are ATMs and banks on every corner and cash withdrawals are in Euros with a fee. Major banks don't charge ATM fees to foreigners, but privately operated ATMs may sometimes charge high fees. However, the machine should warn you about the charge so you have a choice to cancel the transaction before committing to it.
13. What to see in Austria?
Austria is a small country but filled with attractions and spectacular nature, so we will list here only the top popular ones:
Schönbrunn Palace. Spectacular, 1400-plus room baroque palace with lavish interiors. Includes also large gardens with a maze.


Hofburg. Baroque palace complex with museums; former principal imperial palace, nowadays official residence and office of President of Austria.
Belvedere. A historic building complex in Vienna, consisting of two baroque-styled palaces, the Orangery, and the Palace Stables. Famous also for the world's largest collection of Gustav Klimt's paintings, including the Kiss.
Salzkammergut. A region of lakes and Alpine ranges near Salzburg. It is also a famous resort area.
St. Stephen's Cathedral. Also known as Stephansdom, is a medieval Roman Catholic church in Vienna. A place of worship with catacombs and a treasury museum.
Prater. Large public park with Vienna's 2nd district hosting iconic giant Ferris wheel dating from 1897.
Hohensalzburg Fortress. The iconic landmark of Salzburg, this 11th-century fortress on a city hilltop is the largest preserved castle in Central Europe. It has beautiful views of the city and the Alps and a museum.
Vienna State Opera. World-famous opera house with the largest repertoire and major productions. Considered one of the most important opera houses in the word. Guided tours and museum are available.


Mirabell Palace. A 17th-century palace with gardens in Salzburg. Listed as UNESCO World Heritage Site as a part of the old town.
Lake Wolfgang. Small, scenic mountain lake near Salzburg. The best-known lake of the famous Salzkammergut resort area.
Grossglockner. Austria's highest mountain part of the Alps and the central piece of the High Tauern National Park. Located in East Tyrol. Famous for winter sports.
Kunsthistorisches Museum. Fine arts history museum in a palace. Decorated with lavish interiors and it is crowned with an octagonal dome. It hosts Habsburg's art collections and antiquities.
Hellbrunn Palace. Renaissance palace and landscaped parkland with grottos, novelty fountains, and a theatre.
Vienna Ring Road. Also known as Ringstrasse, this 19th-century boulevard encircles Vienna's Old Town, and it is lined with monumental cultural and state buildings.
Vienna City Hall. Neo-Gothic style city hall was built in the 19th century. It's a municipal building and the official seat of the Major of Vienna. It was built using some 30 million bricks. Also hosts balls, markets, and various events.
Tiergarten Schönbrunn. Also known as Vienna Zoo; this zoo is located on the grounds of the Schönbrunn Palace. It is home to about 500 species of animals, including giant pandas, Siberian tigers, and elephants.
Melk Abbey. A Benedictine abbey above the town of Melk in Lower Austria. Sitting on a rocky outcrop overlooking the Danube River.
Wiener Riesenrad. Permanent fairground ride and exhibition with a giant Ferris wheel located in Leopoldstadt, the 2nd district of Vienna.
Hundertwasserhaus. A unique apartment block with a roofed forest. Designed by artists, the colorful apartment block is a green oasis in Vienna.
Hoher Dachstein. Glacial Alpine mountain, the second highest in the Northern Limestone Alps. Skiing and snowboarding destination and it is great to visit both n summer and winter.
Museumsquartier. Restored Baroque district filled with museums in both modern and historic buildings. Located in the 7th district of Vienna.
Hallstätter See. A lake in the Salzkammergut resort area. Named after Hallstatt, the smallest town in Austria, famous for salt mining. Water sports, boating, and hiking are available in the lake area.


Naschmarkt. Vienna's largest food market. Originating from the 16th century features more than 100 food and vintage stalls and restaurants.
Krimml Waterfalls. Mountain waterfalls, located near the village of Krimml in the High Tauern National Park (Salzburg state). Located in the heavily forested area these waterfalls are the highest in Europe, with a 380m high fall.
Zillertal. A valley in Tyrol offers skiing and other winter sports, as well as biking, hiking, or golfing. Named after the Ziller river and the Zillertal Alps, the heavily glaciated section of the Alps.
Albertina. Art museum housed in Habsburg palace, featuring the largest graphical collection in the world, including Dürer's "Hare" and Klimt's studies of women. About 65,000 drawings and one million old masters' prints are housed there.


Wörthersee. Popular recreation destination in summer for water sports, swimming, and boating, this lake in southern Austria is famous for its blue-green water.
Achen Lake. Largest Alpine lake in Tyrol. Surrounded by five villages, it is famous for its beautiful scenery, water sports, nearby ski resort, and hiking and walking routes.
Goldenes Dachl. Also known as Golden Roof, this iconic landmark is located in old town of Innsbruck. This Habsburg residence is decorated by 2657 shiny tiles and it is now a museum featuring Innsbruck history.
Salzburg Cathedral. Domed marble 17th-century cathedral and museum in Salzburg. Among many other historical artifacts, it is also known for Mozart's baptism in 1756.
Karlskirche. Also known as Rektoratskirche St. Karl Borromäus,  this 18th-century Habsburg domed cathedral is located in Karlsplatz in Vienna. Classical music concerts are regularly organized there.
Getreidegasse. The famous busy shopping street in the historic Altstadt of Salzburg, Austria, was named the UNESCO World Heritage Site in 1996. Well known for the birthplace of Wolfgang Amadeus Mozart at No. 9. He lived there until the age of seventeen.


Innere Stadt. The central 1st district of Vienna, also known as the old town, is encircled by Ringstrasse Boulevard. Many historic landmarks are located there, including St. Stephen's Cathedral on a Stephansplatz square.
Stubai Glacier. Scenic ski resort in Tyrol and the largest one in Austria. Featuring various trails, a terrain park, spectacular views, and attractions.
Stephansplatz. Famous square in Vienna, located in an old town at the geographical center of the city. It is named after St. Stephan Cathedral or Stephansdom, one of the tallest churches in the world.

Attersee. Also known as Lake Atter, the largest lake Salzkammergut region in Upper Austria. Featuring water sports, diving, trekking, and hiking, and beautiful views of the surrounding mountains. Gustav Mahler, Sigmund Freud, and Gustav Klimt spent their summers here.
Traunsee. Scenic deep water lake surrounded by mountains, located in Salzkammergut. Picturesque villages are scattered around this lake making it a popular tourist destination.
Spanish Riding School. Classical horse riding school in Vienna with famous white Lipizzaner stallions. Dating back to the 18th century this school also offers tour shows.
Stubaital. An alpine valley in Tyrol and the central valley of the Stubai Alps. Featuring Sights, museums, amusement parks or untouched nature, including the Ruetz river flowing through the valley.
Eisriesenwelt. Natural lime stone and ice cave with stalagmites, discovered in the 19th century. It is open during summer to the public with guided tours.
Natural History Museum. Large, 19th-century founded natural history museum in Vienna. Features vast specimen collections, from dinosaur skeletons to meteorites. Offers guided tours and activities for children.
Donauturm. Iconic tower with observation terrace located in Vienna. At a height of 252 meters, it's the tallest structure in Austria. Features observation terraces, a restaurant, and a cafe.
Mozarthaus Vienna. Wolfgang Amadeus Mozart's 18th-century apartment where Mozart composed. Fully restored and turned into a museum, this landmark offers an audio tour and a souvenir shop.
Ski Amadé. Large ski area comprised of 28 locations and towns, the second largest in Europe. Named after Mozart (Amadeus).
Austrian Parliament Building. Built in the second half of the 19th century, this monumental building host now two houses of the Austrian parliament and it is rich in architectural features and artistic details. Guided tours are available through the visitors' center.
Stadtpark. Large public park in Vienna, spreading over 28 acres. Featuring a river, ornate bridges, and a gilded Johann Strauss statue.
14. Interesting facts about Austria
Here are some interesting facts about this amazing country:
The Austrian flag is one of the oldest national flags in the world. It dates from 1191 when Duke Leopold V fought in the Battle of Acre during the Third Crusade.
We hope you enjoyed reading about Austria!
Safe travels!