The city of Vienna and its surroundings are a paradise for people who like the outdoors. Vienna is designed for people who love to walk, ride a bicycle, do recreational activities, and generally enjoy the outdoors. We will provide here just a brief overview of Vienna parks and outdoors and will try to write as much as possible about this topic in the future.
Parks and gardens
Vienna has many green areas around the city with some spectacular gardens and parks that are well maintained throughout the year. There are as many as 100 parks and gardens of various sizes and purposes and they total up to 50 % of the Vienna area. This is great news for people who like the outdoors, walking in a park, sitting on a bench and enjoying green, taking children to the playgrounds, and dog walking.
Some of the larger parks and gardens were originally the private property of the Imperial family and they were opened to the public in the late 18th, 19th, or early 20th century and now they are owned and managed by the Austrian government. Those are Schönbrunn, Belvedere, Burggarten, Volksgarten, and Augarten parks and gardens. These parks and gardens are given special care with manicured lawns, flower pods, and trees and are carefully maintained by the authorities. They are all great places to spend some time during nice weather and enjoy the beautiful scenery and fresh air inside the city.
Schönbrunn Garden
This expansive garden is part of the Schönbrunn palace complex, and it is a combination of green areas, flowerbeds, trees, mazelike paths, statues, and fountains. The entire area is great for walks, relaxation, and photoshoots. It was opened to the public in the 18th century and it is part of the UNESCO Heritage site, together with the palace.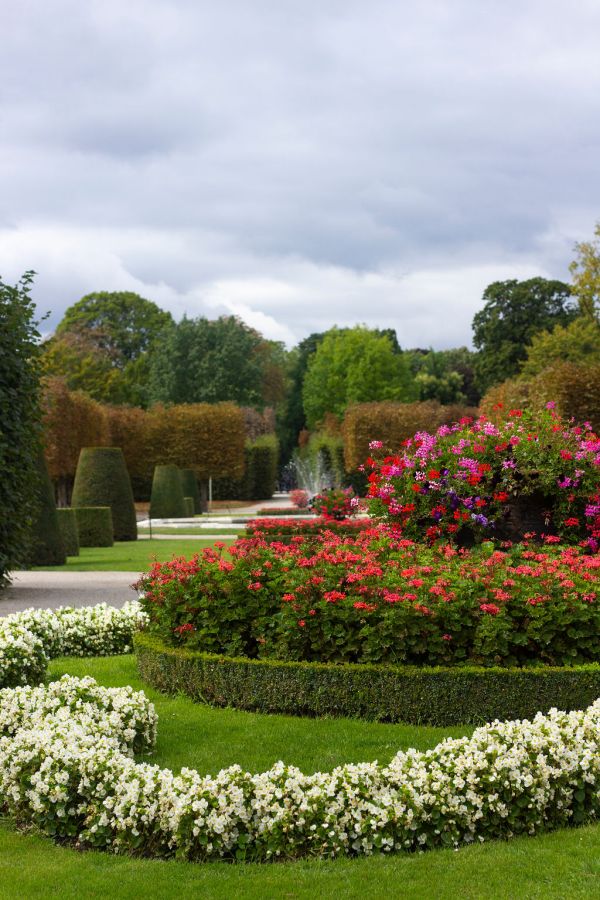 Belvedere Gardens
There are several gardens within the Belvedere palaces complex: The Main Garden, between Upper and Lower Belvedere, Kammergarten (Privy Garden), Sculpture garden, next to the Belvedere 21, Alpine Garden and Botanical Garden, which is now a separate garden and part of University of Vienna.
Volksgarten
Voksgarten is a centrally located garden in the 1st district, with paths lined up with trees, rose trees statues, fountains, and Theseus Temple, a copy of the original in Athens, which now serves as an art gallery. Due to its location, Volksgarten is a perfect escape from busy city streets as it is truly a peaceful oasis.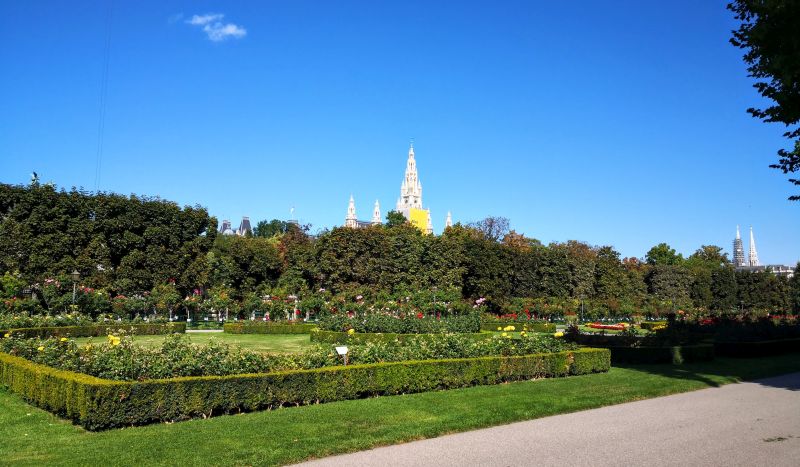 Burggarten
This is another centrally located park/garden, located also in the first district and close to Hofburg Palace. This park is famous for the statue of Mozart with manicured treble clef with flowers in front. Burggarten also has a butterfly house, natural habitat for butterflies to grow and live.
Augarten
This is another large and well-maintained park with gardens, located in the second district. It is part of the Palace Augarten complex and it is famous for the high-end porcelain factory located there. The grounds were first built in the early 17th century by Emperor Matthias and later on expanded.
Botanical Garden
As we mentioned above, the Botanical garden was originally part of Belvedere Gardens and it is now part of the University of Vienna. They often have fairs for various plants and flowers and the garden is used for botany and biodiversity research projects at the University.
Rathauspark
This large park in front of the City Hall dates back to the 19th century and it is hosting Summer Film Festival in the summer and an ice skating rink in the winter, so you can say it is very well utilized.
Stadtpark (City Park)
This park is located between the first and third districts. It has arrangements of gardens in different styles and also several monuments, the most famous being the one of Johann Strauss, gold plated bronze statue, very popular among photographers. The creation of the park in 1862 prompted the creation of the Municipal Department of Parks and Gardens, which takes good care of the greenery of Vienna ever since.
Türkenschanzpark
This large park is located in the 18th district and it is located on the ground where Ottoman entrenchments were located since the siege of Vienna in 1529. Park has some rare botanical species and a pond. The park has a very specific layout due to terrain configuration and has very interesting meandering paths.
Prater park
This large park in the second district, located alongside the Danube is very popular for recreational activities. It has several open-air playgrounds, gyms, fairgrounds with a famous Ferris Wheel, restaurants, cafes, and souvenir shops and it is very lively during the summer. There is a Prater Museum and the Planetarium as well there.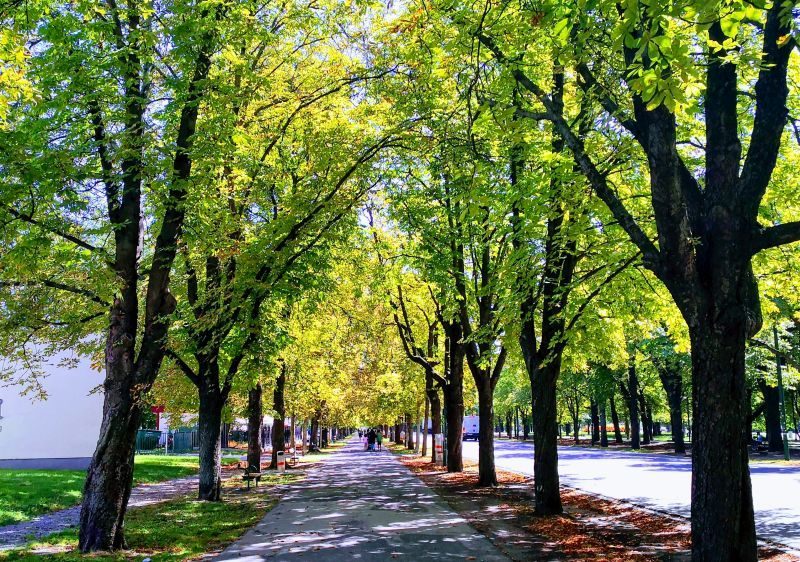 Donaupark
The Donaupark was created relatively recently, in the sixties, in an effort to organize land between Danube and Old Danube area in the 22nd district. The park was redesigned several times and today has some nice features such as a giant chess board, skatepark, and a petting zoo, and also a landmark Danube TV Tower with a 360-degree view of the city from the top.
Setagayapark, Japanese Garden
This park with the Japanese Garden was designed in 1992 by Ken Nakajima as a part of cultural cooperation between Austria and Japan. It has the typical layout and design of Japanese gardens around the world with ponds and streams and plants densely distributed in a rich variety. The garden has a tea house, a "Yukimi style" stone lantern, several sculptures, a fountain, and a poem set in stone at the entrance.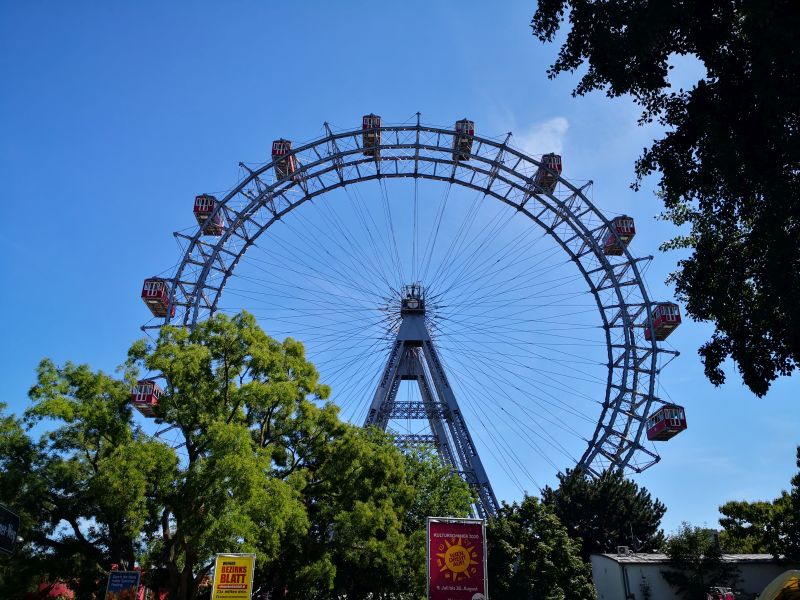 There are many more parks and gardens (we will write more about them later), such as Shakespeare Garden, Herderpark, Kongreßpark, Pötzleinsdorfer Schloßpark, Rudolf-Bednar-Park, and Schweizer Garten.
Public swimming pools and baths
There are more than 20 public swimming pools and baths in Vienna and close to 10 private ones. Public swimming pools are way cheaper, although can be crowded during the summer. There are plenty of them that offer both indoor and outdoor facilities so they are open throughout the year.
Private swimming pools are more expensive than public ones, but they are still very affordable, day pass is around 17 Euro ($20) and many amenities are included (lounger, umbrella, towel, etc), so it is a great deal in the end.
Public swimming pools are charging only a few Euros and little children enter for free. Since they are very popular, you can check the availability of places from this link. The page is in German, but swimming pools are color-coded, if it is green, there are enough spots so you can visit.
Swimming pools are evenly distributed throughout the city, so you don't have to travel much in order to get there, the only thing is if you prefer one over another and don't mind taking public transport.
Here is a list of public swimming pools with addresses and types (indoor/outdoor)
Name
Location
Indoor
Outdoor
Amalienbad
Reumannplatz 23, 1100 Vienna (10th district)
Yes
No
Laaerbergbad
Ludwig-von-Höhnel-Gasse 2/
Favoritenstraße 233, 1100 Vienna (11th district)
No
Yes
Simmering
Florian-Hedorfer-Straße 5, 1110 Vienna (11th district)
Yes
Yes
Theresienbad
Hufelandgasse 3, 1120 Vienna (12th district)
Yes
Yes
Hietzing
Atzgersdorfer Straße 14, 1130 Vienna (13th district)
Yes
Yes
Hadersdorf-Weidlingau
Hauptstraße 41, 1140 Vienna (14th district)
No
Yes
Hütteldorfer Bad
Linzer Straße 376, 1140 Vienna (14th district)
Yes
No
Kongressbad
Julius-Meinl-Gasse 7a, 1160 Vienna (16th district)
No
Yes
Ottakringer Bad
Johann-Staud-Straße 11, 1160 Vienna (16th district)
Yes
Yes
Jörgerbad
Jörgerstraße 42-44, 1170 Vienna (17th district)
Yes
No
Schafbergbad
Josef-Redl-Gasse 2, 1180 Vienna (18th district)
No
Yes
Döbling
Geweygasse 6, 1190 Vienna (19th district)
Yes
Yes
Krapfenwaldlbad
Krapfenwaldgasse 65-73, 1190 Vienna (19th district)
No
Yes
Brigittenau
Klosterneuburger Straße 93-97, 1200 Vienna (20th district)
Yes
No
Strandbad Angelibad
An der Oberen Alten Donau, 1210 Vienna (21st district)
No
Yes
Floridsdorf
Franklinstraße 22, 1210 Vienna (21st district)
Yes
No
Großfeldsiedlung
Oswald-Redlich-Straße 44, 1210 Vienna (21st district)
Yes
Yes
Strandbad Alte Donau
Arbeiterstrandbadstraße 91, 1220 Vienna (22nd district)
No
Yes
Donaustadt
Portnergasse 38, 1220 Vienna (22nd district)
Yes
Yes
Strandbad Gänsehäufel
Moissigasse 21, 1220 Vienna (22nd district)
No
Yes
Höpflerbad
Endresstraße 24-26, 1230 Vienna (23rd district)
No
Yes
Liesinger Bad
Perchtoldsdorfer Straße 14-16, 1230 Vienna (23rd district)
No
Yes
Donauinsel (Danube Island)
Donauinsel is a unique place – an artificial island in the middle of the Danube, created originally to fight flooding from the river, now it is packed with recreational facilities, beaches, cycling paths, rollerblading, canoeing, etc. Its location is perfect for day exploration tours or random walks.
The island follows Danube's flow and it is long (over 21 km) and quite narrow (70-210 m). There is an underground stop in the middle of the island and several bridges connecting it with the mainland.
The island is also famous for the traditional Donauinselfest, Europe's largest free open-air music festival, happening every summer, July-September.
Wienerwald
This is actually a large area immediately outside of Vienna city limits, but it is worth mentioning and it will definitely deserve a separate article (once we collect first-hand information). This is considered 'Vienna's lungs', as it is a massive green and wood area for recreation, hiking, and camping and it is a part of the Alps chain with two Vienna hills, Leopoldberg and Kahlenberg which give a great view of the city and surroundings. Here is the official website for more details.
Conclusion
Vienna parks and outdoors are the area that will be definitely visited more often by us in our future articles and city guides as it has so much variety and opportunity for exploration. We will prepare shortly more detailed info about all outdoor possibilities in and outside of Vienna.