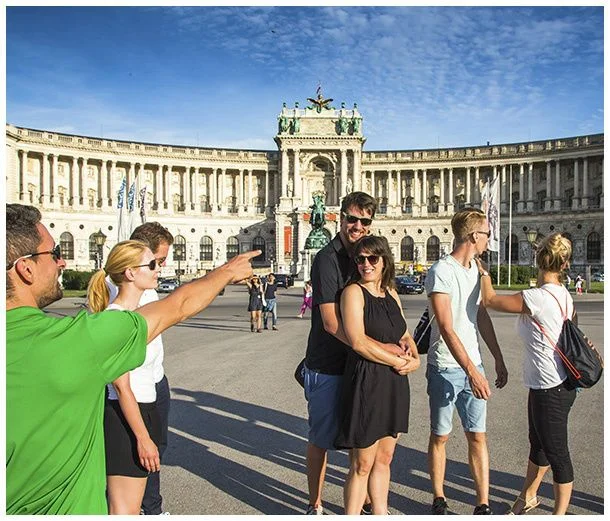 ---
Helmut-Zilk-Platz, 1010 Wien, Austria
48.2046836, 16.368997704958
---
Enjoy Vienna Walking Tour. Vienna, the capital of Austria, is known for its rich history, from the era of classical music to the Habsburg reign.
See Vienna's greatest sites and hidden gems on a classic Vienna City walking tour! Your expert guide will treat you to a 2.5-hour walking tour around Vienna, showing you the city as the locals know it. While walking, you'll take in top Vienna attractions.
Explore vibrant city of Vienna on a 2.5-hour walking tour. See top attractions such as the Gothic architecture of St Stephen 's Cathedral, the Imperial Palace of Hofburg and the Spanish Riding School, led by a local guide.
Learn the rich history behind the capital of Austria and each of its architectural gems as you go. 2.5-hour guided Vienna walking tour See the top attractions in Vienna alongside its lesser-known locations Learn about the cultural past of Vienna from your informative local guide
Highlights
A guided walk through old Vienna, the perfect introduction to Austria's capital city!
Learn about Vienna's culturally rich history from a local expert
See Vienna's top attractions as well as its lesser-known spots
See popular sites including St Stephen's Cathedral, Hofburg Palace, Heroes' Square, and the Spanish Riding School
Recently voted one of the most livable cities in the world, Vienna is a city where you take your time and enjoy the breathtaking 18th-19th century architecture.
Great for first-timers, our Vienna walking tour will take you through the pedestrian-friendly streets and parks of the old town. Leave the tourist path behind and join us for the perfect introduction to Vienna by our licensed tour guides.
Itinerary
Meet at our office
Walk to Maria at the Shore Church
Old Jewish Quarter
Old City Hall
St Michael's Square
Spanish Riding School
Hofburg Imperial Palace and Heroes Square
The Ring Road
Parliament
City Hall
Burgtheater
University of Vienna
Graben Boulevard
St. Stephen's Cathedral

Overview
In central Vienna, you will meet your guide and take off on foot through the city. As you travel, learn the fascinating stories of Vienna's history, culture, and politics, tracing back to its Roman origins and participation in world wars. Walking through Heldenplatz (Heroes 'Square), where Adolf Hitler made his 1938 annexation speech, pass the historic landmarks of the area.
Admire the iconic landmark of St Stephen 's Cathedral, a cherished hallmark of the independence of Vienna, and the Sacher Café, renowned for its delicious chocolate cake. Visit the Hofburg Imperial Palace, the former residence of the monarchs of the Habsburg dynasty, built in the 13th century.
You will also stop off at the Spanish Riding Academy, a classical dressage centre. Your tour will end at St Stephen 's Cathedral after discovering the city's grand structures and narrow streets.
Flights and hotel search for Vienna