What to do in Vienna when you visit? There are many things to do in Vienna and one simple article like this cannot possibly cover it all, but here is a selection of 15 suggestions to do in Vienna. More activities will come soon.
1. Stroll around the city
This suggestion is a no-brainer, Vienna is a very walkable city and especially Innere Stadt where so many attractions and landmarks wait to be discovered. You can do this on your own, by making the list of attractions you need to visit and following the map, which you can also generate from this website. There are some predetermined walks you might like.
You can also join some free walking tours of Vienna, or book online paid tours if your budget allows it. We have a selection of 7 tours starting under $25 in this post.

2. Hop-on/hop-off bus
This, on first look, sounds like a very 'touristy' suggestion – get on a bus and listen to your guide. But it's not. You will really enjoy this ride, you will be able to get great pictures and learn a lot about Vienna. Plus, you will have a free ride around the city for the duration of the ticket you choose. Usually, tickets are 24, 48, or 72 hours and any of them is a perfect time to learn about the city.
You can choose different routes every time you hop on the bus and cover almost everything in central Vienna.
3. River cruise
There are several different options to go on the Danube River. Apart from regular commute cruises going to Bratislava (more about this later) or Budapest, there are options for day or evening cruises, with lunch or dinner, a speedboat sightseeing cruise, or a Wachau Valley cruise, which also includes wine tasting.
Sightseeing river cruises are available in spring and summer, due to weather conditions, while commuter cruises are running usually throughout the year.
4. Wienerwald
Wienerwald, literally Vienna Forest (woods) is a large green area just outside Vienna, popular for picnics, camping, trekking, walking, and sports activities. There are also several small towns and villages you can visit in the area and see something a bit different from Vienna.
Wienerwald is very popular with locals and especially during the summer or public holidays and tourists often visit as it is perfect for a one-day excursion into the greenery.
You can book excursions or other activities from the official website.
5. Vienna Central Cemetery
"Three million dead people cannot be wrong!". OK, we might not be the best at writing company slogans, but Vienna Central Cemetery (Wiener Zentralfriedhof) is a city of its own. It's a living monument of the city's history and its past inhabitants and many of them famous.
There are also very different styles in the design of graves and mausolea in the cemetery, which will occupy you for hours. It is also a very green area and it is pleasant to walk. If you prefer a guided tour, try one from our affiliate program.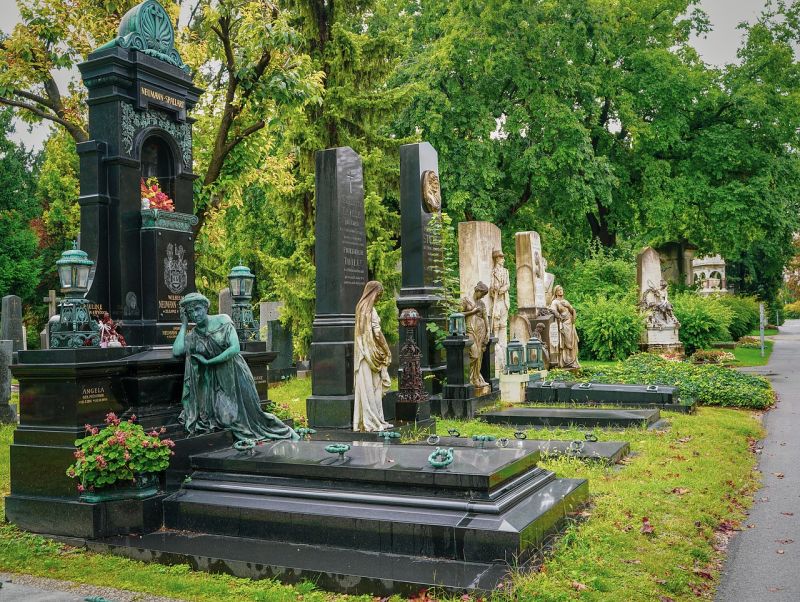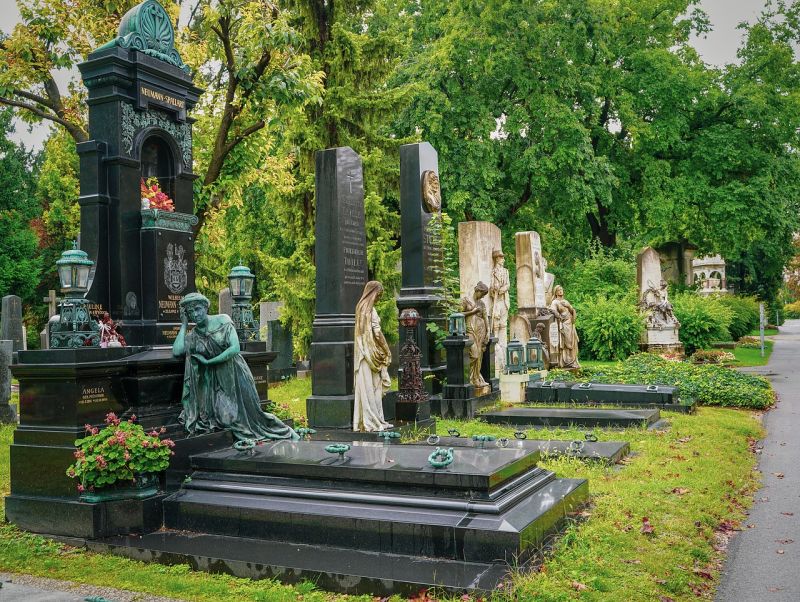 6. Visit Prater and Ferris Wheel
Prater is most famous for its Giant Ferris Wheel, but there is much more to do and see there: an entertainment park with fairgrounds, bars, and restaurants, an expansive park area, a planetarium, a chocolate museum, and so on. Coming to Prater when visiting Vienna is a must, especially in spring and summer. There are also many cultural events in the summer. The ride on a Ferris Wheel will be the highlight of your visit.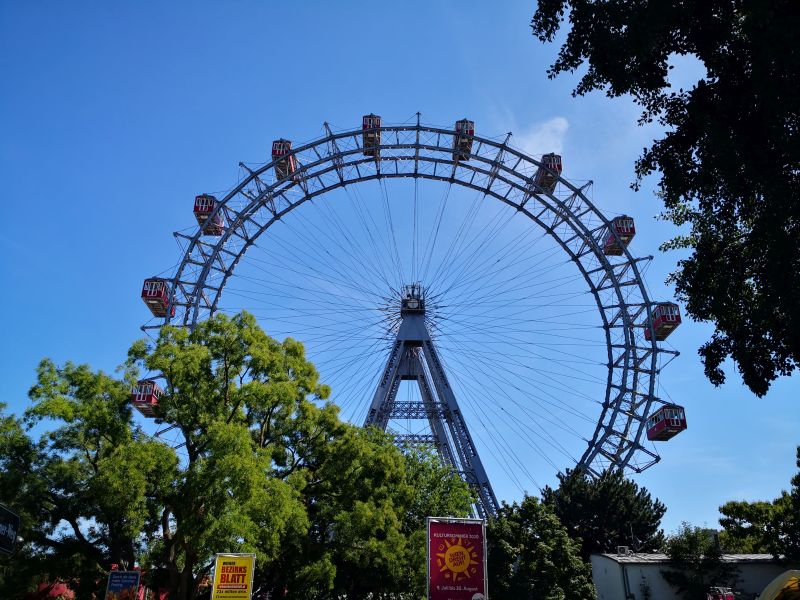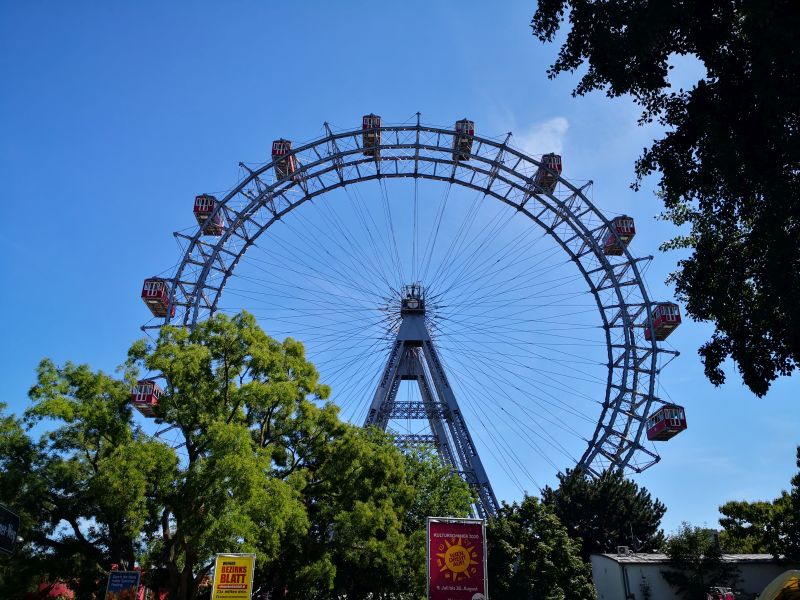 7. Try coffee and mélange with a cake
This is not something you put on your 'to-do' list, but having a coffee, and mélange with cake is something you do in Vienna, regardless of your schedule. In between all the museums, galleries, parks, attractions, and landmarks, you need some time off to relax and get more energy for your next exploration.
And what's best than simple coffee and a piece of cake? There are cafes all around the city and we will not favor any specific one, for now, so please go and enjoy your break!
8. Visit Vienna parks
When people mention Vienna, immediate associations are the waltz, opera, Mozart, and cakes, but one thing that defines Vienna is its parks and green areas and they are all very well maintained.
Vienna has many parks and they are scattered around the city and suburbs in a way that you will not need to walk more than 5-10 minutes to get to one. They are great for walks, relaxation, and also learning about history as many have statues, fountains, and other landmarks that all tell the story.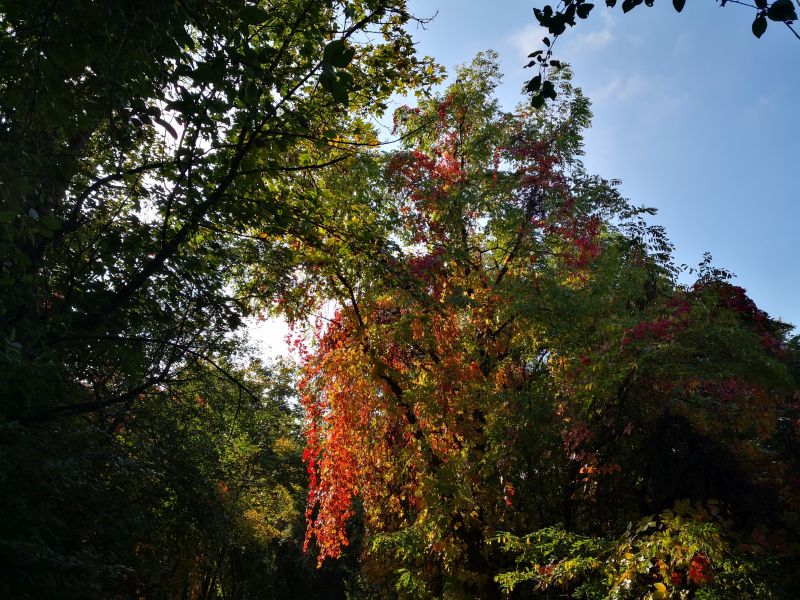 9. Visit museums and galleries
Vienna has around 100 museums and countless galleries to visit during your stay in Vienna. Whether it is Albertina or Belvedere, or Art History Museum, you will have plenty of options to spend some quality time exploring history and art in Vienna. We posted information on the top five museums here and for more details about museums and galleries in Vienna, you can visit Vienna's official website.
10. Visit Naschmarkt and the flea market
Open-air markets are at the heart of every city. There you can really meet the locals who come to sell and buy fresh produce, socialize or just wander around. This is the case with Naschmarkt, the largest and oldest market in Vienna.
Fresh produce, meat, cheese, ready-made food, and several cafes and restaurant to have lunch while a place is abuzz with customers is a great place to experience the city's pulse. And if you really, really want to experience local pulse, visit a flea market, which is in the continuation of Naschmarkt (open on Saturdays only).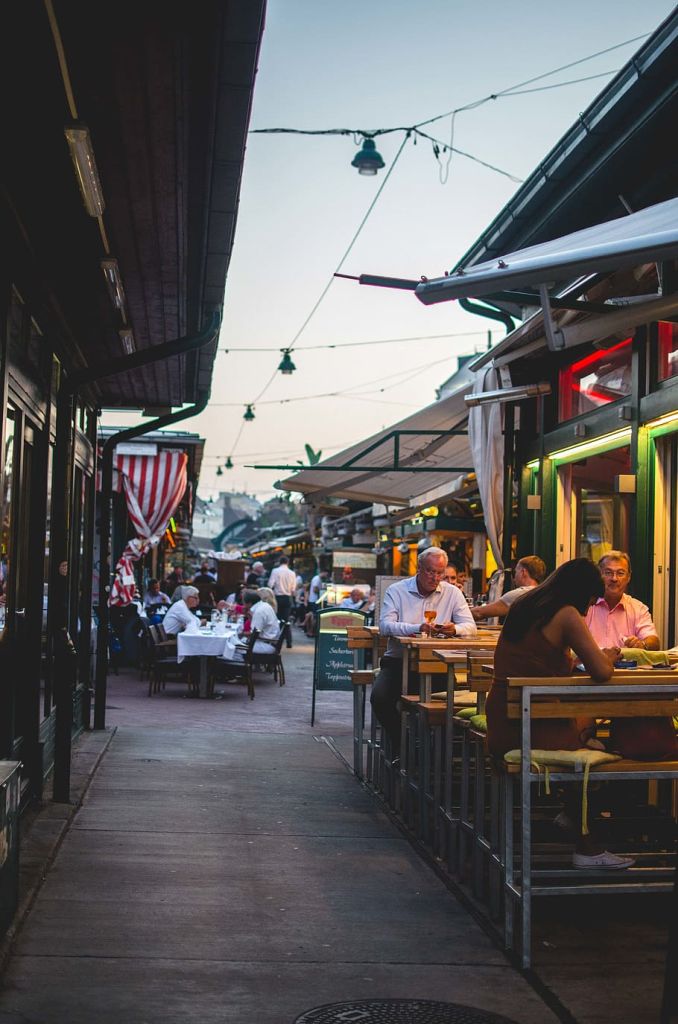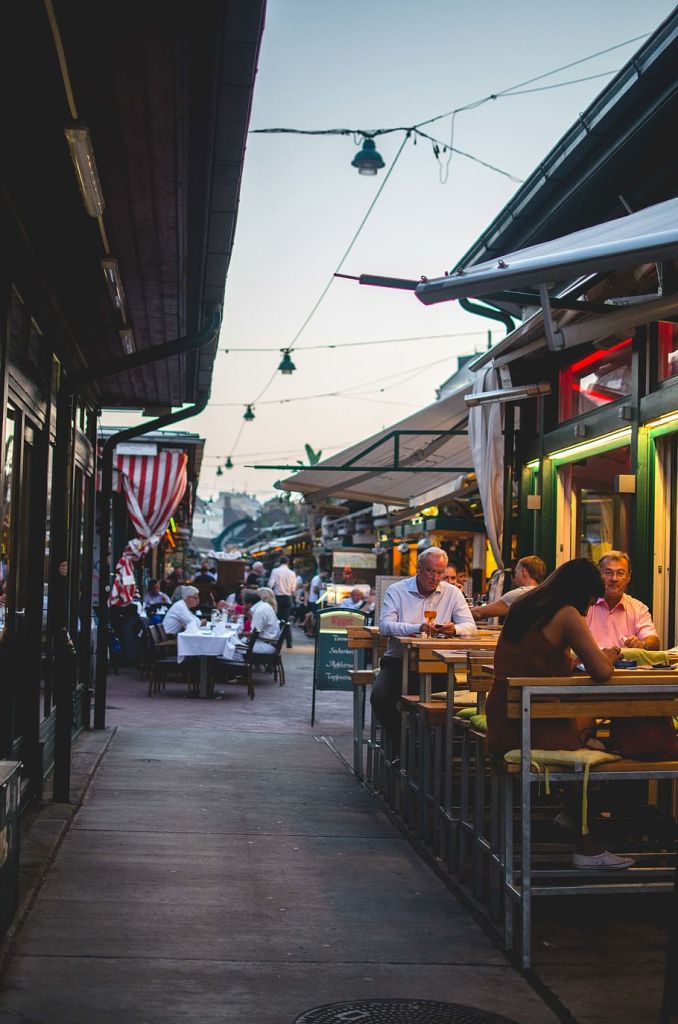 11. Have a panoramic lunch or dinner on Danube Tower
If you want high-level lunch or dinner (or just a drink) in the literal meaning of the word 'high', then look no further – Danube Tower (Donauturm) is there to provide this as this is the tallest structure in Austria. Book your seat and enjoy a panoramic view of Vienna and the city surroundings on a rotating platform. It is spinning very slowly, so you won't get dizzy
12. Visit Vienna State Opera
If you are classical music, opera, and ballet lover, Vienna State Opera should be on your list when you visit Vienna. Globally recognized as one of the top classical music and performance venues, the Opera House is a real must to experience in Vienna. Even if you are not planning in attending any performances, you will be able to watch them outside of Opera on the large screen for free during the summer.
If you are unable to attend the performances, you can have a guided tour of the Opera House Highly recommended tour!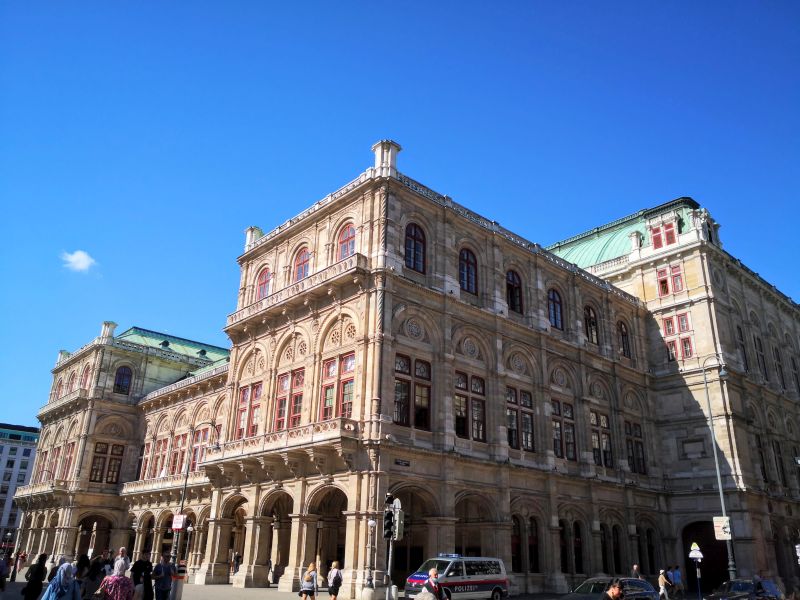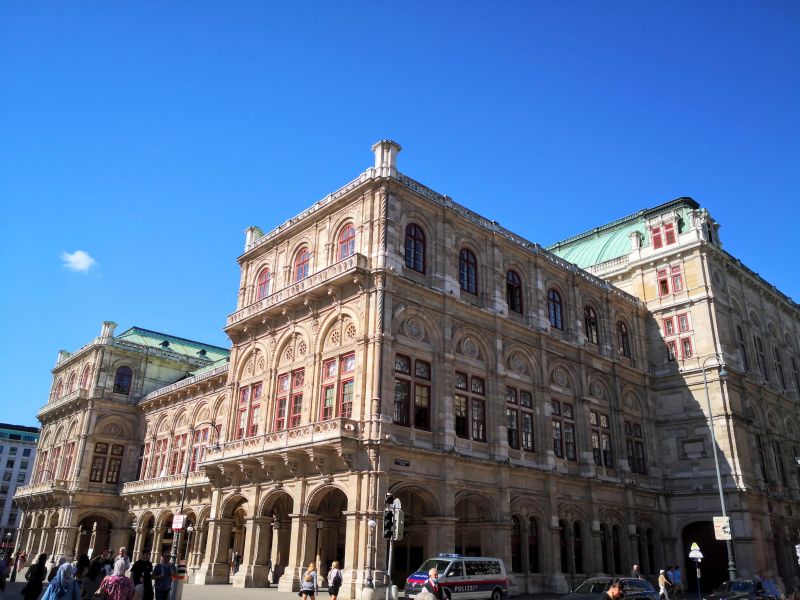 13. Try street food – Vienna Sausage
Vienna is not strong in the street food department, but what is lacking in quantity is covered in quality, meaning – if you like sausages, of course. There are plenty of these stands/kiosks around Vienna, and they are called Würstelstand. We are not experts in these as we tried only a few, but there is a website that has Würstelstand in its name and they are experts on the matter for sure. Check them out here and learn about Vienna Sausage stands.
14. Visit Bratislava, on a cruise or by car/bus
Bratislava, the capital of Slovakia is only 80 km (~50 mi) away from Vienna. And since there is no border control between the countries, it can be a great day trip from Vienna. You can reach Bratislava by car, bus, or by boat/catamaran, as the Danube flows there as well. The ride with a catamaran lasts for about 75 minutes, while you can get by car in 1 hour and with a bus in 1 hour and 15 mins.
A visit to Bratislava is a great day trip from Vienna option.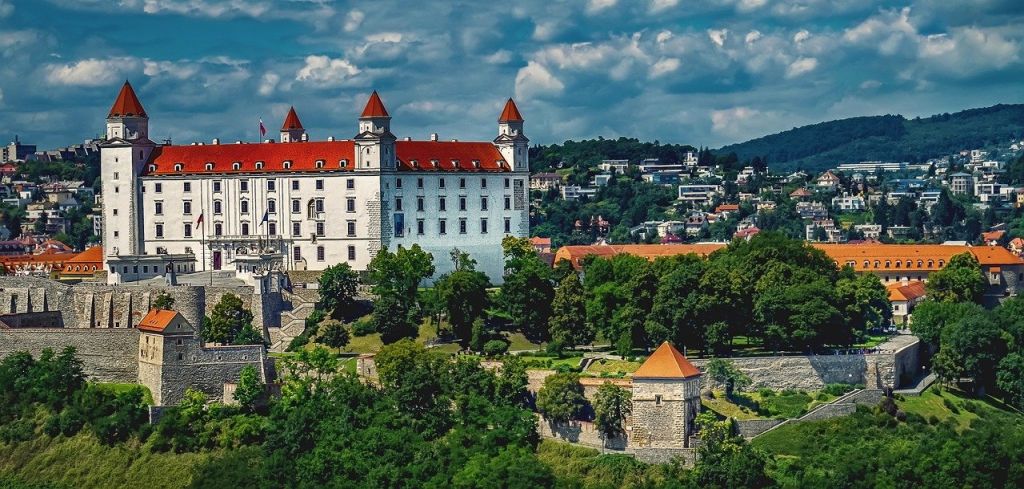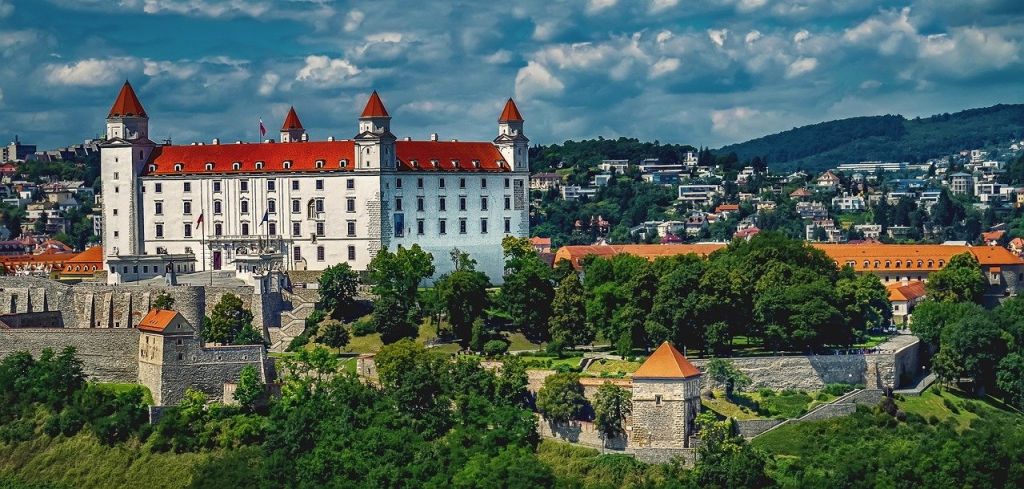 15. Visit Vienna wineries
We mentioned in our other post how Vienna is a city with the largest wine production within the city limits. Because of that, there are several wineries that provide wine-tasting and dinner opportunities in a nice natural ambiance in suburbs. The most popular wineries are Winery Cobenzl, Fritz Wieninger, and Schlumberger Kellerwelten.
They provide wine tasting, food, and winery tours and they sell their wine, of course. Depending on your affinity for wine, you can spend the entire day winery hopping! No wonder why we place this as the last on the list of things to do in Vienna. 🙂
Conclusion
These are only fifteen suggestions for things to do in Vienna, but there are dozens of other activities you can do. We will try and keep you updated in the incoming weeks and months and especially when Vienna will start re-opening after the COVID-19 lockdown, which is supposed to end in early May. Safe travels and see you soon!